An innovative wind energy system that employs high-altitude kites instead of rotors to generate electricity looks set to soar.
The UK start-up behind the idea has secured a £5 million investment from energy giants E.ON, Schlumberger and Shell Technology Ventures.
Kite Power Systems' (KPS') patented design involves the use of two large kites tethered to an electric winch generator. As one kite ascends to a height of 450 metres at a speed of up to 160 kilometres per hour, the spooling tether causes the winch drum to spin, generating electricity.
As the second kite ascends, the other is reeled in. The pitch of the descending kite's wing is altered to minimise aerodynamic force.
While it takes energy to reel that kite in, the design of the cycle is such that a net power gain is achieved.
Several kite power systems can be linked together at once (daisy-chained) to boost energy output.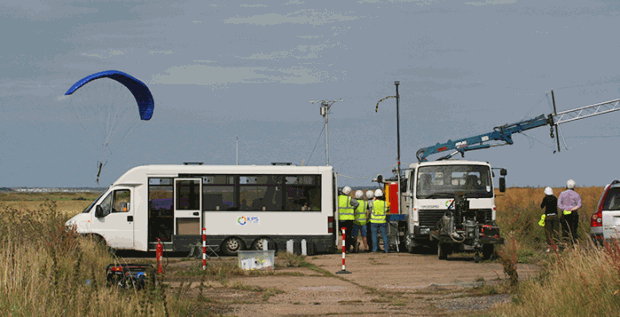 The investment will provide KPS with funds to carry out its planned 500kW demonstration plant in West Freugh, Scotland during 2017, before installing a 3MW onshore system in West Freugh within 3-4 years. The company then intends to complete a 3MW system in offshore waters.
"The new investment from three major international businesses is an endorsement of the R&D work that the KPS team has carried out and demonstrates support for our technology and our business," said Paul Jones, Chief Financial Officer of KPS.
"The backing of these companies will accelerate KPS's commercial development plans towards deploying lower cost, deep-water offshore wind energy on a global scale."
According to E.ON, the system has the potential to reduce capital expenditure on offshore wind power projects by as much as 50 percent as it avoids balance of plant costs associated with building wind farms, i.e., vast quantities of steel, specialised installation vessels and auxiliary components.
The International Renewable Energy Agency's (IRENA) 2016 Outlook for Offshore Wind states a levelised cost of energy (LCOE) for conventional offshore turbines of US$170/MWh in 2015, falling to US$95/MWh by 2030. A recent Bloomberg report stated globally, offshore wind power had achieved an LCOE of $126 per megawatt-hour in the second half of 2016.
An independent assessment of KPS's kite power technology predicts a LCOE of US$62.5/MWh by 2020, reducing to less than US$50/MWh by 2030.
At this cost, kite power could be installed both on-and-offshore without government subsidies. It could also be deployed in areas off-limits to conventional offshore turbines, such as waters deeper than 40 metres.
"The approach of Kite Power Solutions has the potential to become a game changer for the wind energy market," said Frank Meyer, Senior Vice President B2C & Innovation at E.ON.
"It supports one of our overall targets to drive down the costs for renewable energy. In addition to this, we catch the opportunity to be a first mover in producing renewable energy at locations where it is, for economic and technical reasons, not possible today."
Other novel airborne wind power technologies we've covered in the past include the Altaeros Airborne Wind Turbine.