Food manufacturing giant Mars has added more wind power to its renewable energy portfolio – the Moy Wind Farm.
The new 60MW wind farm near the village of Moy in the Highland region of Scotland will generate enough electricity to power all of Mars' 12 sites in the UK.
"The UK has been home to Mars for 84 years. We're proud the brands that we make here will now be manufactured using renewable electricity, and that we are reducing our carbon footprint in the UK and around the world," said Barry Parkin, Chief Sustainability and Health & Wellbeing Officer at Mars.
The Moy Wind Farm is expected to generate 125,000 megawatt-hours of clean electricity a year. That's enough to power 34,000 average UK households.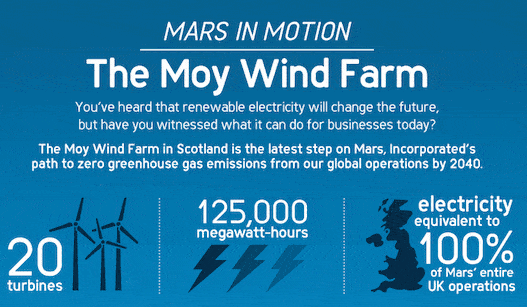 The Moy Wind Farm project is occurring in partnership with Eneco U.K and joins Mesquite Creek Wind in Mars' renewables stable.
Mesquite Creek Wind is situated near Lamesa, Texas. It boasts 118 wind turbines with a collective 200MW capacity. The facility can generate 800,000 megawatt-hours of electricity annually – enough to power Mars' entire US operations; including 34 factories.
Combined, the two wind farms will generate enough clean electricity to make 4.2 million Mars bars plus 13 billion Snickers bars each year.
Mars has committed to making its operations 'Sustainable in a Generation'. It intends on achieving this by eliminating fossil fuel energy use and greenhouse gas emissions, minimizing its impact on water quality and availability, and mitigating the impacts of waste by 2040.
The company states it has already achieved a goal of reducing greenhouse gas emissions from its operations (2007 baseline) by 25% last year.
"Our targets are based on science and reflect our belief that we must play a role in mitigating the worst consequences of climate change," states the company.
With USD $ 33 billion in annual sales last year, Mars Inc., is ranked as the 6th largest privately held company in the United States by Forbes.
Companies large and small throughout the world are increasingly understanding that harnessing renewable energy through avenues such as wind farm partnerships and commercial solar is not only good for the planet, but also for their bottom lines.