PLEASE NOTE: The final round of the National Solar Schools Program (NSSP) grant is now closed – however, solar is now more affordable than ever! If you would like to switch your school to solar;  register your interest with us now!
The National Solar Schools Program (NSSP) has re-opened. If you have not already received NSSP funding, your school may be eligible to receive the generous $50,000 in Federal funding to install renewable energy power systems and/or energy efficient appliances.

 Energy Matters is excited to help you to make the most of the NSSP funding by providing schools within 100km radius of Melbourne, Sydney, Adelaide, Brisbane & Launceston (other schools, please contact us) with a special offer to install a substantial solar power system – with no out of pocket costs!
Energy Matters is offering commercial solar power systems to schools up to 10kW in size comprising of:
World leading Scandinavian designed REC panels (the panels with the lowest embodied energy on the Australian market)
Best in class German designed SMA inverter Energy Matters Australian designed & manufactured SunLock roof
mounting system
Data monitoring technology that plugs into your school's computer network
Highly qualified project managers & installers with experience in installing solar power systems for schools will also be assigned to your project.
.. and that's not all – read on below for details of additional special bonuses!
Call our Solar Schools consultants on 133 SUN, register your interest online or email us for further details.  In a hurry? Download a brochure (PDF)
A solar power system can generate income for your school!
In the case of surplus power being generated, your electricity supplier will credit your school for any electricity your solar power system feeds back into the grid.
The school has the potential to export considerable excess power back into the grid during weekends and school holidays, so this will translate to a large credit / regular income from your electricity provider.
Note: to benefit from a state based feed in tariff you will need to have a new electricity meter installed. The federal government funding cannot be used to purchase a new meter, so this will be an additional cost to the school.
Call our Solar Schools Hotline on 133 SUN, register your interest online or email us for further details.
Added bonuses for schools
It's not just about powering your school with clean energy, it's also about empowering your students to learn that "energy matters" when seeking to combat climate change! We can help you to do this in the following ways:
We can organise a community presentation on commissioning of the system and parent and teacher nights to answer questions about renewable energy. Our solar school education programs are very well received:
"The presentation given by Matt of Energy Matters was really well pitched to our year 11 secondary school group giving an insight into the foundation themes and theories. The session went on to demonstrate some of the applications of both wind and solar energy / power, which really helped to validate the things covered earlier. I would highly recommend this presentation to other secondary schools as part of an exciting Alternative Energy study unit"
David Carpenter (ATC) Australian Technical College Sunshine
For every kilowatt installed at your school we will sponsor 10 trees through our tree planting program.
Energy Matters Little Green Book. Our own booklet which outlines different forms of renewable energy and explains how solar power systems work using vivid images.
Energy Matters weekly newsletter – we will bring you renewable energy news from around the world via our website. Our newsletter includes a summary of the week's news can be sent directly to the email addresses of your teachers.
Seed packs for your students to learn about the vital nature of the sun.
You can learn more about some of our activity in schools across Australia here.
Call our Solar Schools consultants on 133 SUN, register your interest online or email us for further details. In a hurry? Download a brochure (PDF)
Discounts for your school community
Energy Matters' Solar Schools initiative. is also about powering your community with clean energy. Talk to us about how we can set up a buyers group for teachers, parents, grandparents & friends of the school, to get great group discounts and service on solar systems for their homes.
How does grid connect solar power work?
Here's a brief summary of how a school grid connect system works: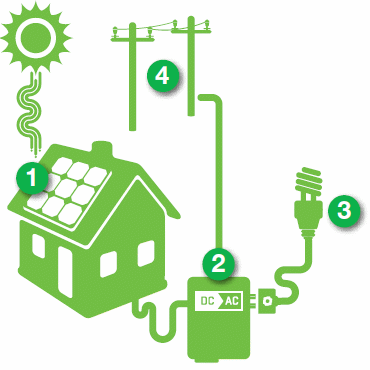 Sun shines on the solar panels generating DC electricity.
The DC electricity is fed into an inverter that converts it to 240V 50Hz AC electricity.
The 240V AC electricity is used to power appliances in your school.
Surplus electricity is fed back into the main grid
Whenever the sun shines, the solar cells generate electricity. When the solar cells are not producing power, for example at night, your school's electricity is supplied by the mains power grid as usual. The energy retailer charges the usual rate for the power used.
Learn more about solar power in our schools FAQ.
Call our Solar Schools consultants on 133 SUN, register your interest online or email us for further details. In a hurry? Download a brochure (PDF)