Energy Matters provides the very best in solar hot water system equipment at discount prices. You can expect years of reliable service from our flat plate, evacuated tube and heat pump systems and retrofit kits, maximizing the return on your investment.

Our considerable buying power enables us to negotiate direct with manufacturers. This means the very best pricing on solar hot water systems. In addition to this, the cost to you is slashed further if you're eligible for a rebate!
Contact our team  for free and friendly advice on solar hot water system to suit your needs and budget!
Manufacturers we stock include:
Apricus solar hot water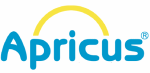 Installing a single Apricus evacuated tube solar hot water collector doesn't only saves you money. As well, it can reduce CO2 levels as much as planting over 200 trees!
Apricus has obtained:
ISO9001 quality system certification
the AS/NZS2712 Australia and New Zealand standard for solar collectors
the most widely accepted European standard for solar thermal
plus the SRCC (Solar Rating and Certification Corporation) standard in the US and Canada.
As one of Australia's leading brands in solar hot water, Energy Matters stocks a full range of Apricus solar hot water systems.
Bosch solar hot water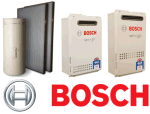 Bosch has been delivering hot water to Australian and New Zealand households for more than half a century. It's a name synonymous with excellence in German engineering. Like all its hot water systems, Bosch solar products are manufactured to the highest possible standards, using premium quality materials.
View our range of Bosch solar hot water equipment and download information sheets.
Quantum heat pumps

Heat pumps are a newer technology and do not require a collector! Quantum are Australia's leading manufacturer of advanced heat pump systems for home and business. With over three decades of  product development and a patented design, a Quantum heat pump will significantly reduce your water heating costs.
View our range of Quantum heat pumps, download information sheets or learn more about how heat pumps work.
More solar hot water system equipment leading brands
We also feature heat pumps and solar hot water systems manufactured by:
and more.
Order your solar hot water system today!
You can start to buy a solar hot water system with contacting our team of friendly experts for free, no-obligation advice before purchasing