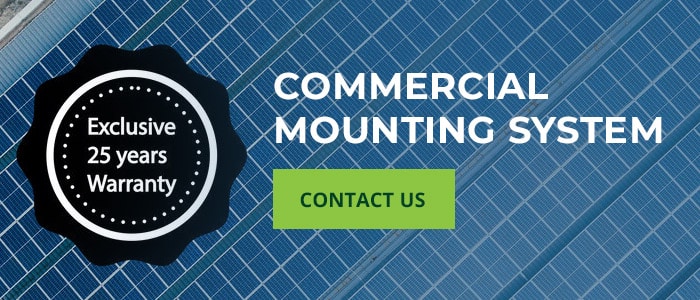 Designed and engineered in Australia, SunLock® is the leading commercial and residential solar panel mounting system on the Australian market.
All SunLock products are fast to install, compliant with relevant standards(including AS/NZS1170.2.2011) and highly durable. Our engineering and compliance certificates are provided, who are registered structural engineers, and are supplied as part of the installation Manual.
If you have never had the chance to install and test the SunLock framing system, contact us to receive a sample.
The unique racking solution was developed through the decades of collective experience of CEC accredited solar professionals. It has become Australia's leading local manufacture framing system.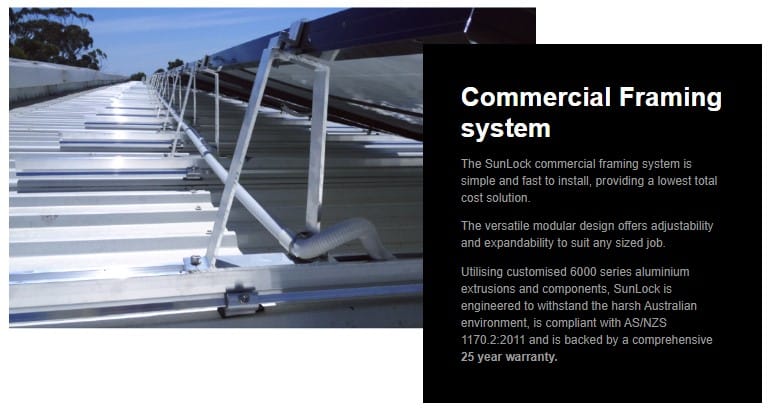 Utilising custom built aluminium extrusions and components manufactured right here in Australia, the SunLock system greatly streamlines installation.
All mounting systems are not the same. SunLock stands out from the pack.
The SunLock family of products includes:
the original SunLock, which has a design for pitched or flat roofs
the GroundLock ground-mounted framing system
and the PoleLock pole-mounted mounting solution.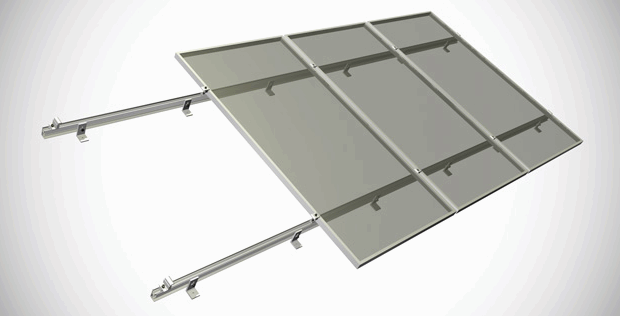 SunLock Mounting System Benefits
25+ year expected service life under Australian conditions.
Corrosion resistant, providing low maintenance and extended product life cycle.
Can secure a wide range of solar panel thickness.
Compatible with all major solar panel brands sold in Australia.
Easy to install with adjustable locking devices.
EarthLock washers and bonding terminals ensure transformerless inverters' proper earthing according to CEC guidelines.
Residential, commercial, remote area and marine applications.
Complies with Australian/New Zealand Standard on Wind Actions, AS/NZS 1170.2.2011.
Usable with PV modules in portrait or landscape orientation.
Groundlock wind region : A and C (most of Australian non-cyclonic/cyclonic regions).
PoleLock wind region : A and B (Most of Australian non-cyclonic regions).
SunLock is fully certified for all areas of a roof – including edge zones.
Clear and comprehensive installation instructions are provided with all SunLock products, including engineering drawings and AS/NZS1170.2:2011 compliance certificates.
A properly installed SunLock mounting system is the simplest way to save time and money; while ensuring compliance with CEC guidelines.
Energy Matters' residential and commercial solar power system installations use SunLock framing exclusively .

SunLock Framing Enquiries
Sunlock, GroundLock and PoleLock are available through our network of accredited partners and through our wholesale channel.
Residential Customers
I charge 5 c/W less on a 100 kW job for installation. 30-40% quicker than traditional tilts.
EcoSun SolarSystems
Easier to use. Finished product is far more stable.
AusDaws Electrical
Simple, rapid, idiot proof.
Propa
An installers dream come true, looks good, simple, quick and easy. Can't ask for any more, almost does the install for you.
Next Power
Our Office
12/25 Huntingdale Rd, Burwood VIC 3125
Tel: 1300-655-554
Email: order@sunlock.com.au
Opening Hours: Mon – Fri: 9am – 5pm