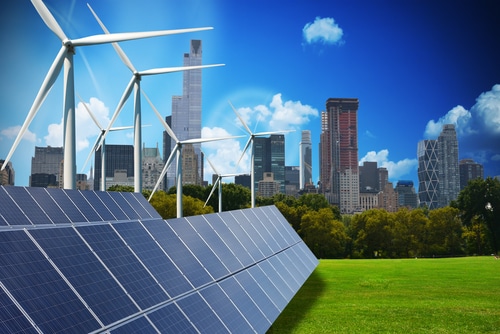 Australia's national capital and its surrounds now invest in enough renewable energy to account for 100 per cent of its energy consumption.
The milestone was announced in October, but the ACT is still drawing power from coal and gas power stations.
Confused? It is because while the ACT has invested in enough renewable energy to power the whole territory, it instead feeds it all back into the national grid rather than use it all for their consumption.
Which means while the ACT has come a long way in terms of renewable energy investment, the Territory is not "off the grid" just yet.
The National Electricity Market (NEM) and how the ACT feeds into it
For those that aren't aware of the NEM, it is a network of around 40,000km of energy transmission lines and cables that supplies around nine million customers on Australia's eastern seaboard.
Each year, it pumps out around 200 terawatt-hours of electricity and traverses Queensland, New South Wales, Victoria, South Australia, Tasmania and the ACT.
Essentially, generators pool their energy into the network and it is provided to homes and businesses on demand. As the ACT only generates enough electricity (largely through solar) to power five per cent of its demand, it has to rely on the NEM for energy.
With the NEM taking power from renewables and fossil fuels alike, the ACT has taken measures to offset its use of coal and gas electricity by investing in renewables in other locations.
The ACT's renewable investment
As there are minimal renewable farms and projects in the ACT, the nation's capital has invested in projects outside of the territory to offset its use of fossil fuels through the NEM.
An investment into five different wind farms around the country, coupled with the ACT's own solar energy production, covers 77 per cent of the Territory's consumption. The shortfall is then made up of the ACT's mandatory contribution to the national target.
All of this renewable energy created and purchased technically means the ACT has access to enough electricity from renewables to cover its total consumption.
So why does the ACT divert its renewable energy purchases to the NEM?
Unfortunately, renewables are not at the point where the ACT can go totally off the grid just because they have access to 100 per cent of their total consumption.
If the sun isn't shining, solar energy isn't being created. If the wind isn't blowing, the wind farm production dips as well.
Then there may be days where consumption spikes and the usage is above the average – which would be more than the volume of energy being generated by renewables.
These fluctuations mean the ACT still has to rely on the NEM for reliable power, but the Territory has made a strong statement by offsetting its usage with 100 per cent renewable energy being fed into the large-scale grid.