Around 30,000 Australian households will have solar + battery systems by 2018 says IHS Energy Storage Intelligence Service.
Describing it as "explosive growth", the research firm expects Australia's battery storage market to increase more than ten-fold this year; growing from fewer than 500 installations in 2015 to more than 5,000 in 2016.
If this level should be realised, Australia will be in the top five markets for distributed energy storage for 2016; behind the USA, Japan, Germany and the UK. It would be quite an accomplishment given our comparatively small population.
Past 2016, things really start ramping up.
"Between 2016 and 2018, behind-the-meter residential and commercial storage installations are expected to double each year exceeding 200 megawatts (MW) of installed power capable of storing 250 megawatt hours (MWh) of electricity, compared to less than 3 MW at the end of 2015," says IHS.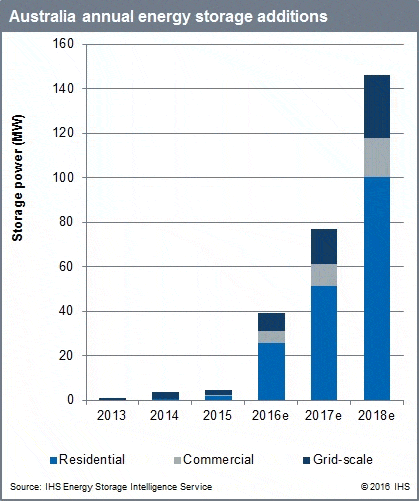 Around half of the total expected uptake will be in the residential storage sector, triggered by the recent arrival of Tesla Powerwall. But other players aren't far behind; including Enphase Energy with its AC Battery and a storage solution from Fronius.
"Major international storage suppliers are now competing to grab market share in Australia," said Marianne Boust, principal analyst for IHS Technology. "An intense competitive environment is emerging, linked to the rapid growth that this market offers."
A survey carried out late last year found 81% of Australians who have installed or are considering installing solar power systems are also thinking about home battery storage.
According to Energy Matters, a 6.3kW solar panel system incorporating a Powerwall can provide a financial benefit of up to $3,676 a year, depending on installation location and self-consumption profile.
The very attractive aspect of a battery system is it enables a solar household to store its self-generated high value electricity that it may otherwise receive just a few cents per kilowatt hour for if the surplus is exported to the mains grid.
In addition to the 100MW of home storage to be added in 2018, IHS estimates around 19MW of commercial and approximately 30MW of utility-scale battery systems will also be installed that year.