New figures released by the Australian Bureau of Statistics indicates the nation's businesses spent a whopping $64b on energy in 2014-15.
Diesel represented the biggest spend at $19.83 billion, closely followed by electricity at just over $19 billion.
Excluding self-generation, 71% of the total purchased electricity consumed by Australian businesses during the period was used by large businesses (200 or more employees); compared with 16% for small (< 20 employees) and 13% for medium sized businesses (20 – 200 employees).
Manufacturing and Electricity, Gas, Water and Waste services industries represented the two biggest energy users in 2014–15, accounting for 2.2b and 2.1b gigajoules of energy respectively.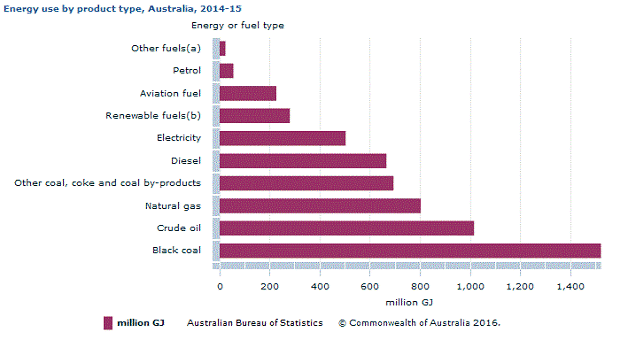 On the energy production side of things, electricity generation from non-renewables such as coal and natural gas made up 88% of the total electricity produced by Australian businesses in 2014–15. Renewable energy sources accounted for the remaining 12%, with hydro making up 5% and wind power 4%.
In 2014–15, the manufacturing industry generated 8.3 million (m) GJ of electricity from renewable sources, with the largest inputs being biofuel and bagasse.
During the period, the mining industry generated 700 megawatt-hours from solar power. The Electricity, Gas, Water and Waste Services sector generated 78.1 GWh and other selected industries, 246.6 GWh.
A surprising result was how much small businesses contributed to solar power generation totals in the ABS statistics. Small business generated 150 gigawatt-hours of solar electricity in 2014-15, medium businesses 0, and large businesses generated 124.4 GWh.
Commercial solar power has become increasingly attractive for businesses in Australia.
The cost of commercial solar has plummeted over recent years, while electricity prices for business customers have skyrocketed.
Businesses paying more than 20c/kWh for daytime electricity usage can see a payback time of between 5 and 7 years on a solar power system sized to daytime load requirements; while also retaining the security of being connected to the mains grid.
Commercial solar has also become more accessible through the advent of leasing and solar PPA (Power Purchase Agreement) arrangements. Both remove the burden of ownership and can involve zero upfront capital outlay; preserving funds that businesses can invest in other activities.
Further details from the Australian Bureau of Statistics report on business energy use and generation in Australia can be viewed here:
4660.0 – Energy Use, Electricity Generation and Environmental Management, Australia, 2014-15
Top Right Image Credit: BigStock