The solar revolution continues in Australia, with home battery storage also starting to appear in the nation's Clean Energy Regulator's statistics.
The latest figures from the Clean Energy Regulator (CER) reveal 5,293 small-scale renewable energy systems installed nationally last month, with a total generation capacity of 22.6MW. Of this number, 4,266 were solar panel systems, with the remainder solar hot water units and heat pumps.
Queensland led the way in June with 1,597 small scale renewable energy systems installed, followed by WA with 1,193.
Other highlights from June include 242 small-scale commercial sized solar systems (10 – 100kW) were installed across the country during the month. Queensland also led here, with 77 systems. New South Wales had the largest small-scale solar panel system installed during June (50kW).
Energy storage is slowly starting to make its mark; with 42 small-scale solar power systems installed with battery storage in June. As batteries aren't under the Renewable Energy Target, there's no CER data available on retrofits.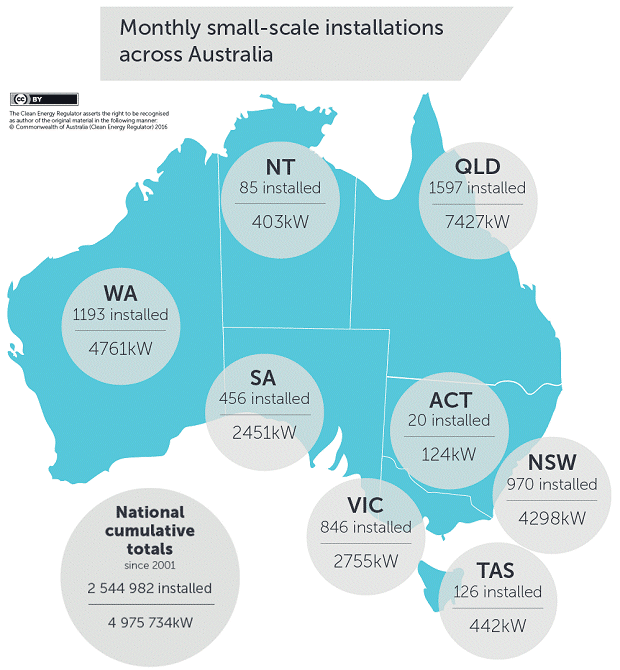 As at July 1, Australia boasted a total of  1,558,689 small scale solar power systems. There are also 787,404 solar hot water systems and 198,465 air source heat pump units installed throughout the country.
CER points out that there is a 12 month period for creation of small-scale technology certificates, so figures to date will continue to rise. Figures are based from the beginning of the Small-scale Renewable Energy Scheme, which commenced in 2001
Here's how the various states stack up for small scale solar PV installations to date, as at July 1:
Queensland – 478,583
New South Wales – 337,949
Victoria – 289,053
Western Australia – 205,596
South Australia – 197,549
Tasmania – 27,309
Australian Capital Territory – 16,883
Northern Territory – 5,767
Australia's small scale solar PV systems have a collective capacity of 4,974,266.683 kilowatts – just a tad under 5 gigawatts.
Further details can be found here:  Cracking the small-scale code – June 2016. Postcode data for small-scale installations is available here.
The Clean Energy Regulator is responsible for accelerating carbon abatement in Australia through via the National Greenhouse and Energy Reporting scheme, Renewable Energy Target and the Emissions Reduction Fund.