A completed review by Australia's Climate Change Authority (CCA) advises against any significant scaling back of the 2020 Large-scale Renewable Energy Target of 41,000 GWh.
"The Authority finds that, while the RET arrangements are not perfect, they are effective in reducing emissions at reasonable cost in the centrally important electricity sector, and are the only currently prospective policy instrument in the electricity supply sector that can be relied upon to deliver sizeable volumes of emissions reductions," states the CCA.
However, the CCA recommends extending the target due to a decline in investor confidence caused by the impasse over the RET and a forecasted further reduction in consumer electricity demand. It has suggested an extension of up to 3 years.
Beyond 2020, the Authority still sees a role for the RET: " particularly in the absence of credible alternative policies, RET-type arrangements might be required to support increased penetration of renewables in electricity for some time."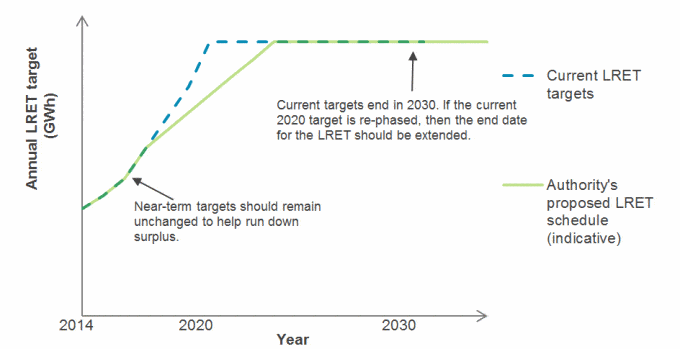 The Clean Energy Council welcomed the findings.
"This is the third review in two years to conclude that the scheme is successful and dismisses any argument for why the scheme should be slashed," said CEC Chief Executive Kane Thornton.
" The CCA report reiterates that slashing the target would actually result in higher power prices and lead to increased carbon emissions."
The report will put additional pressure on the Federal Government to abandon its goal of gutting the RET and seek a reasonable compromise with Labor on the future of the scheme.
On the weekend, Industry Minister Ian Macfarlane warned of increased power prices unless a deal can be struck. While attempting to point the finger at Labor and the CEC for the situation, the uncertainty the Government has created through its ongoing attempts to slash the RET – which previously enjoyed bipartisan support for over a decade – is what has produced this possible scenario.
With regard to the SRES, the small scale component of the RET that subsidises the installation of home and commercial solar power systems, the CCA has not recommended any specific changes; although it states the scheduled phase out could " conceivably be accelerated" without major disruption if executed correctly.
The full text of the CCA's Renewable Energy Target Review Report can be downloaded here (PDF).