More than a quarter of all electricity system expenditure in Australia out to 2050 is likely to be made by consumers; on items including solar power systems and battery storage.
The forecast has been made by the Electricity Network Transformation Roadmap project; a joint effort of the CSIRO and the Energy Networks Association (ENA); based on long term scenario analysis to 2050.
In what's been described as a "historic transfer of power from energy utilities to customers", an interim report states more than $224 billion will be spent by consumers on electricity infrastructure. In fact, depending on the scenario, between $220 and $470 billion will be spent on on-site or off-grid expenditure by customers and their agents.
ENA and CSIRO state the Electricity Network Transformation Roadmap will be a 10-year blueprint to helping to make this transition a smooth one.
Four future scenarios are being examined as part of the project, with one modeling near zero emissions from the electricity sector by 2050. This would be achieved with 73% of electricity provided by large scale renewables and the remainder from end-user installed solar panels. In this scenario, it's claimed more network infrastructure will be required than in others examined – a claim that will no doubt be examined closely.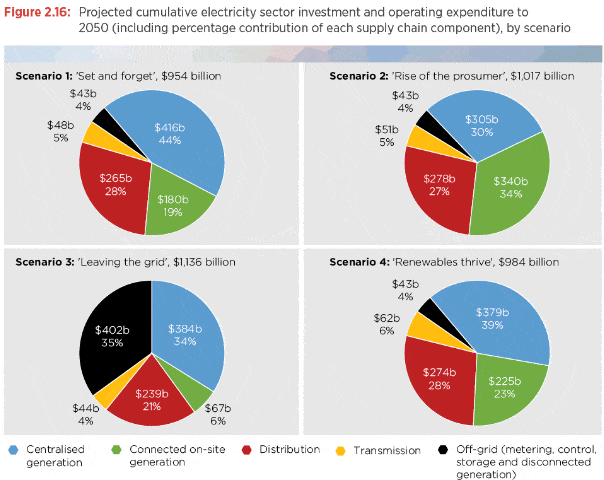 Sine modeling in 2013, the long-term forecast for electricity bills has improved slightly says the report; in part due to the expected benefits of  battery storage.
"Storage costs are now expected to fall by around two-thirds in the next 10 years, while solar panel costs are expected to fall by around one-third," said CSIRO Energy Chief Economist, Paul Graham.
"Falling storage costs can improve the competitiveness of grid-delivered electricity, contributing to lower bills for grid-connected customers by enabling peak demand reduction and more efficient operation of networks."
ENA CEO John Bradley says business model of the electricity network could evolve into a platform provider instead of its traditional "poles and wires" service.
"Australia has a clear window of opportunity to reshape our electricity system to enable the customer-driven take up of new services, like renewable and low-emission generation, home automation, battery storage, and electric vehicles," Mr Bradley said
The Network Transformation Roadmap will be released in late 2016. The full interim report can be viewed here (PDF).