If you caught last week's opening episode of Open Homes Australia, you would have watched Enphase take the stage and show off their incredible, game-changing solar technology.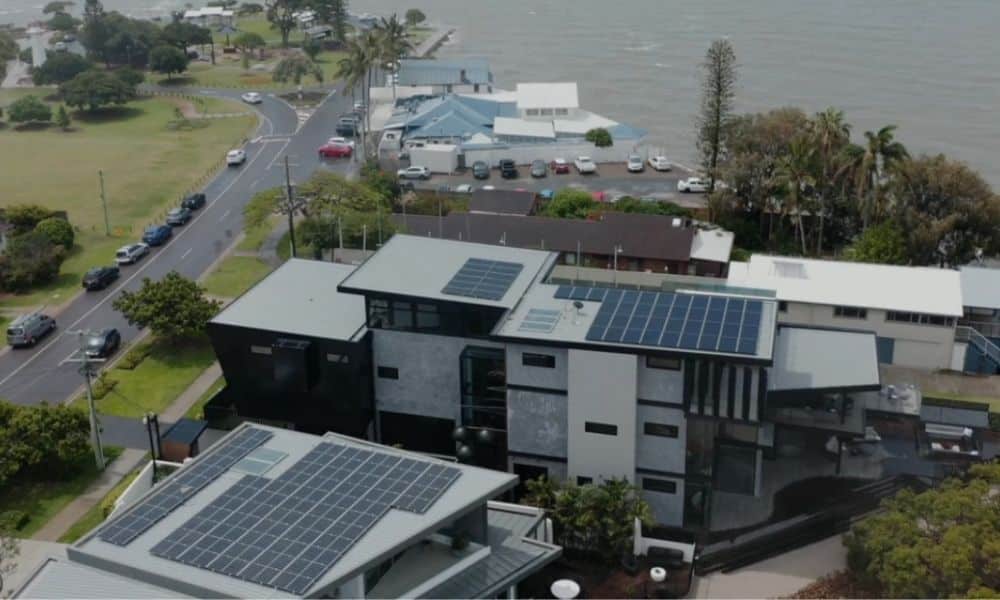 Enphase is Australia's leading supplier of microinverter-based solar and battery systems that enable people to make, use, save, and even sell their own power—and control it all with a smart mobile app.
Energy Matter's CEO Roshan (Rosh) Ramnarain also sat down with Wilf Johnston, General Manager-APAC of Enphase Energy to learn more about what they're doing to revolutionise solar panel efficiency.
Below we will give a quick recap of Enphase's feature on Open Homes Australia and also share some highlight's from our interview with Wilf.
When Great Design Meets Functionality and Sustainability
In this week's episode of Open Homes Australia, Jimmy (fan-favourite from The Block) visits a spectacular modern urban designed home in Cleveland, a highly sought-after bayside suburb of Brisbane.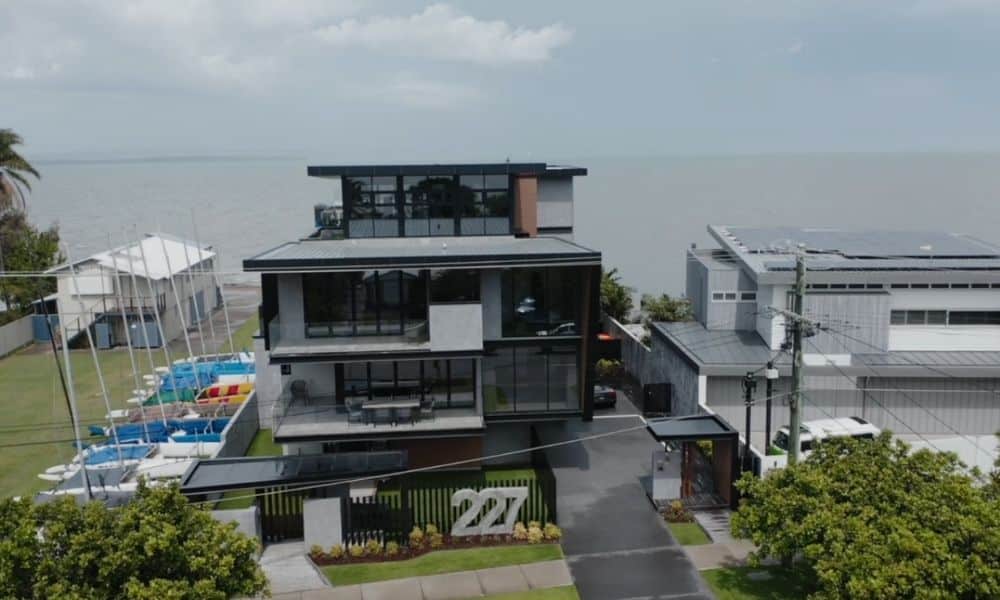 With its sleek modern lines, bold palette and high-tech features (including switch glass), it's the perfect example of great design meeting great functionality.
This is a home that wants to make a statement – and it definitely achieves that!
Five years in the making, the house is an expansive yet minimalistic structure featuring steel, glass, timber and concrete – but what really sets it apart in our eyes is its solar power system.
The home's specially-designed roof hosts no less than 51 solar panels – generating a whopping 20 kW of solar energy. The homeowners shared that it wasn't simply about fitting as many panels as they could, but rather understanding how much energy they were going to use throughout the daytime while the sun is out and fully catering to that consumption. Excess energy produced throughout the day is sent back to the grid for a feed-in tariff, further reducing their energy bills.
Each panel is fitted with its own Enphase microinverter. Unlike standard string inverters, where all solar panels are connected to one large central inverter, a microinverter is built into each individual solar panel. This gives each panel the ability to function independently from its neighbours.
The result? The overall system efficiency is increased by maximising each panel's output. As each solar panel's performance is independent, an individual damaged, soiled or shaded panel will not affect the entire array.
For an architecturally designed roof with varying pitches, directions and shading, Enphase's revolutionary microinverter system provides greater design flexibility and energy harvesting potential.
Enphase microinverters also allow homeowners to monitor their solar system via the MyEnlighten web application. The easy-to-use app allows homeowners to check their system's status at-a-glance, tracking each panel's health and performance on-the-go. It also gives users insights into their energy usage, allowing total control over their energy bills.
Enphase Microinverters: Revolutionising Solar Panel Efficiency
In Energy Matter's latest 'Road to Zero' podcast episode, Rosh caught up with Wilf from Enphase Energy to chat about their game-changing microinverters and what they're doing to revolutionise solar panel efficiency.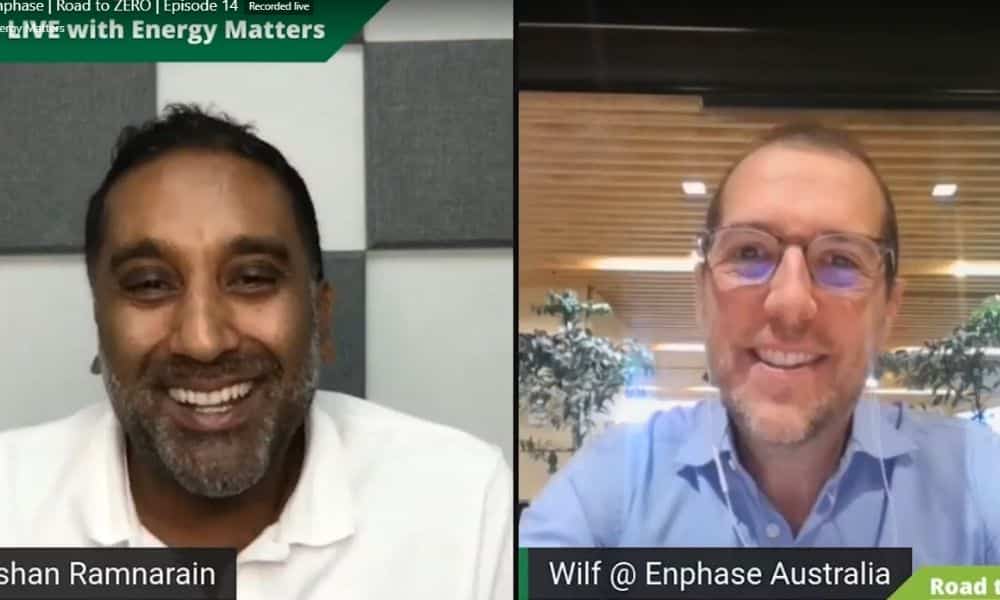 Kicking off the interview, Rosh asked Wilf what the top three things are that differentiate Enphase in the market today.
"We like to keep it simple…smarter, safer, tougher," said Wilf.
"At the end of the day, we've got the cloud-based smarts, data analytics and the ability to connect to any microinverter anywhere around the world.
"The safety – because we have the ability to turn stuff off instantly if there's an issue…that rapid shutdown capability. Also, Enphase being an AC energy system, once you switch it off at the wall everything's dead, as opposed to a DC system where everything is still going to be live.
"And tougher – it's IP65 [rating], so it can survive more heat than the competition and it's waterproof."
Rosh and Wilf also discussed whether or not microinverters should become the standard over string inverters.
"Ultimately it is another step in functionality, but that comes with a cost," said Wilf.
Wilf explained that it's up to the customer to decide whether or not it's worth the investment. However, when something goes wrong, having a microinverter and the Enphase support network can make all the difference for both installers and homeowners.
"We can troubleshoot what the issue is…and because it's a distributed system, if one of them breaks [out of 20 for example], well you're only down 5%, whereas a single string, bang, you lose 100% of your energy."
Wilf also touched on the electrification of modern lifestyles, where gas is out in favour of electric appliances and the transition to electric vehicles. He discussed how this is going to impact solar system size and increase our overall reliance on solar energy moving forward.
"We're definitely going to see bigger systems as a trend and, from our point of view that plays well with what we're all about…bigger systems mean a more complex install, – you don't just have a neat little strip of solar panels sitting on a north-facing roof.
"Having a system that treats every panel as its own individual thing like the Enphase system does means that you can take advantage of that and maximise your system".
You can listen to the full podcast episode here
Open Homes Australia: Season 5 Airing Now
When you buy a home, you're not just buying a roof over your head – you're buying a place to call your own, a sanctuary from the outside world. Your home should be a reflection of your unique style and personality, and it should be a space that you're proud to come home to at the end of a long day.
Here at Energy Matters, we believe that the best homes are designed with sustainability front of mind – not only will a sustainably-designed home keep you comfortable year-round, but it will save you thousands in energy bills while also helping the environment.
Energy Matters is thrilled to be partnering with Open Homes Australia for its 5th season.
This season continues the tradition of showcasing incredible Australian homes, breath-taking designs, and sustainable choices that will be sure to inspire and awe you. Featuring some of Australia's most recognisable designers and creatives, as well as many from your favourite seasons of The Block and Renovate or Rebuild – this is a show you don't want to miss!
Catch the next episode on Saturday March 19th @ 4:30pm on 9Life!