And just like that, we've made it to the season finale of Open Homes Australia – and what a fascinating journey it's been. We've seen some incredible properties and inspiring designs, but what stands out the most for us is the wealth of innovation and smart technology that is helping ordinary Australians achieve sustainable living and low-to-no energy bills.
And we might have just saved the best for last.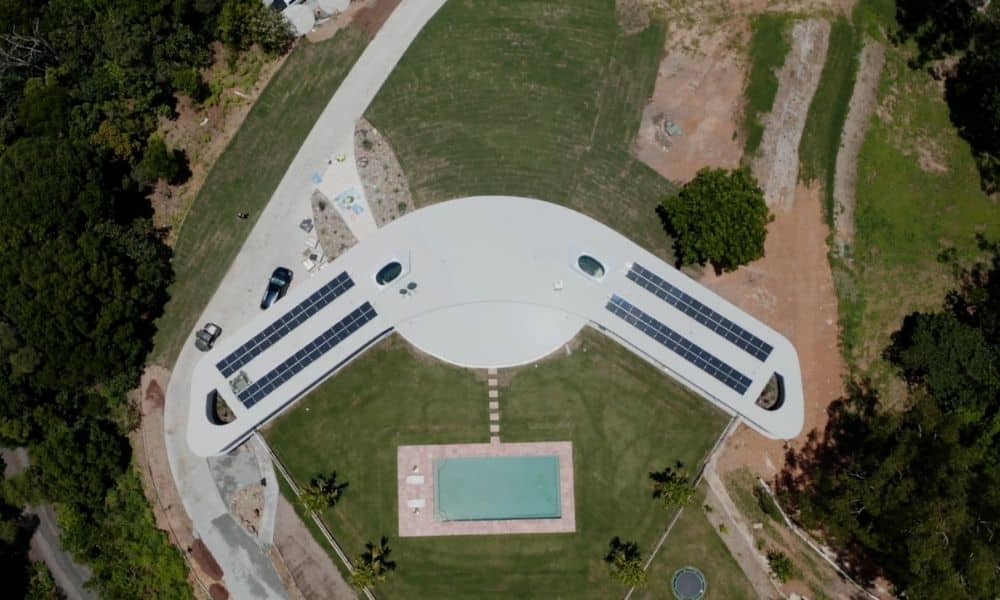 In this week's episode, viewers are treated to a tour of one of the most luxurious eco-estates we've ever set eyes on. While this opulent property might be out of reach for most Australians, the energy security and savings achieved through the combination of rooftop solar panels and the latest hybrid inverter battery from Fronius certainly isn't.
Keep reading to find out how this family's careful planning helped keep the power on when the grid went down during the recent Queensland floods.

A Touch of Hollywood in 'Tally Valley'
Arguably one of the Gold Coast's most beautiful suburbs, Tallebudgera Valley is located 12kms inland of some of the world's most exquisite coastlines.
'Tally Valley' as the locals like to call it, is a lush valley at the back of Tallebudgera Beach leading into emerald-green farmland, natural forests and the relaxed ambience for which the southern Gold Coast is renowned.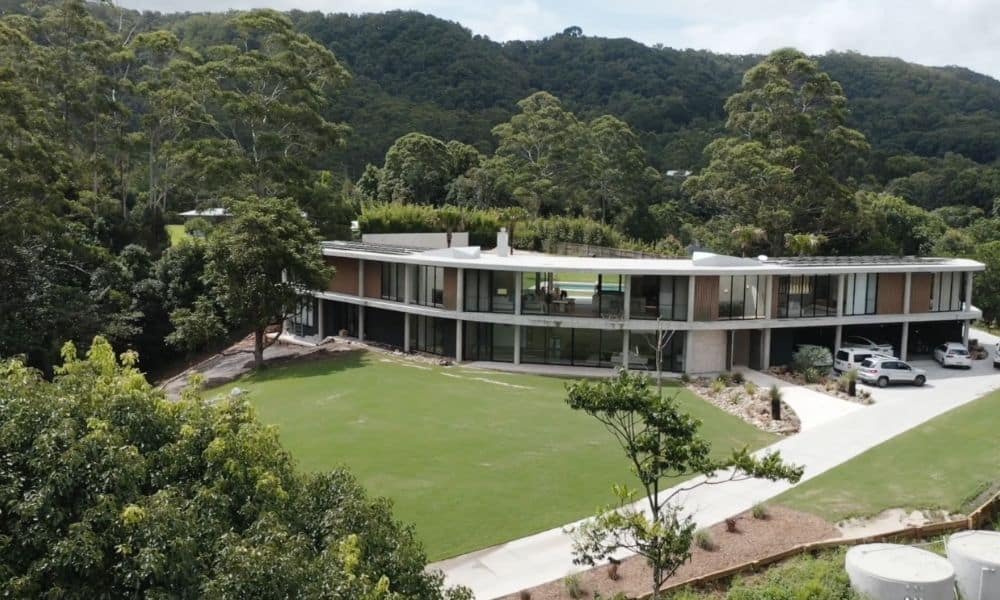 Because it is so flush with nature, this region has lent itself perfectly to quality health resorts and eco-retreats. Nearby bushland plays host to a vibrant array of wild birds, their melodious song providing the perfect soundtrack to this little piece of paradise.
Set on the top of a hill surrounded by 360-degree views of the valley and mountains, is a sprawling estate like quite no other. Here, 'The Block' fan-favourite Carlene Duffy takes viewers for a tour of the property.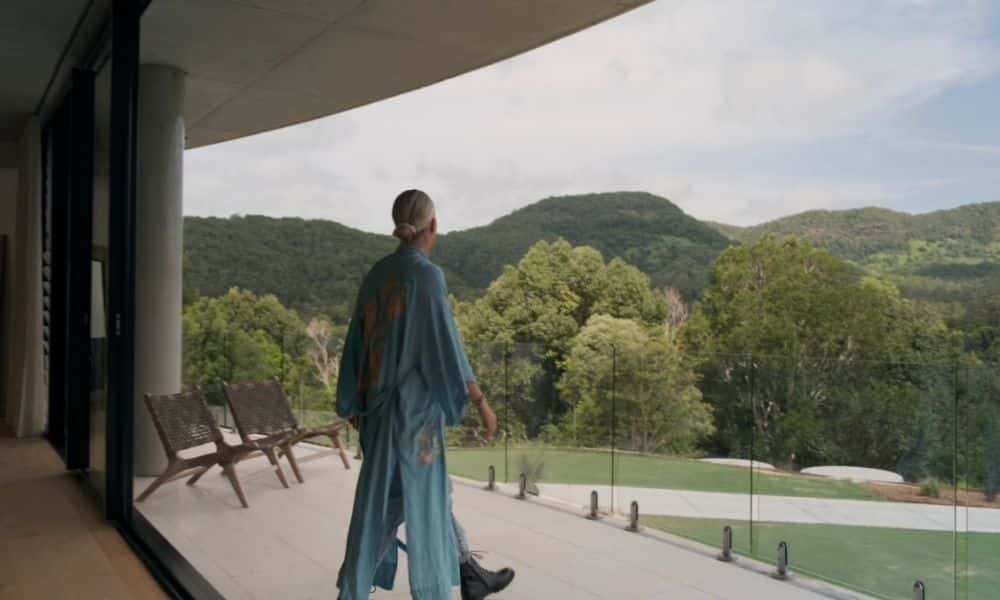 Conceived with the guidance of local architect Jason Pate, the home is designed to make the most of the spectacular views. Featuring a striking curved suspended slab, floor-to-ceiling windows and a stunning pool, it is as Carlene describes it, "a little bit of Hollywood in the valley".
Despite its scale, the home feels one with nature, sitting harmoniously in its surroundings. The extensive glazed windows successfully blur the lines between indoors and out.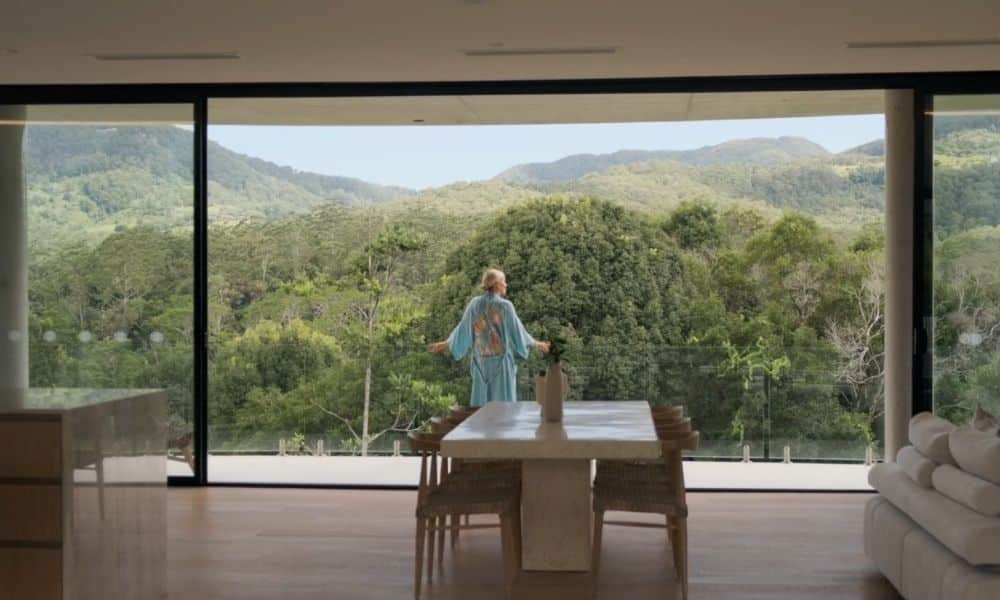 While the view is undoubtedly the star, the interior shines just as bright.
The home's clay foundations inspired many of the interior finishes including the incredible granite benchtop and travertine cobblestone used throughout.
Homeowner Ashely shared that it was important to her and her husband that they balance the harsh exterior of the concrete with softness. They approached this with the use of an earthy and neutral colour palette, complimented by organic and textured materials. The end result is an interior that exudes luxury and is guaranteed to stand the test of time.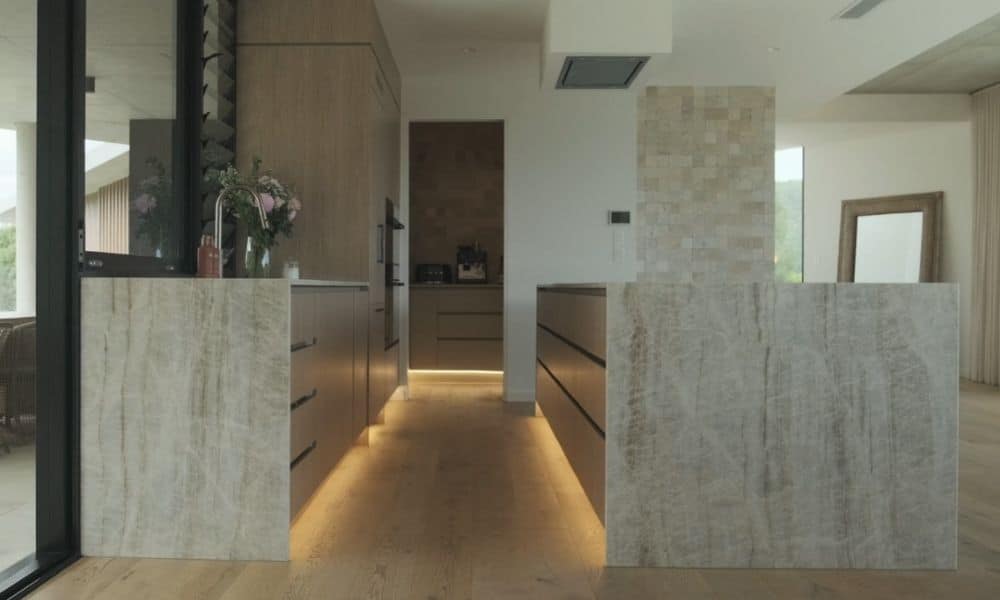 Every room of the house takes full advantage of the view. This unadulterated view of the property carries the added benefit of easy supervision of the kids while they're playing outside.
The heart of the home is the master retreat that occupies the entire east wing. With a his-and-hers walk-in robe, a dedicated lounge area and an ensuite with views to die for, it is the perfect space for some much-needed R&R.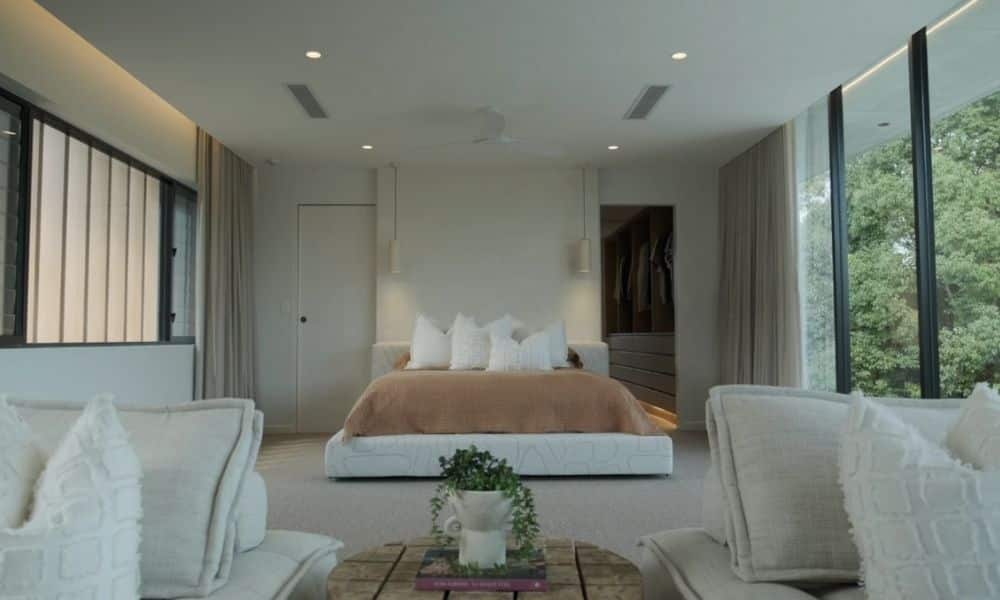 Fronius: Self-Sufficiency and Energy Security
As evidenced by the devastating bushfires in 2019/2020 and, more recently, the floods that swept through Queensland and New South Wales, extreme weather conditions are becoming more and more common in Australia.
For this reason, it is important that we do everything we can to make our homes as self-sufficient and energy-secure as possible. Ashely and her husband have certainly done their homework in this department.
"We designed the house to operate as off-grid as possible…So if anything does stop working, we're okay", Ashely said.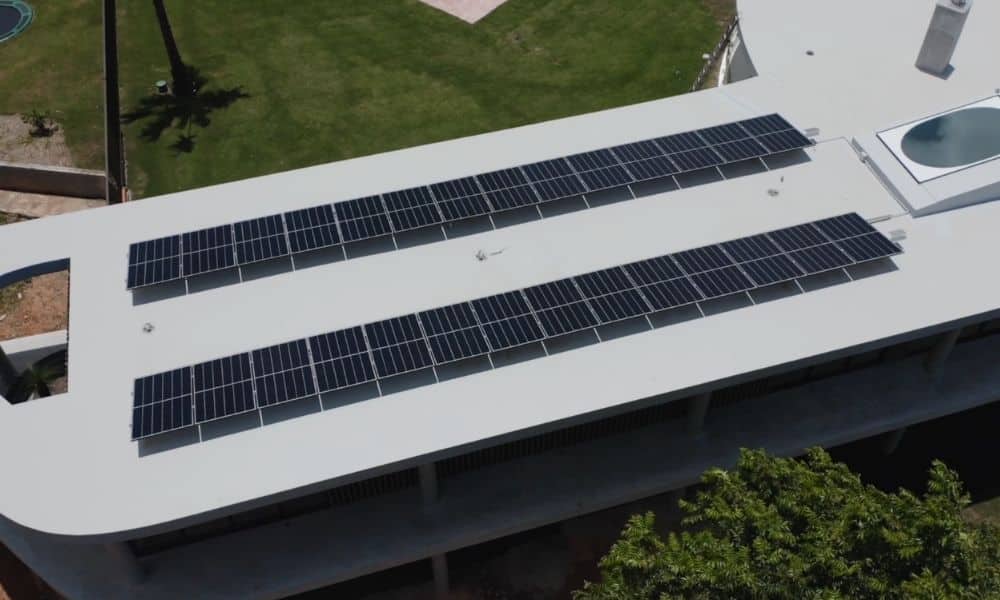 Besides rainwater tanks, the home features a whopping 20kW solar PV system with battery storage and electric vehicle chargers.
What truly sets this incredible system apart is that it has been installed with the latest Fronius Symo and Fronius GEN24 Hybrid inverter with battery backup capability. During the recent South East Queensland floods that left multitudes of households without power, this system provided Ashely's family with backup power for several days.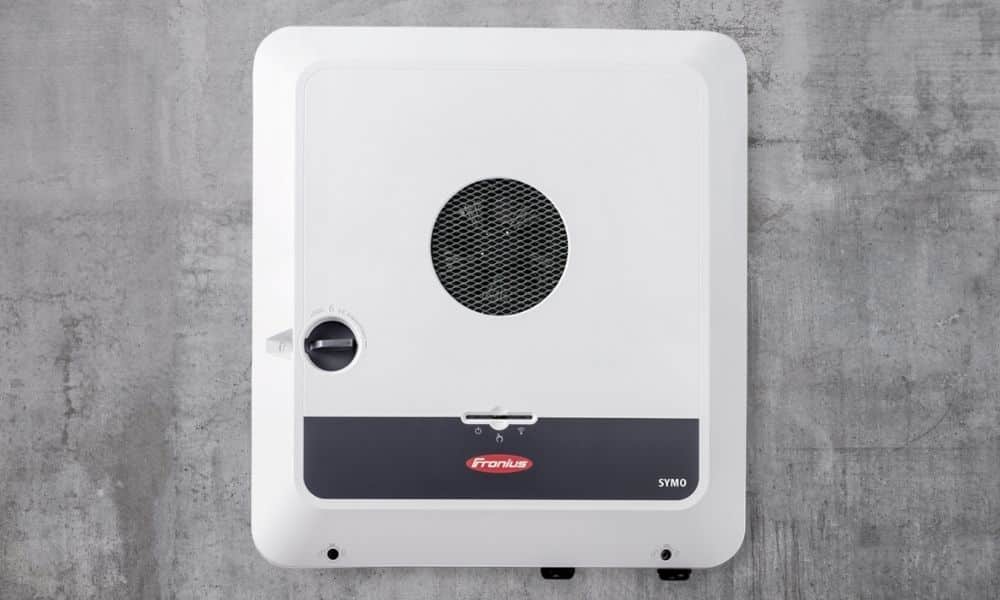 The Fronius GEN24 will automatically switch to backup power in the event of grid failure and will supply the entire household (even three-phase loads) whenever there is sufficient energy available.

This is not only a huge weight off the minds of Ashely and her family but gives them the assurance that comes with knowing they are prepared for whatever Mother Nature throws their way.
We hope you enjoyed this season of Open Homes Australia and we hope it has inspired you to think about how you can make your home more self-sufficient while saving money on energy bills.
If you've missed an episode, never fear – all episodes are available to watch free and on demand on 9now.
Stay safe and see you next season!