As Australians gathered together in protest for the global movement, known as #climatestrike, Google announced it's most recent purchase: the largest corporate purchase of renewables in history.
Comprised mostly of solar-related projects, it includes a whopping 1,600-megawatt (MW) of renewables. Once these projects are complete, it will increase Google's total portfolio to 5,500 MW and produce more electricity each year than entire countries like Lithuania or Uruguay.
Google's announcement notes major wind and solar deals
In a recent company blog post, Google CEO Sundar Pichai said the latest agreements will see a $2 billion investment in new energy infrastructure. This will include millions of solar panels, in addition to hundreds of wind turbines – all spread across the continents.
Pichai noted that the giant's current renewable energy fleet stands at 52 projects, which generates more than $7 billion in new construction projects, and thousands of similar jobs.
He went on to say: "These 18 new deals span the globe, and include investments in the U.S., Chile and Europe. In the U.S., we'll purchase energy from 720 MW of solar farms in North Carolina (155 MW), South Carolina (75 MW), and Texas (490 MW)—more than doubling the capacity of our global solar portfolio to date.
"In South America, we're adding 125 MW of renewable energy capacity to the grid that supplies our data centre in Chile. Finally, almost half (793 MW) of the new renewable energy capacity purchased will be located in Europe, specifically Finland (255 MW), Sweden (286 MW), Belgium (92 MW), and Denmark (160 MW)."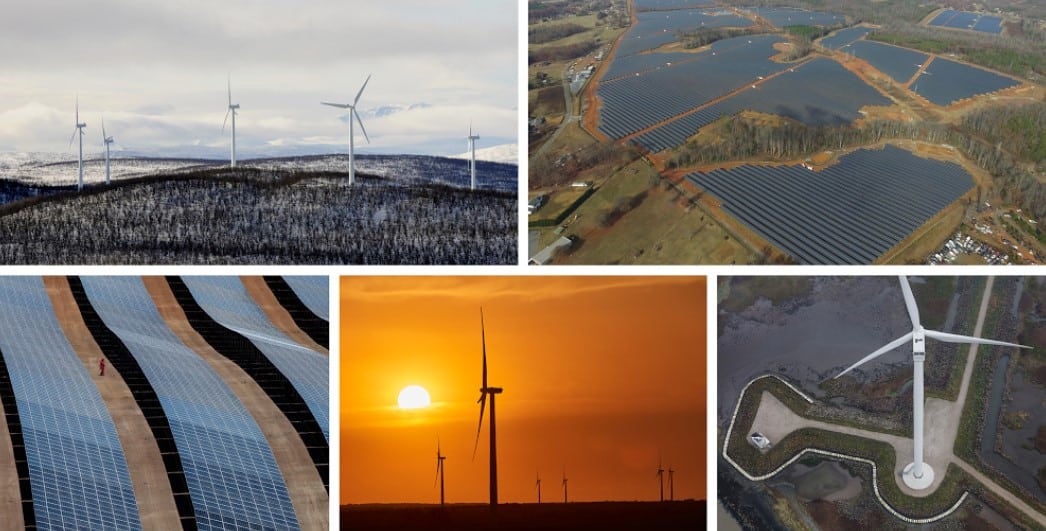 Image from – https://www.blog.google/outreach-initiatives/sustainability/our-biggest-renewable-energy-purchase-ever/
It probably comes as no surprise that this announcement is made off back of a recent announcement by Amazon.  CEO and Founder of Amazon Jeff Bezos said the company is making the single largest order of Electric vehicles in history, as part of their climate pledge initiative to make Amazon carbon neutral by 2040.
See Jeff Bezos' announcement on Twitter here.