There are no two ways about it – the last year has been extremely challenging for all Australians. The impacts of COVID-19 have taken their toll, and despite measures rolled out to keep people at work, the unemployment rate has surged from 5.16 per cent in 2019 to 7.68 per cent in 2021. That is a rise of 2.52 per cent, which equates to roughly 642,600 people.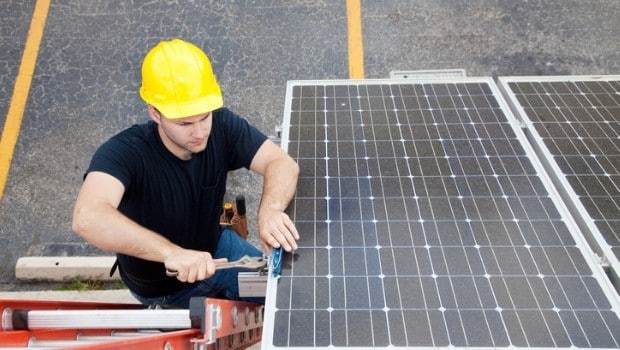 On top of that, around 9.4 per cent of Australians are underemployed, which means they are aged over 15 and working less than 35 hours a week, despite having a desire and the skills to work more. With COVID-19 vaccines not likely to be rolled out entirely until October and with further lockdown measures possible in between now and then, it has created a challenging landscape for people to find and retain work.
For many people, that means a change of industry and there are many opportunities available in new sectors that can be considered, and one of the biggest opportunities lies in installing solar panels.
Solar panel installation is Australia's current boom industry
There are already over two million Australian homes that have solar panels on their rooftops, and that number continues to swell every year. A record 7.0 gigawatts of new renewable capacity was installed during 2020 alone. That record is set to be broken again in 2021. This comes as more and more people seek cheaper electricity bills and look to create a more sustainable future for the planet.
There are also record tariffs and rebates available, plus several government incentives that have made installing solar panels more affordable for the average family. That means the demand is rising across both the residential and business sectors. There is plenty of opportunity for new, trained solar installers. There are plenty of jobs on the horizon during a time that's mostly full of uncertainty.
Fully accredited Ausinet courses
For electricians that have been placed out of work because of COVID-19, these learning modules provide the ideal opportunity to upskill and learn how to install solar panels and battery storage solutions.
These courses are conducted 50 per cent online for the theory component and 50 per cent practical at Ausinet facilities. There's also an e-platform allowing for flexible learning; complete the theory in your own time.
You can learn everything you need to know about solar installation through the Solar Design & Install Grid-Connected Photovoltaic Systems course. Meanwhile, extend your knowledge to include battery solutions through the Battery Storage Systems for Grid Connected PV Systems Design and Install course.
It is recommended to do both courses, as battery storage installations are becoming more mainstream. The technology has improved to be a highly affordable vantage point, with plenty of capacity on offer. Solar panels and batteries are often sold as packages to consumers.