This rather unique looking electric motorcycle's battery pack is designed to have a second life as energy storage for a solar power system.
The Johammer J1 electric motorcycle, developed and manufactured in Austria, has a range of 200 km and a top speed (electronically limited) of 120 kilometres per hour.
The Johammer's powertrain consists of a maintenance free DC-excited synchronous motor with single-stage transmission and boasts a continuous power output of 11kW, and a peak power output of 16kW.
The battery is based on lithium-ion chemistry; and has maximum storage capacity of 12.7 kWh, around 10% less than a Tesla Powerwall 2. Recharge time is stated as 3.5 hours, but there appears to be a fast-charge option of 80 minutes.
The manufacturer guarantees a battery service life of 200,000 km or four years; with a residual capacity of at least 85% when used in accordance with their guidelines. The battery pack can then be used to store energy generated by a solar power system, with an extended secondary life cycle of up to 20 years – which seems a little optimistic.
After this secondary use, the battery packs will then be recycled.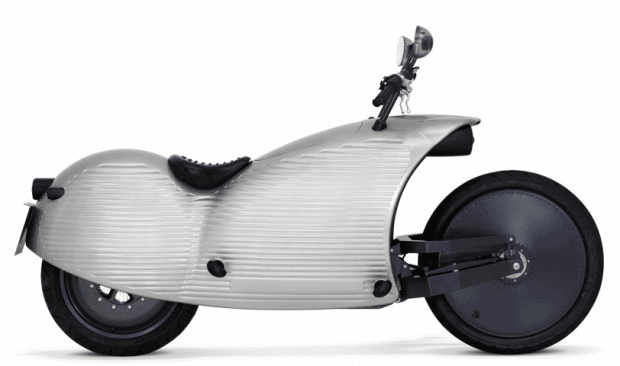 There's a high degree of recyclability in the Johammer. Aluminium is used extensively in the bike; with the metal used for the frame, front/rear forks and wheels. The fairing is made from a polypropylene-based material.
The Johammer has dual-piston brake calipers front and rear. Given the regenerative braking system, brake pads are expected to last far longer than usual.
One of the interesting features of this motorcycle is there are no conventional gauges. Dash display are integrated into each of the round rear-view mirrors through the use of 2.4″ colour screens.
The J1.200 model (with the larger battery pack) has an overall weight of 178kg.
So, what's this electric motorcycle cost? It's not cheap – the J1.150 (8.3 kWh battery pack) works out to be just shy of AUD $33,000 at current exchange rates and the J1.200 (12.7 kWh battery) a few thousand dollars more.
The Johammer J1 received an honourable mention at RedDot Awards 2016.
If you're wondering about the name – the company's CEO is Johann Hammerschmid.
You can learn more about the  Johammer J1 electric motorcycle here.