U.S. company NEXTracker has unveiled a world-first. The NX Fusion Plus – a solution that integrates the company's solar tracking system, battery storage, inverter and smart control software.
The NEXTracker company says by incorporating energy storage, NX Fusion Plus can boost energy output and duration of solar PV facilities, just as the company's tracking technology has achieved in comparison to fixed-tilt solar applications.
" We can now dispatch uninterrupted clean energy in the most effective manner possible for the customer," said NEXTracker CTO Alex Au.
NEXTracker is a Flex company
NEXTracker's predictive smart control software, embedded in the electronics, leverages the power of parent company Flex's secure data platform.
" Our tracker becomes the data acquisition backbone of the plant, offering complete system analytics and monitoring," stated Mr. Au.
The energy storage component used in NX Fusion Plus is a 25 kWh vanadium flow battery featuring integrated thermal management and Battery Management System ( BMS). NX Fusion Plus also includes the NX Horizon self-powered tracker, 300 – 350 watt monocrystalline solar modules and a 30kW string inverter; plus pre-assembled cables and connectors.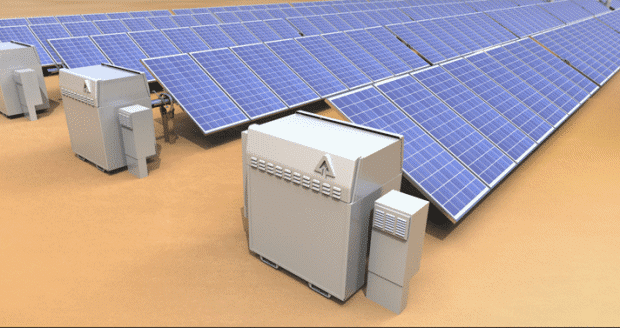 "The solution enables higher return on investment than solar alone because we can now utilize more clipped energy and offset demand charges for end users," says the company.
NEXTracker has experienced great success with its various solutions domestically and abroad; growing to supporting 5.5 gigawatts of solar capacity in just 3 years. While the company was only established in 2013, members of its executive team installed the first solar tracker in the U.S. two decades ago.
The company is now the world's leading solar tracker supplier according to GTM Research's recent report, The Global PV Tracker Landscape 2016.
The future continues to looks very bright for NEXTracker. The GTM research report also states 23 percent of ground-mount PV systems globally will use solar trackers by the end of this year; a figure that is expected to grow to 49 percent by 2021.
In June this year, pv magazine named NEXTracker's NX Fusion product (the original version without battery storage) as a winner of its 2016 Array Changing Technologies award.
In Australia, NEXTracker solutions have been utilised in the recently opened Mount Majura Solar Farm in the ACT.