The New South Wales government says the state could boost its national lead in solar power projects with 12 new solar farm proposals in the pipeline.
The dozen solar farm projects, if approved, would add more than 1,000 megawatts of solar capacity; enough to supply the electricity requirements of 365,000 homes across the state.
"The 1000 megawatts is on top of the 660 megawatts that will be generated by 11 other solar farms that the NSW Government has already given the green light since 2011," said Minister for Planning and Housing Anthony Roberts.
"Our aim is for a secure, reliable, affordable and clean energy future and projects such as these are great opportunities that enable us to deliver on this."
One of those projects is the proposed 200MW Sunraysia Solar Farm, to be situated near the town of Balranald  – it would have nearly double the capacity of what is Australia's largest operating solar farm at Nyngan (102MW).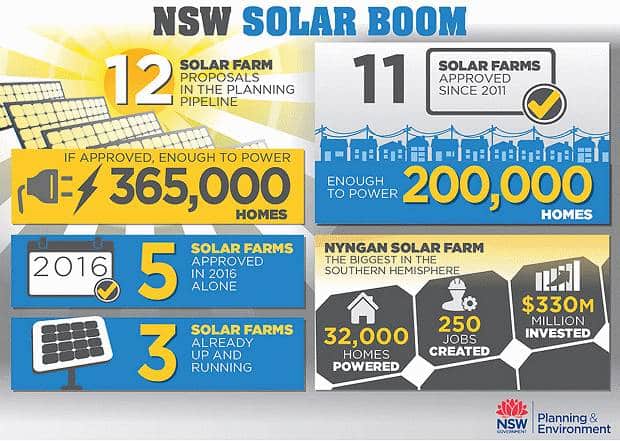 As well as the huge amounts of clean energy generated, the proposed projects would create a jobs bonanza.
"If approved, these proposals could generate sustainable power and local jobs for towns such as Gilgandra, Hillston, Narrabri, Armidale, Coleambally, Gulgong, Walgett, Jemalong, Balranald, Nyngan and Hay," said Minister for Resources and Energy and Utilities, Don Harwin.
The Nyngan project alone created 250 jobs during construction.
Yes, there's a lot of ifs involved with these proposals and there may be a bit of biffo with neighbouring Queensland regarding the "national solar leader" blanket claim. However, it's good to see the level of enthusiasm emanating from the NSW Government; which has also been clearly communicated through the cheery infographic they've provided above.
On the small scale side of things and according to the latest available data from Australia's Clean Energy Regulator, New South Wales boasts more than 357,000 solar power systems. This ranks the state second (in terms of overall numbers) to Queensland's half a million+ installations.
There are also more than 262,000 solar hot water systems installed across NSW – and the state beats Queensland on that front, which has just over 259,000 systems in place.