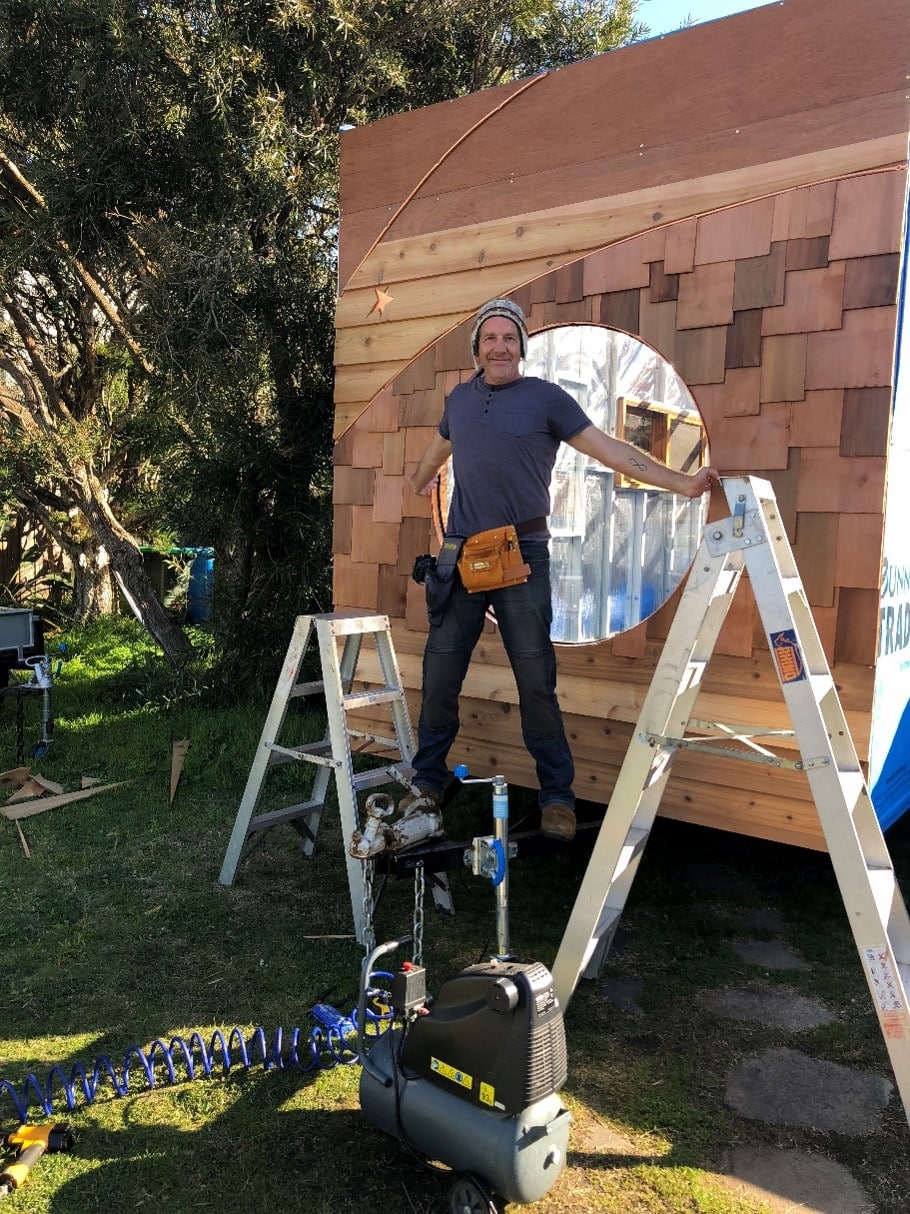 What got you into making Tiny Houses? 
The first time I saw a Tiny House was on Facebook in 2013.  It was in America.  I thought it was really beautiful and a great idea. I'd just built a cabin in the country and felt confident that I had the skills to make a Tiny House.  When I built my first one the following year, it was one of the first in Australia.  I've been making them ever since.
Each of your Tiny Houses is bespoke. Why is that?
To me, it's a form of creativity and expression like art or painting.  It's nice to do something unique each time.  Also, because I use upcycled and salvaged materials that dictates what I make.  I let the pieces create the whole so it's a pretty organic process.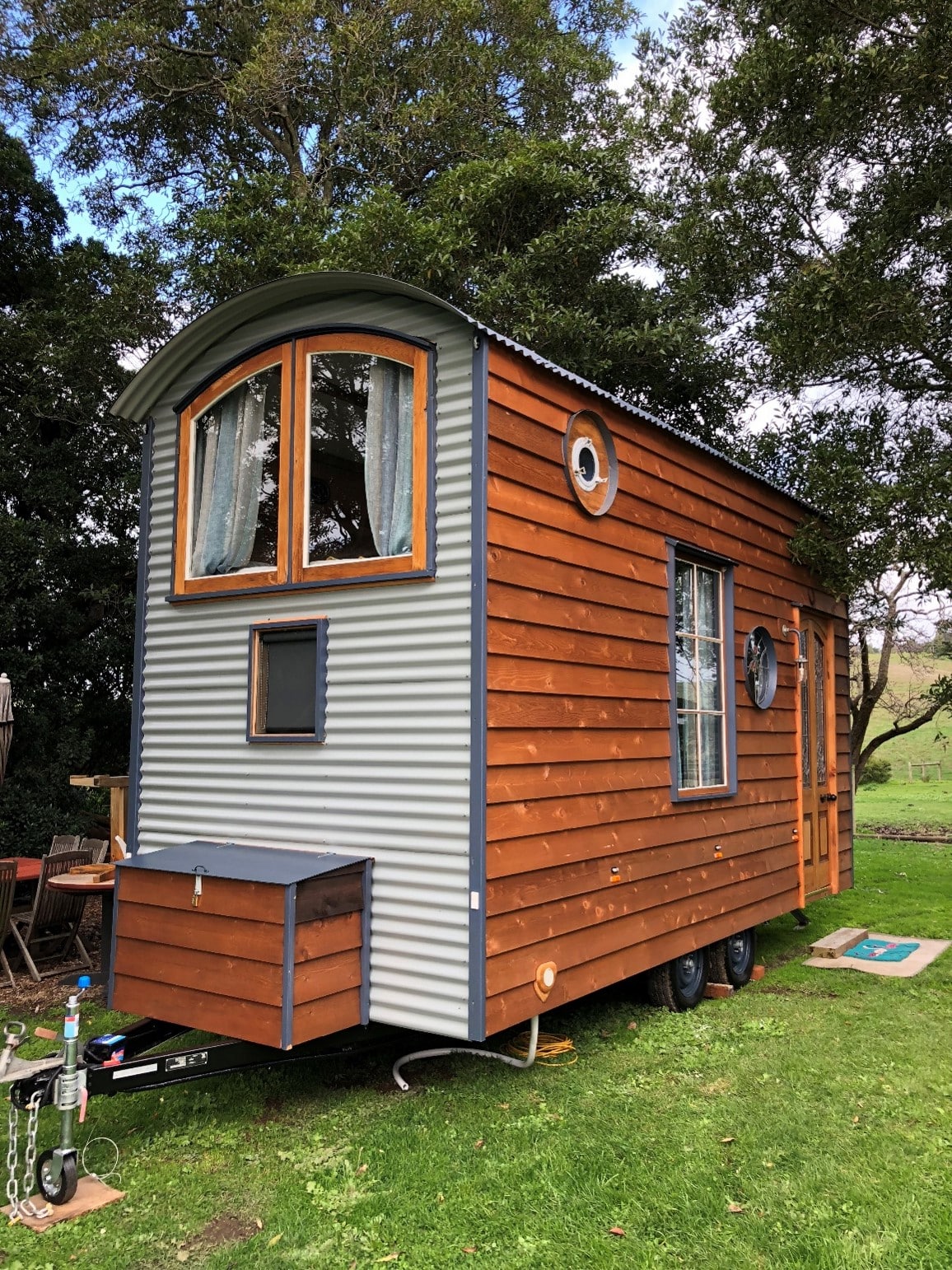 Caption: Ben's Tiny House, 'Cedar'
Where do you look for inspiration? 
With each project, I start by imagining the experience that people will have when they step into the space. I want them to feel enveloped and nurtured when they enter.  I set out to create a different atmosphere with each Tiny House, for example warm and rustic or calm and nurturing.
What comes first – aesthetics or functionality?
Functionality has to come first.  The aesthetic is important but if you can't make it a functional reality, what's the point?  I aim for a similar mindset to the Japanese minimalistic approach with their design aesthetic. I want people to feel good in the space.  For that, the trick is to keep it uncluttered which means that every aspect of the design needs to serve a purpose.
How are your Tiny Houses powered?
Each one is powered by an off-grid solar system and a gas bottle.  The solar and battery is for the lights, fridge, water pump, stereo, toilet fan and charging sockets.  The gas powers the cooker and hot water service.
Tell me more about the off-grid solar system.
Typically, the configuration is two solar panels of around 250 watts each and a 12 volt battery with 200 amp hours.  That's enough to provide power through the night and on those days when there's not much sunshine.
Have you seen a change in the popularity of Tiny Houses in recent years? 
Tiny Houses have become extremely popular in Australia in a short space of time and now it's something of a movement!  In my opinion, that's being driven by the high cost of housing and people seeking alternative lifestyles.
What are the main reasons why people buy your Tiny Houses? 
People tend to buy them for an AirBnB or to live in.  As an AirBnB they're great because they work as a 'business in a box' with everything included and, because they're off-grid, they can be located anywhere.
People looking for an alternative lifestyle like the Tiny House concept.  It's a way of living without a mortgage or renting, with very low running costs. It gives people more freedom to do other things with their lives, not just work to pay the bills.
I guess the reason why they come to me for a Tiny House is because of the unique design.  Whilst there's a compromise on space, they get a beautiful, custom-made home with quality build at a fraction of the cost of buying a 'normal' house.
What's your approach in terms of using sustainable materials and upcycled materials? 
I use salvaged or recycled materials wherever possible as I think this gives a more beautiful, unique result.  I love to source unusual items by trawling the internet.  For instance, I found a Japanese antique cabinet – called a tunsu – on eBay.  It's a feature in my Star Splitter Tiny House, serving both as a staircase to the mezzanine bedroom as well as storage.
For the structural components – like framing, plumbing, steel and wiring – I always buy new to ensure the integrity is there.
What do you see for the future of Tiny Houses?
As demand for Tiny Houses continues to grow, I believe that legislation will change so that living in them as a permanent residence is not an issue.  At present, the rules and regulations surrounding what you can and can't do with a Tiny House vary from council to council and between states.  Some councils let you live in a Tiny House as your permanent home (with the necessary permits) and others only let you live in it for a month each year.  A standard approach is needed, one that takes into account the advantages that Tiny Houses can offer those people looking to live a simpler, more affordable way of life.
I think this change will come.  It's just a question of time.
For more about Ben's Tiny Houses, visit tinyhouseproject on Instagram or www.tinyhouseproject.com.au.