Australians have so far enjoyed good news on the energy front to kick off the new year. Country-wide, the Federal Government announced a win for families and small businesses with reduced energy prices. Thousands of families are set to save up to 15 per cent on reducing power bills thanks to government pressure.
Meanwhile, Victoria's Labor Government is leading the charge with its Solar Homes program. Launched in August 2018, the program is not only reducing power bills for residents, but creating jobs and boosting local industry.
Solar energy jobs in coal-fired station stronghold
The impact has been positive across the board, but perhaps most evident in the Latrobe Valley. The area is home to all three of Victoria's coal-fired power stations.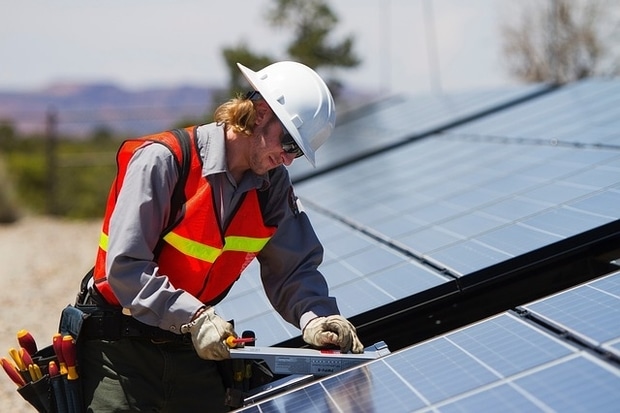 One business in Traralgon is already reaping the benefits of the program. Since the Solar Homes launch, it has hired five additional staff. Moreover, it has seen a major spike in people's interest in adopting solar energy.
Also in the Latrobe Valley, a Morwell firm has received around 50 applications for solar PV rebates.
In a media release from the Premier of Victoria's Office, Minister for Solar Lily D'Ambrosio said the Solar Homes program is creating "a renewable energy boom in the Latrobe Valley".
"We're driving down energy costs for families, creating local jobs and supporting local businesses," she said.
All Victorians benefit from solar with reducing power bills

Indeed, the vast majority of Victorians can take advantage of the Victorian Solar Homes program. So long as your household income does not exceed $180,000 – and your home is valued at $3 million or less – you are eligible for a rebate (one per household).
The current initiative supports solar panel installations on 24,000 Victorian homes with a rebate of up to $2,225. Solar hot water installations on 6,000 homes also receive a rebate up to $1,000.
Set to expand later this year, the program will install panels on a total of 700,000 Victorian homes. This includes 50,000 rental properties. The expanded program will also see solar hot water systems installed in 60,000 homes, with solar batteries in 10,000 homes.
Even those who aren't eligible for the program benefit. The downward pressure put on demand by the installation of all the solar power systems will assist in reducing power bills for all.
Sparking change across the country
With the ongoing success of Victoria's solar program, look for similar initiatives to spread across the country. Australian consumers are becoming more aware of the benefits of solar in the home, while many business owners are using the savings of their commercial solar to invest in their companies and create new jobs.