If you've been waiting to see how the Tesla Powerwall compatible SMA Sunny Boy Storage solar inverter/charger looks – here it is.
Originally announced last month, SMA have also released a datasheet containing further details about the upcoming Sunny Boy Storage 2.5.
"The device combines the flexibility of the AC coupling with the advantages of high-voltage technology, enabling a significant reduction in system and installation costs," says SMA.
The Sunny Boy Storage has a charge and discharge power of 2.5 kW; a good match with the Tesla Powerwall, which has a limit of 3.3 kW. Charging and discharging at a slightly lower power level will help to increase the life of the battery. The Tesla Powerwall was originally to have a charge/discharge limit of 2 kW, but was then later updated to 3.3 kW.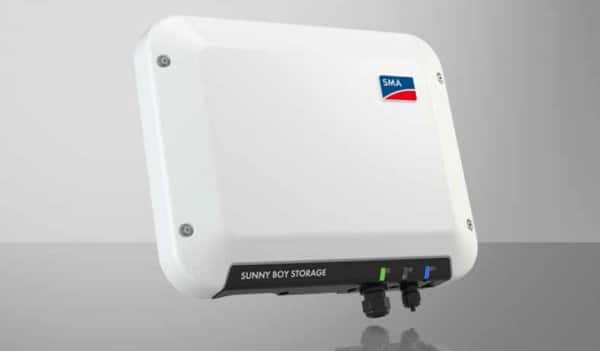 Importantly, the Sunny Boy Storage is rated at IP65 and has an operating temperature limit of 60 degrees Celsius, meaning that it can be installed outdoors next the Powerwall. It is only 122 mm deep, slightly thinner than the 180 mm depth of the Tesla Powerwall. From an aesthetics point of view, its white casing is again a good match with the Tesla Powerwall battery.
Including an integrated web server, the Sunny Boy Storage will be easy to connect to the SMA Sunny Places online portal for system monitoring using Ethernet or WiFi. To operate, it will require the SMA Energy Meter to be installed in the switchboard. The meter will enable the inverter to know when excess solar electricity is being exported to the grid, so it can charge the battery instead.
The Sunny Boy Storage has a warranty of 10 years.
Download the Sunny Boy Storage 2.5 datasheet here.
UPDATE: October 4 – Sunny Boy Storage 2.5 is now available from Energy Matters.
Until the Sunny Boy Storage was available in Australia, the only way to retrofit a Tesla Powerwall to an existing solar power system is by using the SolarEdge / StorEdge solution, available from Energy Matters' parent company.
The SolarEdge inverter has a 12 year warranty and the extra benefit of enabling another solar PV array to be added at any time in the future, directly into the SolarEdge inverter.