The first of eight solar assisted car-carrier ships was launched in Nagasu Port in Kumamoto, Japan earlier this week.
K Line's new ship, "Drive Green Highway", is part of the company's Drive Green Project.
The 200 meter long vessel is capable of carrying 7,500 passenger vehicles at once, has a top speed of 20 knots and a weight of 76,387 tonnes.
More than 900 of Solar Frontier's CIS solar panels have been installed on the ship's top deck, totaling 150 kilowatts of electricity generation capacity. The array is said to be one the largest solar power systems installed on a ship in the world.
"K Line is demonstrating how solar energy can improve the energy efficiency and reduce the ecological impact of the shipping industry," said Atsuhiko Hirano, CEO of Solar Frontier. "This is one example of the greater role that solar energy has to play in our future, supporting an ever broader range of technologies in a wider range of industries."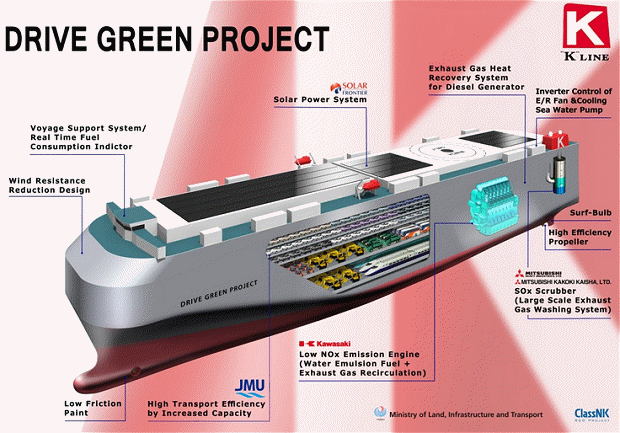 Some of the ship's other features include an aerodynamic design that cuts wind resistance by 20%, LED lighting, exhaust gas heat recovery system for the diesel generator, a SOx scrubber and a low NOx emission engine incorporating an exhaust gas reticulation system.
Between the solar panels and other energy efficiency innovations, it's expected Drive Green Highway will emit 25% less carbon-dioxide (CO2), 50% less nitrogen-oxide (NOx) and 90% less sulfur-oxide (SOx) per vehicle transported.
"To protect the environment of the earth and ocean, K Line will continue to vigorously strive to promote energy saving and reduce environmental impact of our fleets," said an earlier statement from the company.
K Line was originally established as Kawasaki Kisen Kaisha, Ltd. in 1919. The company currently has 375 car carrier and dry bulk vessels in its fleet; as well as container ships, LNG and LPG freighters.
Emissions reduction in the maritime sector is becoming an increasingly important issue. According to the European Commission, maritime transport is responsible for around 1000 million tonnes of CO2 emissions annually; accounting for approximately 2.5% of global greenhouse gas emissions. Shipping emissions are predicted to increase between 50% and 250% by 2050.