From 0 to 5GW; a solar panel for every woman, man and child in Australia – and it's happened so fast. Solar power now represents 9% of total electricity generation capacity in Australia.
According to solar consultancy firm SunWiz, Australia's currently installed PV capacity could fully power 1.25 million Australian households.
The 5GW figure is conservative. It doesn't include installations performed so far in 2016 and installations where associated RECs/STCs (Renewable Energy Certificates/Small Technology Certificates) are yet to be registered.
Solar's rapid ascent in Australia is illustrated very well in the following graph.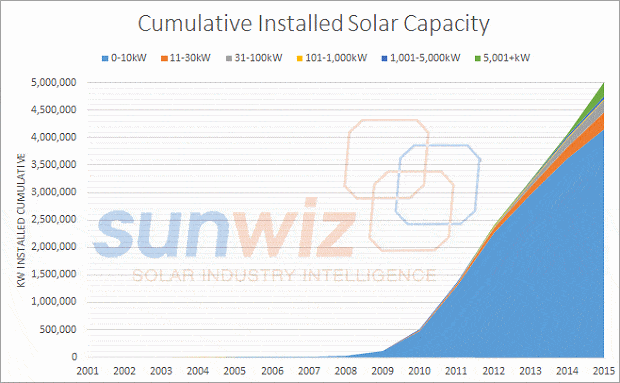 SunWiz reports Australia's solar stronghold in terms of capacity remains Queensland, which is now getting close to 1.5 million solar power systems installed. The state with the highest market saturation is South Australia.
During 2015,  913MW of solar power was installed across  Australia; making it the number one source of new generation capacity last year. Around 774MW of wind power commissioned in the NEM (National Electricity Market). It was a different story for the little black rock, with 1,300 MW of coal fired power generation decommissioned.
While the Australian market is maturing and the rate of solar panels being installed for residential is easing up, utility scale and commercial solar is looking healthy into the future; although 2016 may a bit of a lean year for the latter.
"Despite this and even as the volume of residential sales declines, there are sizeable opportunities in growth segments of the solar market, particularly in commercial and also in some highly favourable niches," states SunWiz.
The rapid uptake of solar panels hasn't been without its challenges; but even in the face of sometimes hostile government policies (and governments), solar has captured the imagination and stirred up passion in Australians of all demographics. It's more than just about the environment and financial savings for some – it's the feeling of a degree of independence from big power companies, a dash of "sticking it to the man".
On the topic of independence, the next solar revolution has already begun – home battery storage. Tesla Powerwall has already arrived and energy storage systems from companies including Enphase Energy (AC Battery) and Fronius aren't far off.
According to Energy Matters, a 6kW solar + storage system featuring SunEdison solar panels, Tesla Powerwall and SolarEdge technology can return a financial benefit of up to $3,063 a year; depending on system installation location and self-consumption level.