Global solar leader SunEdison, Inc. (NYSE:SUNE) has today launched its low-cost, high efficiency SE-P265NPB solar panel; available exclusively in Australia.
This 265W panel is set to play a significant role in the nation's solar power revolution and is the first SunEdison panel available in the Australian market.
"This module boasts all the hallmarks of quality Australian installers have come to expect; including a very low temperature coefficient, 35mm silver frame and MC4 connectors," said SunEdison Australia Managing Director, Jeremy Rich.
SunEdison's first foray into the Australian market with the SE-P265NPB polycrystalline solar panel offers an outstanding module efficiency of 16.2% and a better return on investment for Australian consumers based on the higher volume of watts per module. Multi-MPPT transformerless inverter compatible, the SE-P265NPB features a positive power tolerance and is Potential Induced Degradation (PID) free.
As a vertically integrated Tier-1 manufacturer, SunEdison has an impressive track record in the development and operation of solar power stations, with 50 years experience in the production of silicon and solar technology.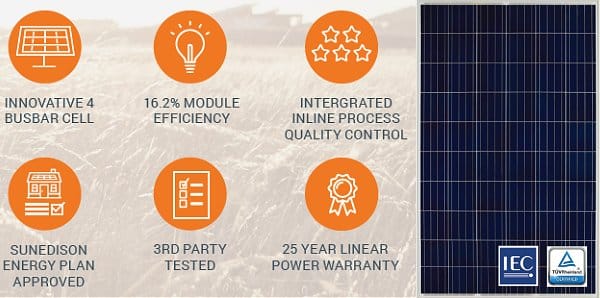 The P-Series manufacturing facilities are highly advanced and on an automated production line, ensuring consistency of quality. All P-Series solar panels and cells used undergo rigorous post-production quality testing. Every cell is photographed and inspected electronically for defects and then tested for efficiency.
"For end-users, they'll have the peace of mind of not only having a robust panel that will help maximise the potential of their valuable rooftop or ground-mount real estate, but also the solid backing of the world's leading renewable energy developer," said Mr Rich.
ADDITIONAL INFORMATION:
The SunEdison SE-P265NPB solar panel is a 60-cell module with four bus bars per cell, helping maximise its energy harvesting capabilities.
This panel is considered a "greener" module in terms of embodied energy as cells are fired in furnaces at triple the density of other systems.
The bus bar printing technology enables printing of both cell fingers and bus bars in two separate steps, meaning great precision and allowing the print pattern for fingers and bus bars to be independently optimised.
Sealed process bars are used to avoid contamination of the cells.
Cells that do not pass rigorous testing processes are on-sold to other manufacturers for use in lower-spec panels.
The SE-P265NPB comes with a 10 year limited warranty on materials and workmanship, and a 25 year linear power warranty.
BROCHURE AND DATASHEET:
For general enquiries regarding SunEdison solar panels, contact SunEdison Australia on 1800-EMATTERS.
The SunEdison Australia team will be showcasing the SE-P265NPB solar panel at All Energy Australia 2015, which starts tomorrow.
UPDATE: SunEdison solar panels are now available in our residential solar packages.