If you've ever wanted to get up close to a wind turbine and see how a wind farm operates, here's a great opportunity.
This Sunday, 11 October 2015, wind farms across the country will open their gates to the public; hosting fun and informative open days featuring family-friendly events.
Participating wind farms include:
– Woodlawn Wind Farm, New South Wales
– Macarthur Wind Farm, Victoria
– Musselroe Wind Farm, Tasmania
– Windy Hill Wind Farm, Queensland (October 10)
– Wonthaggi Wind Farm, Victoria
Further details can be viewed here.
According to the Clean Energy Council, Australia's wind farms produced over 30 per cent of the country's clean energy last year and wind power supplied 4.2 per cent of Australia's overall electricity needs in 2014.
Australia has some of the best wind resources in the world and aside from clean, renewable electricity; wind farm projects attract significant investment dollars, create jobs and provide ongoing benefits for local communities.
A person's first visit to a wind farm can be quite an eye-opener. The first aspect to make a big impression is the size of the wind turbines. The second thing often to impress is just how quiet wind turbines are; particularly if the person has been exposed to misinformation about wind turbine noise.
Far from being "visually awful" or "utterly offensive", some people find the movement of wind turbine blades quite relaxing and the overall impression is one of elegance in design and operation.
It would be hard to argue that a wind farm is somehow uglier than a dirty, coal fired power station such as Hazelwood Power Station in Victoria.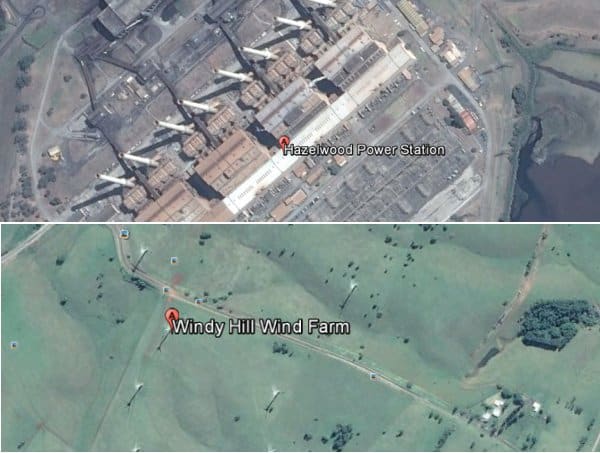 Australia has the 11th highest per-capita installed wind power capacity globally. Most of the nation's wind farms are concentrated in two states, South Australia and Tasmania, which have some of the highest per capita wind generation globally. According to South Australia's Climate Change Minister, Ian Hunter, if South Australia were a nation state, it  would be second only to Denmark in regard to wind energy.
Wind power is currently the most cost-effective source of renewable energy in Australia at utility-scale, although solar power is closing the gap.