Farmers and off-roaders in Australia may start drooling over the recently announced Nikola Zero; but they'll need to be cashed up.
The Nikola Zero is a side-by-side four-wheel drive off-road Utility Task Vehicle (UTV) currently being developed by Nikola Motors, the same company building the Nikola One – a hydrogen powered truck.
The 400 volt electric drivetrain delivers over 150HP at each wheel, enabling the Zero to go from 0 – 100 km/hr in just a few seconds. Impressive, but that sort of acceleration on bush tracks or out in the paddock may make for some dangerous scenarios.
The electric motors and gears situated at all wheels are IP67 rated, meaning both are protected from dust ingress and from immersion in water up to 1 meter in depth.
"The Nikola Zero was built military-grade and can be submerged and not harmed," says the company.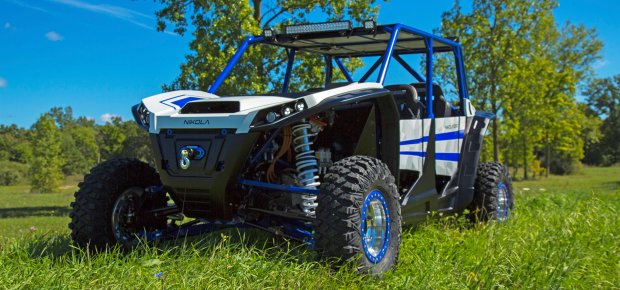 The current prototype has a 52 kilowatt- hour battery pack, but Nikola Motors envisions the production version will have a 72 kilowatt- hour battery system. Assuming the 72 kWh battery is used, the company says a range of 160 to 320 kilometres is possible; depending on terrain and how it's driven.
The 400 watts of solar panels installed on the roof maintains the 12 volt, 360 amp-hour battery bank. While the PV modules certainly won't provide all the charging power needed for the main 400V lithium battery pack, it's good for around 16 kilometres a day under favourable sunlight conditions.
Charging via a 240V outlet will take around 7 hours. If you also have a rather hefty solar power system installed and are not using the Zero's full range each day, primarily recharging via this means could be viable, cheap and green.
Racing-inspired front and back suspension of the Zero offers around 50cm of travel and the UTV has a clearance of around 37cm. The vehicles certainly isn't a featherweight, tipping the scales at around 860 kilograms.
Among its other features are two 7″ displays and an optional 15″ display connected to up to four cameras, heater and air-conditioning, WiFi and 4GLTE Internet connectivity.
The Zero will be offered in two configurations – four seat and two seat. The company intends commencing deliveries next year.
The price? Based on current exchange rates, around AUD $48,500 plus shipping and whatever import duties would apply.
Read more about the Nikola Zero