A feature on RealEstate.com.au launched late last year may give solar power system owners who are selling their homes an edge over competing listed properties.
The feature, Energy Scores, was launched in November and provides prospective property buyers and tenants an idea of how energy efficient listed homes are. The Energy Score feature can be viewed after performing a search on a property here.
With the site being the first port of call for many prospective home buyers and renters in Australia, the addition of the feature shouldn't be disregarded.  RealEstate.com.au attracts more than three million visits each month.
"Energy Scores may offer deeper insights into the energy efficiency of a property, helping Australians make more educated decisions on their next purchase or rental, or even improve the home they already live in," said Henry Ruiz, REA Group Chief Digital Officer.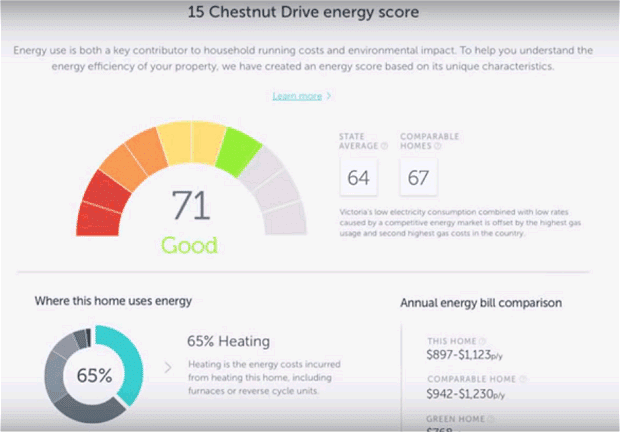 Results of a recent survey of realestate.com.au users indicate 76% are concerned about the cost of electricity, and 79% are actively implementing energy efficiency strategies.
An earlier survey (2014) showed 85% of respondents believed installing solar panels added to a home's value.
In the 2014 survey, three-quarters of renters indicated they would be prepared to pay additional rent on a home with solar energy; with two out of five stating a willingness to pay an extra $10 a week.
"If you're looking to sell or lease your property, it's a really simple measure you can take to gain a competitive edge in the market," said Mr. Ruiz back in 2014.
"You should also speak to your agent about mentioning your home's solar power in your online listing."
While solar power may be providing vendors with an edge over non-solar owners, perhaps the presence of battery systems  and other smart home technology may further boost these home's scores if RealEstate.com.au adds these aspects as a factor in the future.
Battery storage enables solar owners to get the most from their valuable rooftop-generated electricity. According to Energy Matters, solar + storage can reduce mains grid consumption by up to 80%, depending on installation and power consumption scenario.
The addition of solar and related technologies may prove to bring the best bang for buck in terms of home improvement investments.