An innovative small add-on device for popular German-made sonnen battery systems that enables households to have backup power in blackouts is now available in Australia.
One of the issues with most existing home battery systems is they can't provide power during a blackout. Most houses with solar power systems + storage are in exactly the same position as their neighbours during a mains grid outage – in the dark.
Sonnen  has tackled this challenge with the sonnenBatterie Protect 1300, or Sonnen Protect for short. The device detects mains power outages and then quickly and safely switches over to battery storage; enabling ongoing emergency power supply for selected appliances.
The clever device, which measures just 15cm wide, 19cm high, 12cm deep and weighs only 800 grams is installed close to the battery system. Sonnen Protect incorporates an outlet for connecting power cables and boards, or cables can be run from the device to defined power points, with cabling either laid inside a home's walls or via external conduit.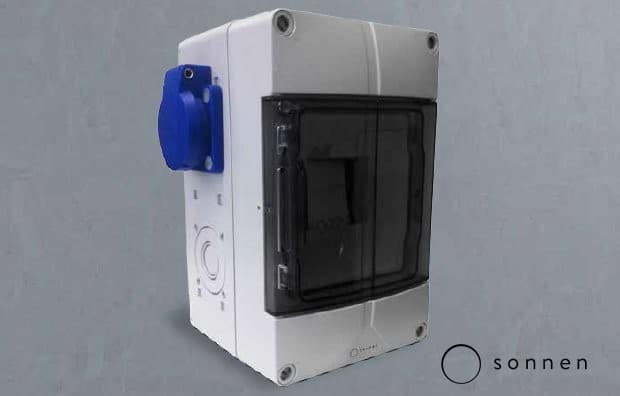 Sonnen Protect offers up to 1.3kW of power output, so it can support a wide range of small appliances and keep an energy efficient refrigerator or freezer running; preventing the loss of valuable food in an extended blackout.
The good news for current Sonnen owners is the device can be retrofitted to all existing sonneBatterie Eco models.
Via its parent company, Energy Matters is running special introductory offers on Sonnen Protect installations, either as retrofits or as part of full solar + battery packages. For more information on sonnenBatterie Protect 1300 and configuration solutions, the company can be contacted on 133-SUN. Further details can also be viewed here.
Sonnen has been in the headlines frequently already this year, scooping up multiple awards and recognition for its innovations in energy storage.
Last week, the company also offered a teaser of a new service for Australia called sonnenFlat. An optional arrangement, participating households and businesses receive free electricity to cover deficits in solar and storage supply. In return, Sonnen is permitted to utilise the storage capacity for very short periods for the provision of grid balancing services.
As we mentioned last week, we'll have more details on sonnenFlat as they become available.