Tathra Community Solar Farm on the South Coast of New South Wales has been announced as a finalist in the NSW government's Green Globe Awards.
With 30kW of solar panels arranged to spell the word "IMAGINE", the installation at Tathra Sewerage Treatment Plant has captured attention locally and abroad.
The solar power station was financed by individuals, businesses and community groups in the region through the purchase of individual panels for $250 each.
The installation contributes around half of the power needs of the treatment plant and a portion of the facility's subsequent electricity bills savings will be reinvested in new projects in the Tathra region via a special fund.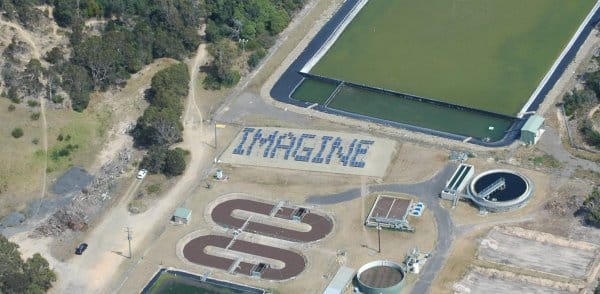 "This approach not only ensures that these projects are efficient and well-targeted, but maintains a clear community connection and engagement throughout the lifetime of the solar farm," said Bega Valley Shire Council environmental management coordinator Daniel Murphy.
Approximately 450 kilometres south of Sydney, Tathra is a popular holiday destination and is home to around 1,600. According to Energy Matters, there are currently 1648 solar PV installations in the Tathra postcode area (2550), totaling 4,249.55 kW of capacity.
Tathra Community Solar Farm was a joint initiative of Bega Valley Shire Council and Clean Energy for Eternity, Inc (CEFE). CEFE was founded by orthopaedic surgeon Dr Matthew Nott in 2006.
Engineering, procurement and construction (EPC) services were provided by Energy Matters (now SunEdison Australia).
Clean Energy for Eternity will have ongoing and very hands-on association with the plant, with CEFE members regularly cleaning the solar panels.
Tathra Community Solar Farm is a finalist in the climate change leadership category of the Green Globe Awards. Other finalists in various categories with projects featuring a solar aspect include Repower Shoalhaven, Shellharbour Shopping Centre, Lismore City Council and Newcastle City Council.
The Green Globe Awards are New South Wales' leading environmental recognition program; celebrating excellence, leadership and innovation in sustainability. 2015 Green Globe Award winners will be announced at a function hosted by the Minister for the Environment on Thursday 15 October, 2015.