The ongoing renewables surge in Australia is making it harder for the Tony Abbott coal lobby push to gain traction against the National Energy Guarantee (NEG).
Green Energy Markets predicts clean energy will supply 33.3 per cent of National Electricity Market generation in the eastern states by 2020. This is around 62,600 gigawatt hours, rising to 40 per cent by 2030.
This also exceeds the NEG prediction of 32-36 per cent renewable penetration by 2030, and demonstrates the success of wind and solar power in the market.
Tony Abbott coal coalition doomsayers pushing back
Yet a hardcore group of Coalition MPs is still lobbying Energy Minister Josh Frydenberg to place coal-fired plants at the heart of the NEG.
Frydenberg appeared to give way to the pressure on Tuesday when he told media he would welcome construction of a new coal fired power plant in Australia.
However, this contradicts his own NEG modelling, which assumes no new coal-fired stations will be built.
Solar power sees huge growth as renewables surge
The Green Energy Markets data from May 2018 relates to large-scale wind and solar projects constructed or under contract. It also assumes rooftop solar installations continue to grow at the same pace.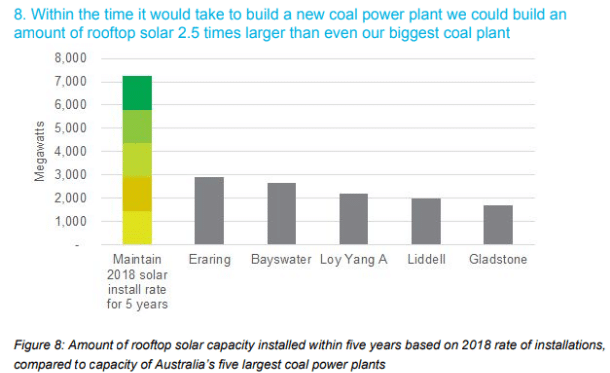 This means the number of large-scale clean energy projects in the pipeline already exceeds Australia's 2030 NEG target.
The data also shows that 'business as usual' under the NEG would leave a shortfall in Australia's carbon reduction commitment of 118 million tonnes.
Meanwhile, Bloomberg's global New Energy Outlook 2018 report predicts wind, solar power and energy storage batteries will supply half the world's electricity by 2050.
The report also says coal generation will shrink to just 11 per cent of market share by the middle of the century.
Significant resistance to NEG limits by states
With Abbott and co throwing coal cats among energy policy pigeons, the federal Coalition is giving confusing signals on its coal policy. This is despite their need for states and territories to commit to the NEG when their respective energy ministers meet again in August.
The states have criticised the NEG's weak renewable and carbon reduction targets. ACT Climate Change Minister Shane Rattenbury says Abbott's hard line on coal could sabotage the NEG entirely.
According to Green Energy Markets director Tristan Edis, the renewables surge makes a mockery of the pro-coal argument.
He says Abbott and his supporters will have to chain Frydenberg and Prime Minister Malcolm Turnbull to "bulldozers and cranes" to halt the construction of clean energy generators like wind and solar power.