The UK now has double the installed solar PV capacity of Australia. It's a situation that might have many Australians scratching their heads.
Solar Power Portal states 340MW of solar was installed during the first 6 weeks of this year, adding to the 9.66GW cumulative tally reached in the UK at the end of 2015.
A total of 3.9GW capacity was added last year, with 65% of this in the first 3 months of 2015.
The UK reached 5 gigawatts, Australia's current total, in August 2014. It was one of the first nations in the world to reach the 5GW mark.
So how does a nation not known for sunshine kick the butt of one that is?
While much of Australia's solar PV total consists small residential solar installations (4GW+ in total), larger installs in the UK rule the roost due to favourable policies, support and economies of scale given the conditions.
According to statistics from the UK government, there were around 842,005 solar installations across the nation by late last year, compared to Australia's ~ 1.5 million.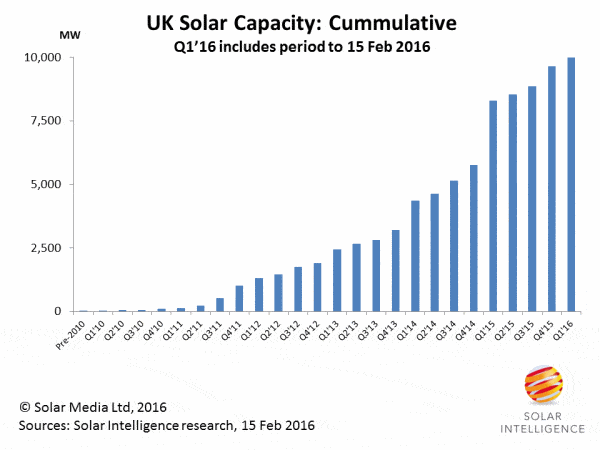 Australia has historically been slow on large scale solar uptake (but this is finally starting to change). This was exacerbated by the battle for the Renewable Energy Target that dragged on for 18 months, which effectively killed investment in large scale renewables during that dark period.
Solar Power Portal says the UK will be dominated by ground-mounted solar until 31 March 2016, with 1.3 ROCs (Renewable Obligation Certificates) expiring after this time.
The recent spike in UK installations is also in part due to a rush to beat drastic cuts to solar feed in tariffs for small scale solar power systems.
While the UK may be well ahead in terms of capacity; it has a population of around 64 million compared to Australia's 24 million – meaning Australia has a higher watt per capita level.
The UK has approximately 156 watts of installed PV per person; whereas Australia has around 208 watts of solar capacity per capita. Given our solar irradiation levels, it wouldn't be unreasonable to assume Australia's capacity would also be more productive.
There, that makes us feel better. Somewhat.