Transport infrastructure specialist Colas has unveiled their Wattway solar road product at the World Efficiency Congress in Paris.
Wattway panels are comprised of solar cells embedded in a multilayer substrate.  On the underside of the modules, which are just a few millimetres thick, are connections to a lateral module containing the electrical safety components.
The company claims the panels can stand up to all sorts of punishment, including what would be meted out by trucks.
Unlike some of the other solar road solutions we've seen over the years, one of the standout features of this product is the Wattway solar panels are installed directly on the pavement, without any additional civil engineering work says Colas. We're not sure if they've seen the condition of some of Australia's roads though.
The company says 20 m² of Wattway panels can supply the non-heating electricity requirements of a single home. Applied to a kilometre of road, it could provide enough electricity to power the street lighting of a town of 5,000 people.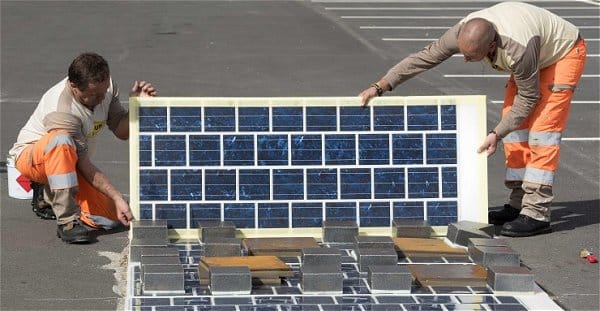 In partnership with  the French National Institute for Solar Energy, Colas has invested 5 years of research and development to produce Wattway; which is protected by two patents..
Wattway isn't vapourware – Colas says the product is market-ready; albeit in small sections. It will take several years for Colas to ramp up enough to supply for multi-kilometre stretches.
"Today, our Wattway process is unique on a global level. The solar road will play a part in the energy transition, and is a building block for Smart Cities," said Hervé Le Bouc, Chairman and CEO of Colas.
Colas also sees potential for the product to be used for off-grid settings in rural and remote areas as the basis of mini-grids.
Colas knows a thing or two about roads. Founded in 1929, the company undertakes more than 100,000 projects each year; 80% of those involving road construction, maintenance and materials supply. If the company's road know-how is replicated in the field of solar PV; then they may well be onto a winner with Wattway.
You can learn more about Wattway here.
Other solar road solutions we've covered in the past are the Netherlands' SolaRoad and Solar Roadways.