New South Wales' premium gross solar feed-in-tariff (Solar Bonus Scheme) finished at the end of 2016!
This means of the more than 140,000 participants who joined the program prior to May 2011 who haven't taken action need to make some very important decisions now.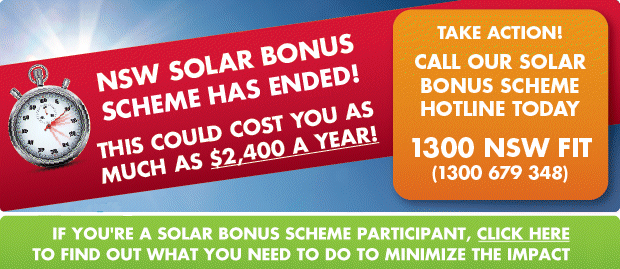 The

NSW solar feed-in-tariff

Challenge – Why This Matters To You
Those who had been receiving 60 cents or 20 cents per kilowatt hour for all the electricity generated by their solar panel systems under the Solar Bonus Scheme may get a nasty electric (bill) shock when they start receiving a comparatively measly 4.7-8c per kWh on average from the beginning of 2017.
Many households in this position will effectively be exporting all their high value solar electricity for next to nothing while paying a massive premium to buy it back in order to power their homes – unless they act soon!

For example, a 3kW system owner in Sydney could be hit with an electricity bill increase (through reduced feed in tariff rate) of as much as $2,400 a year.
To see how severely you could be impacted, try our NSW Solar Bonus Scheme calculator.
The Solutions – What You Can Do
In order to avoid a massive bill shock, there's a few steps New South Wales solar owners can take:
For personalized advice, call our Solar Bonus Scheme hotline on 1300 NSWFIT (1300 679 348) and join our mailing list for all the latest New South Wales solar feed in tariff news.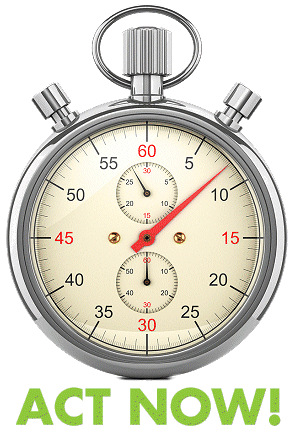 Solar Bonus Scheme announcement list
Join our mailing list to get all the latest feed-in tariff news and special deals on solar upgrades and battery systems for New South Wales Solar Bonus Scheme participants.
We value your privacy and will treat your personal information in accordance with our privacy policy.
Meter Changeover
For Solar Bonus Scheme participants who had a gross meter installed (just about everyone), this should be changed as soon as possible to a net meter or a smart meter. But. there's some important things to consider.
Learn more about why and issues relating meter changeover issues here.
Compare Electricity Retailers
Not all electricity retailers are equal when it comes to how they treat solar customers. Here's some important questions to ask your electricity retailer:
1) Are there any other costs associated with the new feed-in tariff arrangement?
2) What net feed in tariff are you currently offering?
3) Are you able to help with the meter change over? How long will it take?
4) What will my tariff and contract condition be from next year – will it change?
If you don't like what you hear – shop around for a more solar-friendly electricity retailer.
Retrofit A Battery System – Maximise Your Solar Electricity Use
Make the most of your high-value solar electricity by installing a next-generation battery system and you could also reduce the amount of energy you consume from the grid by up to 80% depending on your installation and consumption profile.
Energy Matters has been installing battery systems across Australia for years.
We're currently offering great deals the revolutionary Tesla Powerwall battery  and the modular Enphase Energy Storage system; plus other residential energy storage solutions.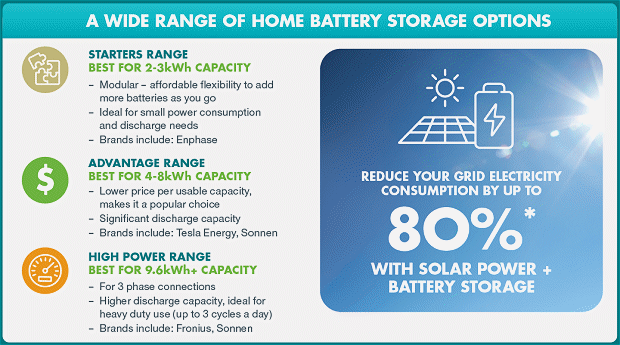 Energy Matters can offer you differing energy storage options depending on your circumstances.
It's crucial to choose an appropriate battery system to suit your solar installation. Our friendly experts can help you select a system that best suits your needs. Call us today on 1300 NSWFIT (1300 679 348).
Expand Your Solar Power System – Keep Your Bill Low
If you have a solar panel array that is 2kW or lower capacity, this is a good opportunity to build on it – particularly if you're considering installing energy storage.
The prices of solar components have dropped significantly since the start of the Solar Bonus Scheme when most households installed 1kW – 2kW systems.
5kW systems are now very affordable and are popular with customers planning to install a battery system. Request a quote.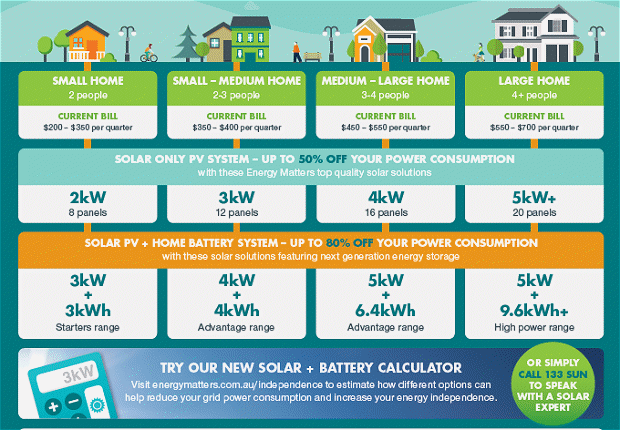 24 hours of solar is becoming a reality – future-proof your investment.
By combining a larger solar power system and battery storage, you can make the most of your rooftop real estate and have the maximum impact in reducing your electricity costs.
Call our friendly team on 1300 NSWFIT  (1300 679 348) to learn more.
The Importance Of Acting Now
As with most major changes to solar incentives over the years, often people leave things to the last minute to take action and a rush invariably occurs.
With more than 140,000 New South Wales households participating in the Solar Bonus Scheme, this change will likely see the same scenario. It's important to get ahead of the pack.
Call us now on 1300 NSWFIT  (1300 679 348).
Energy Matters Is Here To Help
Over the last decade we've been operating, Energy Matters has taken great pride in assisting households throughout Australia reap the rewards of going solar.
Energy Matters has installed more than 20,000 solar power systems throughout Australia and there's few companies with our depth of experience of battery installations.
Call our friendly team on 1300 NSWFIT  (1300 679 348) to learn how you can make the most from your solar power system in a post-premium feed in tariff world.
Don't forget to join our special NSW FiT mailing list to stay up to date with all the latest regulatory changes, technology developments and great offers!
*Based on standard system installation in Sydney. Your site will require an assessment and your savings depend on your individual circumstances (which may vary over time) and are likely to be different to any estimates shown.