Solar hot water evolved! Solar hydronics (also known as solar thermal energy) technology allows you to not only heat water using the power of the sun, but heat your home as well! Cut your water heating and general heating bills while slashing greenhouse gas emissions!

 Our super-efficient and environmentally friendly "whole of house" Rotex solar space heating systems are comprised of the following components:
Apricus evacuated tube collectors
Apricus evacuated tube solar collectors are perfect for home water heating needs!

 Apricus evacuated tube systems provide excellent solar conversion efficiency in all conditions and feature flexible mounting formats for rooftop or ground installations.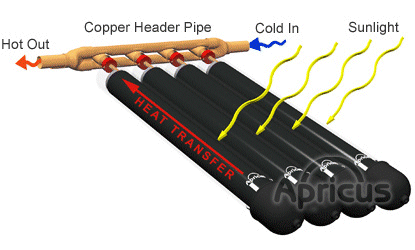 Apricus offers a range of evacuated tube products proven to function brilliantly in Australia's often extreme weather conditions and provide reliable supplies of hot water for households of all sizes.
Sanicube hot water storage system
Once the heated water is in the piping of the Sanicube tank, heat exchange components then heat water within the tank ready for use.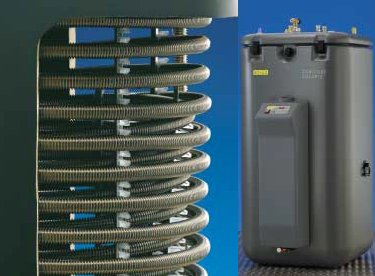 Internal view of a Sanicube hot water storage unit
The revolutionary Sanicube is of solid plastic construction with an inner and outer shell filled with high grade foam insulation. The tank includes heat exchangers made of stainless steel corrugated pipe.
At an average storage tank temperature of 58C and an ambient air temperature of 20C, the heat loss is in the storage tank is just 2.4 degrees per day!
In the event of extended periods of heavy cloud, where solar thermal energy hydronic systems may struggle, a gas boost system ensures hot water is continually available.
Digital system controller
The microprocessor based gas and solar heat controller provides full system monitoring and control at a touch of a button. It features efficient seasonal control and over temperature protection.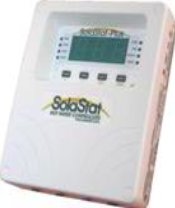 Hydronics system controller
Hydronics solar space heating
Once the water is heated, it doesn't have to just sit in the tank waiting to be used for showering or cooking – it can be continuously circulated around your home to warm your entire house through gentle, radiant heat.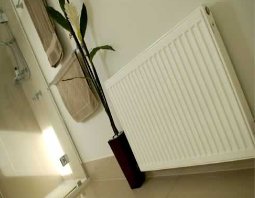 Radiators can make use of the hot water generated by a solar hydronic system.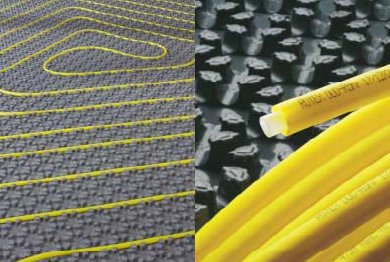 As a new home is being being built, Heatline piping can be installed under the floor or in the foundations. Hot water is pumped through the pipes to generate radiant heat – no more cold winter floors!
Additionally, an under-floor heating system can also be used for cooling during the warmer months; although this does require a heat dump in summer month such as a swimming pool or spa.
These solar space heating systems can be implemented in existing hydronic systems and new homes.
As a general guideline, the cost for a such a solar space heating system is around $32,000 for a 5sq. home (50 sq. meters) and $40,000 for a 10sq. home (100 sq. meters). Aside from adding substantial value to your home; annual energy savings of up to $2,000 per year can be made!
Interested in solar thermal energy / hydronics?
If you'd like to learn more about home solar hydronics, please contact us.