Look no further for your grid connect solar power system with our solar credit maximiser deals.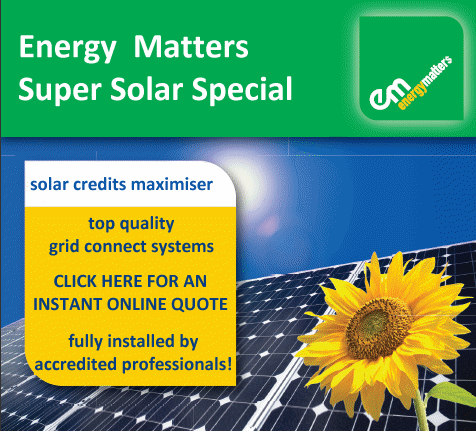 The very best components with our solar credit deals
You'll find no unknown, generic brands or grey market components in our systems! We do not cut corners in quality of components or installation. Our considerable buying power simply allows us to offer you the best of the best at very low prices. Try our new instant online quoting tool
We only use quality, certified top brand name panels in our systems:
REC
Yingli
Phono Solar
Daqo
The inverters we use are from leaders in the industry, components that have proved themselves time and again in Australia's often harsh conditions:
A component often overlooked when shopping for solar power is the mounting system. It's a critical aspect – after all, you can't nail solar panels to a roof! We use SunLock, a system designed by installers for installers. SunLock is 100% Australian made – in fact, it was developed by Energy Matters' parent company, drawing from the decades of collective experience of our CEC accredited installation team!
Make money from your system!
A grid connected solar power system installed can generate cash for you under various state feed in tariff programs whereby you'll be paid for electricity generated by your system that's exported to the mains power grid! It's another great reason to go solar in addition to the solar credit program!
Here's what you get!
Quality solar panels
Leading brand grid connect inverter
Full manufacturers warranties on all components
Standards compliant genuine SunLock mounting frames to suit tin roof
All safety labels required by Australian Standards (AS4777)
Installation by electrical contractors and solar accredited team
Cabling, conduit, DC & AC circuit breakers and enclosures
Assistance in applying for the Solar Credit program- we remove the paperwork hassle!
Certificate of Electrical Safety
Upgrade options also available – call for details or try our new instant online solar energy quoting tool.