Would you like to power your community organisation's building or your church with power courtesy of the sun? Whether you're in downtown Dalmeny or beyond the Birdsville Track; there's a renewable energy option for you. Energy Matters also provides installation services right across Australia! Solar power for churches or other community buildings is something we specialize in.
For grid connected solar power systems, the Australian Government's solar credits program provides community groups with thousands off the cost of a grid connected system. For off grid systems, assistance is available too!
Best price guarantee
Aside from government rebates and subsidies, Energy Matters provides deep discounts for churches and community groups. In fact, if you have a written solar quote from another supplier, fax or email it to us –  we will match any price for identical components with signed solar power quotes delivered directly from our competitors. Price matching will not be available for offers made from third party vendors.
Energy Matters Australia are the solar power experts, having completed thousands of installations successfully across the country! Contact us today for expert, obligation-free advice.
Grid connect solar power
A grid connect system is one that is tied in with your building's main power supply – here's how it works: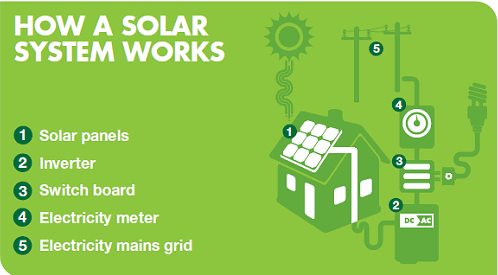 The solar panels generate DC electricity which is routed to an inverter that converts the current to 240 volts AC; which is suitable for use by appliances. Any surplus electricity generated is fed back into the mains electricity supply grid.
No major wiring infrastructure changes are required in most cases to implement grid connect solar! The systems Energy Matters provides utilize the same high quality components we provide in our residential grid connect systems.
Grid connect solar power rebates
The rebate system for grid connect solar is administered under the Solar Credits program. The scheme offers thousands of dollars in point of sale discounts on systems.
Call our friendly team on 1800 EMATTERS (1800 362 883) for expert advice on a system to suit your needs or to arrange a no-obligation site inspection.
Remote/off grid  solar power for churches
Establishing an off grid renewable energy system has never been easier or cheaper. Just because your church or community building doesn't have access to mains grid power, doesn't mean you need to miss out on conveniences and using appliances!
Here's how an off grid system works: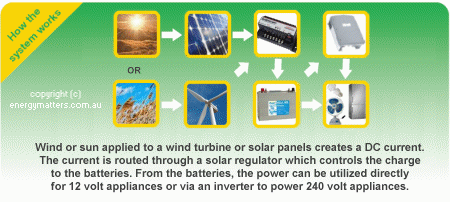 With an Energy Matters supplied system, you'll be able to rest assured that the top quality components we provide will stand up to any conditions; providing you with clean, green off grid electricity year after year!
Put together an off grid system with our system builder, shop for components in our secure online store or contact our team of friendly experts for free, no-obligation advice.
Remote/off grid wind and solar power rebates
The rebate system for grid connect solar is administered under the Solar Credits program; offering thousands in point of sale discounts on systems.
Need more information?
Energy Matters tailors will tailor a specific solution to meet your organization's requirements. Please contact us to arrange a consultation with one of our renewable energy specialists.