Australia's energy storage market will have grown from just $11.25 million in 2013 to $630 million by 2020 says GTM Research.
According to GTM Research's latest report, " The Australian Energy Storage Market: Downstream Drivers and Opportunities", Australia will hit 244 megawatts of annual installed capacity by 2020.
The next year will see a massive jump; from just 1.9 megawatts in 2015 to 44 megawatts in 2016.
Much of this growth will be driven by the residential market – new purchasers installing solar + storage and also drawn from the existing 1.4 million solar households upgrading to battery systems.
"Residential customers with high retail electricity prices — many with oversized solar PV systems — will soon be jolted by paltry solar export tariffs that are slated to replace the expiring high feed-in tariffs," says GTM Research.
"By 2020, residential energy storage in Australia will be an annual 132-megawatt market."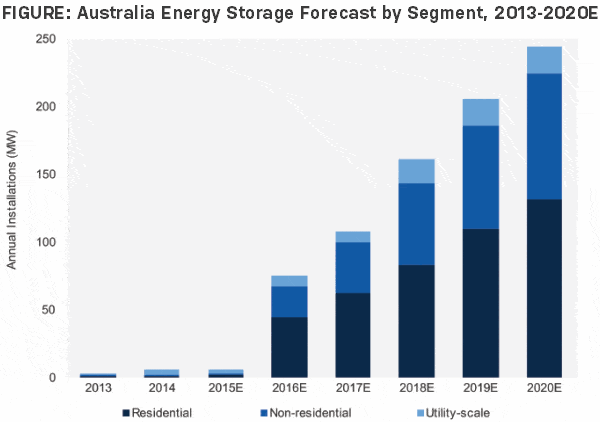 With regard to commercial scale storage, GTM forecasts 23 megawatts for next year; up from just 1.4 megawatts in 2015.
GTM expects residential and commercial storage will account for 90 percent of battery system deployments.
Battery manufacturers have been eyeing Australia for some time as a platform to debut their next generation energy storage products.
In September, Tesla announced Australia will be one of the first markets where its Tesla Powerwall home battery system will be available. Also in September, Enphase Energy said it had chosen Australia to be the first market to be shipped its Enphase AC Battery system.
Last month, the Climate Council said installing batteries and dumping a mains grid connection altogether could be cost-competitive with staying connected by as early as 2018. A recent report from the Climate Council states half of all Australian households are predicted to adopt solar power systems with battery storage.
"It could be a game changer allowing households to control their energy and energy bills," said Climate Council CEO Amanda McKenzie.
There certainly appears to be no shortage of interest in residential energy storage solutions. Energy Matters reports thousands of potential early-adopters have signed up for its pre-release announcement list.
Related:
Australian Guide To Home Battery Energy Storage
What Is A Battery-Ready Solar Power System?