A new scorecard report from Australia's Climate Council says South Australia and the ACT are leading the nation on renewable energy, while New South Wales lags behind.
The ACT's  target of 100% renewable electricity by 2020 helped it gain a top performer status and South Australia's increase in renewables in the state's energy mix – from 26% in 2013 to 40% in 2014 – was a standout indicator of progress.
New South Wales was judged the worst performing state due to it having the lowest (and still decreasing) percentage of renewable electricity. All other states, with the exception of Victoria, have boosted the proportion of renewable energy in their electricity supply over the last couple of years.
The grades for all states:
South Australia: A
Tasmania: B
Victoria: C
Western Australia: C
Queensland: C
New South Wales: D
The Climate Councils says given the lack of comparable data on percentage of renewable energy in electricity supply for the territories, it has not given those a grade; however it notes that the Northern Territory has made little progress on renewables since the Climate Council's report in 2014.
The scorecard ratings are based on based on performance indicators (percentage renewable electricity, large-scale renewable capacity per person, proportion of solar households) and policy settings (targets, policies and program support).
With regard to uptake of home solar power systems, 29.6 percent of Queensland homes now have solar panels, while 28.8% of houses in South Australia (28.8%) boast solar rooftops; followed by Western Australia with 22.5%. Previously, South Australia had the highest proportion of solar households.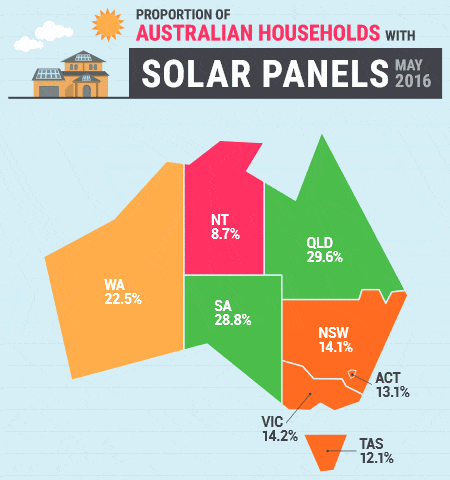 " There are now fourteen postcodes in Australia in which more than half of households have rooftop solar," states the Climate Council. " Rooftop solar photovoltaic (PV) panels could soon become as common as home insulation."
The report notes the number of states and territories with renewable energy targets has doubled in the past year.
However, fossil fuels still loom large on the Australian energy scene. In New South Wales, Queensland and Victoria, fossil fuels still account for 90% or more of electricity supply.
The scorecard report, Game On : The Australian Renewable Energy Race Heats Up can be downloaded here (PDF).