In November 2020, the Victorian government announced its ambition to build the biggest battery in the Southern Hemisphere. This Wednesday, that ambition become reality – the "Victorian Big Battery" battery station in Moorabool, Geelong was switched on. The 300 MW battery station boasts a capacity more than double that of the Tesla battery in South Australia. It will store excess energy sourced by wind farms and solar panels and is big enough to power more than one million Victorian homes for half an hour.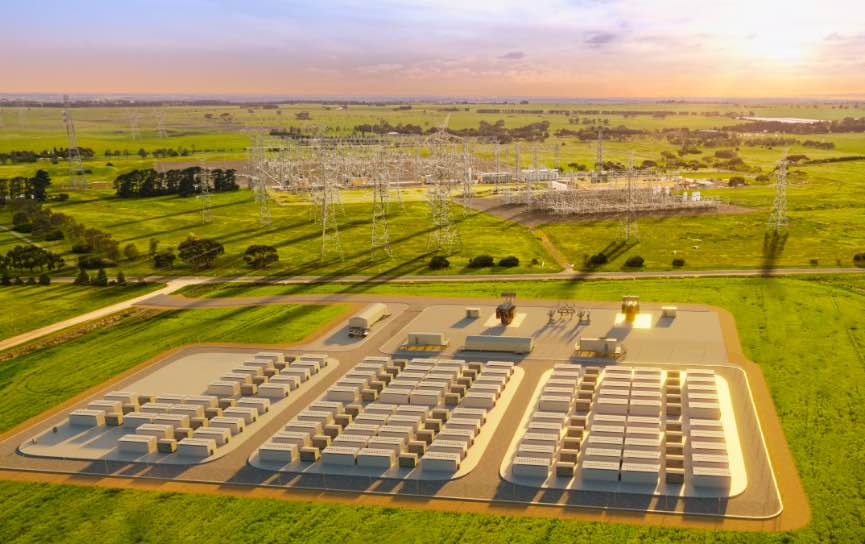 The battery station is run by French independent renewable energy company Neoen, with the help of energy delivery business AusNet and Tesla and its Megapack batteries. It was built under the Victorian government's renewable energy plan to transition towards renewables across the state.
The occasion was marked with a Twitter announcement by Victorian Premier Daniel Andrews;
"We've just turned on the Southern Hemisphere's biggest battery. It's going to help us store excess wind and solar energy – and that will mean cheaper bills, too", he said. "Clean energy is the future – and the Big Battery is just another way we're making it work for Victoria".
The station is made up of 210 Tesla Megapack batteries and offers 300 MW of storage capacity, all intended for use on the Victorian grid. It's one of several battery stations that Neoen will be building in Australia, with stations planned for NSW and South Australia.
A Key Stepping Stone To Victoria's Emissions Targets
Like many state governments across the country, the Victorian government has set a target of net-zero emissions by 2050 – and the new battery station is seen as a significant stepping stone to achieving that goal. The battery station will assist in grid stability, supply energy to the market at peak times (lowering energy bills) and support renewable technologies including solar and wind farms.
Victoria's Minister for Energy, Environment and Climate Change Lily D'Ambrosio shared her thoughts on the milestone;
"The Victorian government is proud to flick the switch on Australia's biggest battery which will help protect our network in summer, support our renewable revolution and slash energy prices," said Minister Lily D'Ambrosio, the Victorian Minister for Energy, Environment and Climate Change.
"Neoen's battery is a fantastic achievement as Victoria transitions to our legislated targets of 50 per cent renewables by 2030 and net zero by 2050."

The Importance of Batteries For a Clean Energy Future
The Victorian government is not alone in its investment in battery storage technology. As the Australian energy system undergoes rapid transformation, there's growing interest in the crucial role battery energy storage systems (BESS) – often termed 'big batteries' – can play in the future electricity grid.
Renewable energy is growing at a rapid pace in Australia, with approximately a quarter of the country's energy coming from renewable sources. However, renewable resources like solar and wind are not reliable sources of energy to tap into all the time because of their variability – the sun doesn't always shine and the wind doesn't always blow.
On the other side of the coin, when the wind does blow and the sun does shine, the energy sourced from these renewables would need to be used near immediately, otherwise it would be wasted.
This is where batteries come in – they store excess energy when it's available (from solar panels or wind turbines) and then release that energy when it's needed, making renewables a more reliable source of power for homes and businesses.
Batteries help by responding to shortages, bolstering the grid when demand outstrips supply. This allows the deferral of capital investment in major grid upgrades, which is good news for consumers and the environment alike.
Battery energy storage also allows the time-shifting of excess renewable generation at certain times of day into low-generation, but high-demand periods.
Big batteries are big business. Even as investors shied away from large renewable projects in Australia earlier this year, battery storage saw a 300% year-on-year increase in the first quarter of 2021.
Batteries, at least for now, are a critical part of Australia's eventual transition to 100% renewables and the Victorian Big Battery is an important milestone towards reaching that goal.