Solar doesn't have to be an ugly addition to your home. That's what we learn in the second episode of Open Homes Australia, as Axitec Energy Australia prove that their solar technology can deliver not just exceptional performance, but also look good doing it.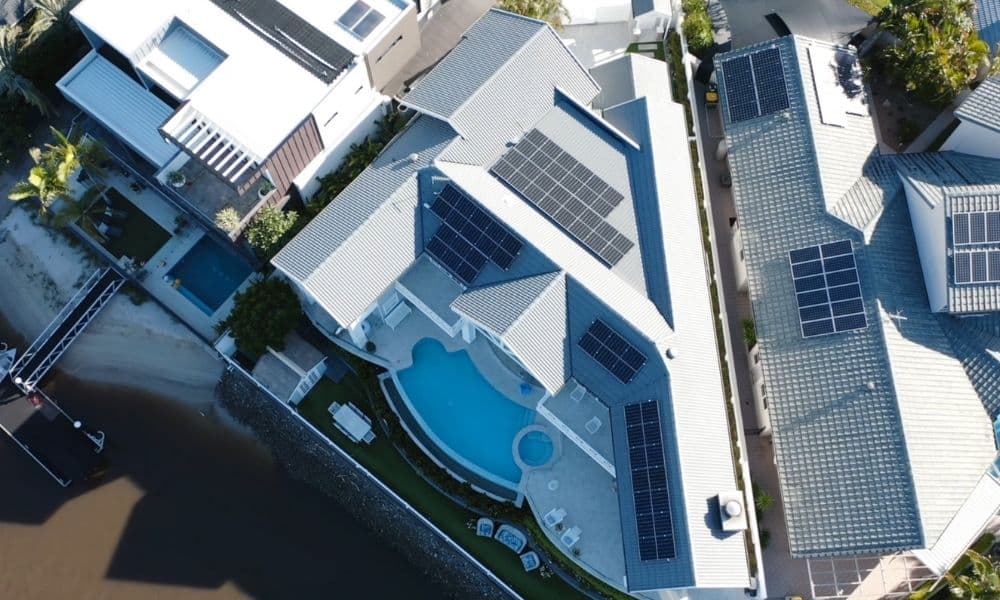 Axitec Energy is a leading global manufacturer of solar modules, energy storage and ev-chargers. Bringing over 20 years of experience in the solar industry, Axitec's German-engineered solar panels are a premium choice for the discerning Australian homeowner.
Below we recap Axitec's feature on Open Homes Australia while also giving the inside scoop on the solar manufacturer, as Energy Matter's CEO Rosh Ramnarain interviews Axitec Managing Director, Andreas Boeck, on the latest episode of Road to Zero.
Aesthetics Meets Sustainability in a Hampton's Inspired Dream House
Episode 2 of Open Homes Australia took viewers on a journey across stunning locations and awe-inspiring homes. From a modern marvel on the Gold Coast to an award-winning abode with plenty of personality in rural Victoria, viewers were treated to some spectacular designs rooted in style, function and sustainability.
One design, in particular, blew us away with its luxurious charm and hidden delights – a waterfront Hampton's inspired dream home on the Gold Coast.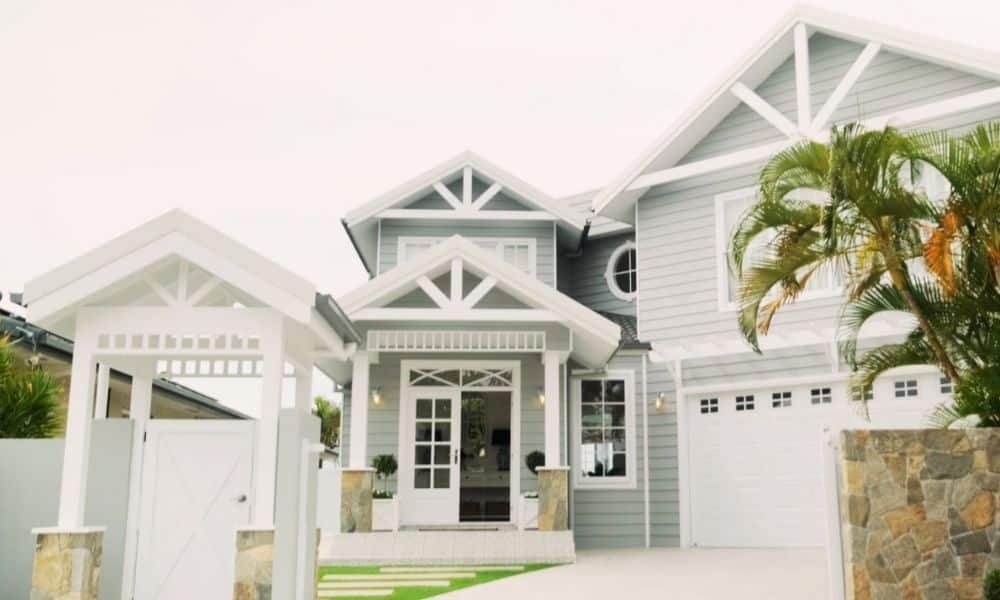 Fan-favourite from The Block, Carlene Duffy, led us around for the grand tour.
With its classic weatherboard cladding, stone pillars and artisan tiles, this home exudes a true Hamptons aesthetic, but with a few unique twists and surprises. Stepping inside, the home opens into an expansive space with soaring wall-to-wall, floor-to-ceiling windows boasting stunning waterfront views. It's a striking focal point to the home that takes the wow factor up a notch.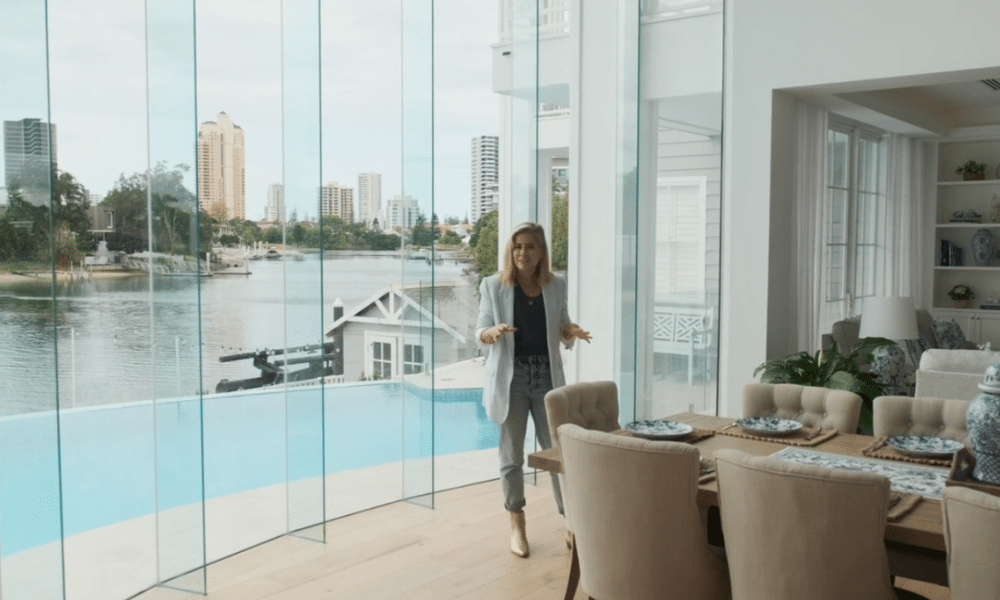 A huge 'cooks' kitchen featuring shaker style joinery, marble benches and polished chrome hardware, as well as a butler's kitchen larger than most people's actual kitchen, provides the perfect space for family living and entertaining.
To top it off, the upper level's four balconies guarantee waterfront views no matter where you are in the house. This masterpiece truly is the Hampton's style home of your dreams!
However, a home this large comes with a catch – a hefty energy bill. With so much space to heat, cool and power, the homeowners were paying over $1,000 a quarter and were keen to find a way to slash these costs.
Enter Axitec Energy – the perfect solution for this home's needs.
Solar panels are often an afterthought when it comes to home design, but not for this homeowner. With such a stunning property, they wanted solar that would complement, not detract from, their home.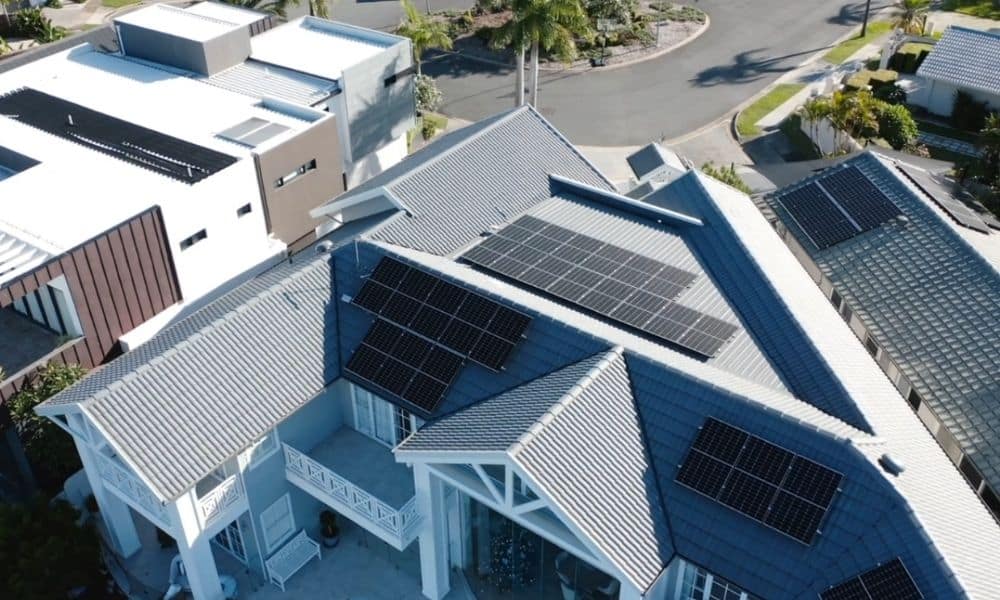 Working with the homeowner, Global Solar Solutions installed a massive 12.5 kW solar system designed to take advantage of the property's ample roof space. The system features 37 Axitec AXIpremium HC 370 panels, which were specifically chosen for their sleek, black frames and half-cell technology. The advanced half-cell technology helps to increase the system's power output and durability while the black frames give the panels a stylish, premium look that perfectly complements the home's aesthetics.
Since installing the system, the homeowners have enjoyed significant savings on their energy bills while minimising their carbon footprint – now that's what we call style AND substance!

"Road To Zero" Axitec Interview Highlights
In Energy Matter's latest 'Road to Zero' podcast episode, Rosh caught up with Andreas from Axitec Energy Australia to chat about the latest news at Axitec and all things solar energy.
Kicking off the interview, Andreas shared how he got into the renewable energy industry and what eventually drew him to work for Axitec. He explained that being from Austria, he knows that German manufacturers take quality seriously and that any product would be second to none. It was a natural decision to join the Axitec team.
When asked about what sets Axitec apart from other panel manufacturers, Andreas was quick to point out that quality was the first thing that comes to mind.
"We class ourselves as a high-quality German solar brand…everything gets done through our German headquarters", he said.
"Quality is our biggest thing…we don't skimp on anything. Everything has to be done properly or else it won't be released."
He also believes that Axitec's warranty and customer service are big selling points, with a 15-year product warranty and Australian office ready to ensure support is handled locally and in a timely manner.
"Our customers don't have to be concerned about anything".
Rosh and Andreas then discussed the renewables and solar market more broadly, touching on what trends we're seeing right now.
"I think what's going to happen is we're going with larger systems", Andreas said.
"I think 6.6 kW systems are great for smaller homes but we're going towards 10, 12, 13 kW systems – basically whatever they can fit on a house these days as well".
"Power bills as you know are going up and up so customers are trying to fill their roof space to get those bills down to virtually nothing".
Rosh agreed, saying this trend will play into the transition to home batteries and energy storage, as people look to store and use the excess energy they generate throughout the day.
Many more topics were covered through this great interview – you can catch the full podcast episode online for free here.
Thank you to Andreas for taking the time to give us some great insights!
Open Homes Australia: Season 5 Airing Now
When you buy a home, you're not just buying a roof over your head – you're buying a place to call your own, a sanctuary from the outside world. Your home should be a reflection of your unique style and personality, and it should be a space that you're proud to come home to at the end of a long day.
Here at Energy Matters, we believe that the best homes are designed with sustainability front of mind – not only will a sustainably-designed home keep you comfortable year-round, but it will save you thousands in energy bills while also helping the environment.
Energy Matters is thrilled to be partnering with Open Homes Australia for its 5th season.
This season continues the tradition of showcasing incredible Australian homes, breath-taking designs, and sustainable choices that will be sure to inspire and awe you. Featuring some of Australia's most recognisable designers and creatives, as well as many from your favourite seasons of The Block and Renovate or Rebuild – this is a show you don't want to miss!
Catch the next episode on Saturday March 25th @ 4:30pm on 9Life!