Navigant Research reports Li-ion battery technology continued to remain the leading energy storage technology for new projects announced globally during the third quarter of this year, with the exception of pumped hydro storage.
Lithium-ion batteries accounted for 83.0% of newly announced Energy Storage System (ESS) capacity during Q3.
Distributed energy storage systems (DESS) has represented approximately 14.2% of new system capacity announced this year, which Navigant says is the highest percentage of any year on record.
DESSs include systems located behind-the-meter at customer facilities and are often less than 50kW capacity; as well as community systems located on the utility side of the meter. Community ESS is generally less than 100 kW in capacity.
North America remains the largest market for newly announced ESSs. An estimated 1,997.3 MW of new projects have been announced this year, with approximately 15.8% coming from North America.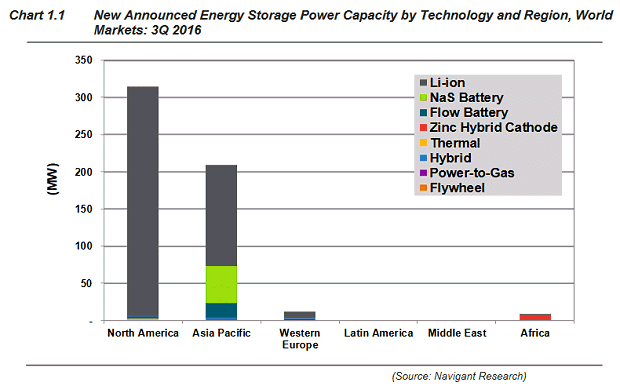 The research firm also notes an increase in announced projects incorporating flow batteries and hybrid battery systems using a mix of energy storage technologies.
"Overall, the global energy storage industry is poised to continue to grow quickly over the next several years," says Navigant. " With emerging infrastructure becoming increasingly integrated, dynamic, and complex, flexible resources like storage will provide added value to existing and new power-generating assets."
Further details from Navigant Research's Energy Storage Tracker 3Q16 can be viewed here.
Lithium ion battery technology also dominates in the home energy storage market; with products such as Tesla Powerwall, Fronius Solar Battery, Enphase AC Battery and sonnen battery systems all based on the chemistry.
In related recent news and closer to home, Australia's Chief Scientist, Dr Alan Finkel sees a bright future for energy storage in Australia for utility and residential markets.
"It's one of the big opportunities I see on the horizon for Australia; and one of the questions that the NEM review will have to consider," he said in his delivery of the annual Zunz Lecture at the Sydney Powerhouse Museum.
"We have millions of consumers who leapt at the potential of rooftop solar, and are keenly interested in batteries as well."