Another "green" vehicle to add to our collection of pedal/electric and solar power assisted car-cycle stories –  PEBL.
Powered by a 750 watt electric motor, the three-wheeled PEBL velomobile has a factory set top speed of 32kmh (but that can be tweaked).
With the standard lithium battery installed and assuming flat terrain, PEBL's creators say it has a range of around 40 kilometres without pedaling. Options for larger battery packs are available that can extend range to 160 kilometres without pedal assistance.
To fully charge the standard 48 volt 16 amp-hour battery takes 2.5-3 hours.
Standard features include full street lighting, vinyl doors with zip-up windows, rear suspension, cruise control, regenerative braking and an 8-speed rear hub transmission. Brakes are combination of drum in front and a mechanical disc for the rear. The frame is made from 6061 corrosion resistant aluminum alloy.
As well as the driver (rider?), there's a passenger seat that can be transformed for more rear storage.
The standard PEBL weighs around 88 kilograms.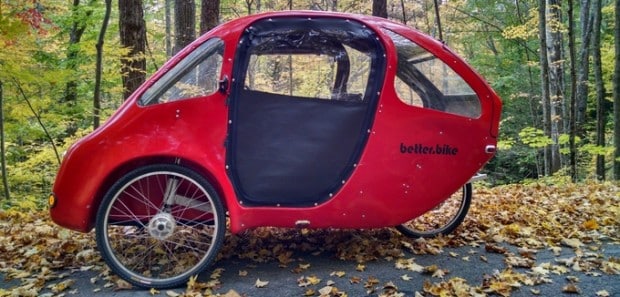 PEBL can be supplied with many options; including a heater, battery warmer for cold climates, additional USB and 12 volt power ports and a 110W rooftop solar panel.
Another interesting aspect of this vehicle is the body – it's made with industrial hemp cloth and a soy-based resin.
"When we began to design the PEBL, one of our goals was to not only make a vehicle that was low emissions and healthy to use, but to also be sure that the body was made out of materials that are easy on the planet, low or no VOC (volatile organic compounds), non-toxic and from resourced and/or recycled materials whenever possible," say its creators.
While still considered an electric bicycle in the USA, as with other car-cycle type vehicles we've covered in the past (including  include Mö and the Sunnyclist), the PEBL wouldn't be classified as such in much of Australia due to the output of the motor.
The cost of the basic, non-solar power option PEBL is approximately AUD $7,300 at current exchange rates. Further details at Better.Bike.