The rapid transition to a low and eventually zero carbon economy is underway, and governments are increasingly acting on the global warming crisis. As policymakers fight for more ambitious targets, some of the Australia's and the world's largest corporates are already showing leadership by committing to 100% renewable electricity.
This week NBN Co announced that they have joined RE100 and committed to 100% renewable electricity by December 2025 – making them the first Australian telecommunication company and government business enterprise to join the initiative.
Join us as we take a closer look at RE100 – what it is, how it works and what companies have made the commitment both here in Australia and internationally.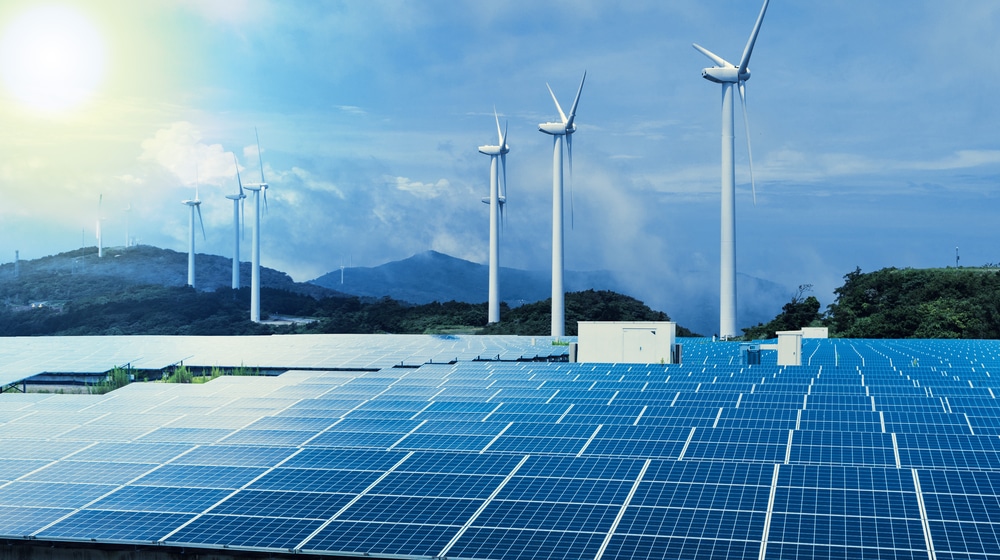 What is RE100?
Companies in the commercial and industrial sector account for around half of the world's end-of-use of electricity. RE100 seeks to switch this demand to renewable electricity.
Launched in 2014 by The Climate Group in partnership with CDP, RE100 is a voluntary global corporate initiative to drive large-scale demand for renewable electricity. It brings together some of the world's most ambitious businesses committed to sourcing 100% of their electricity from renewables.
RE100 companies can achieve 100% renewable electricity use either by producing and using renewable energy at their own facilities (i.e. via solar panels, hydrogen, hydropower, wind energy, etc.) or by purchasing renewable electricity sourced from generators and suppliers in the market (i.e. power purchase agreements, green tariffs, renewable energy certificates, etc.).
RE100's mission is to accelerate change towards zero carbon grids at scale. 
The initiative currently has over 340 members worldwide representing over 175 markets, spanning sectors from manufacturing and pharmaceuticals, to fashion and technology.
Together they send a powerful signal to markets and governments about the demand for renewable electricity.
Does RE100 have a deadline for achieving 100% renewable electricity?
Yes. The minimum requirements are 100% by 2050, with interim steps of at least:
30% by 2020
60% by 2030
90% by 2040
These interim steps are recommended but not mandatory for companies headquartered in South Korea and Japan but they must agree to do active policy engagement to assist the growth of renewables in their home country.
What companies have committed to RE100?
Some of the world's most iconic brands have made the commitment to RE100, including Coca-Cola, IKEA, Amazon, Apple, Adobe, H&M, Microsoft and Google.
What Australian companies have joined RE100?
In Australia, 17 major companies have joined RE100, including the Commonwealth Bank of Australia, Atlassian, Woolworths Group, ANZ, NAB, Suncorp Group, Macquarie Group, Sun Metals, Treasury Wine Estates and QBE. Over 70 international companies with operations in Australia are also members of RE100.
The full list of members can be viewed here.
NBN Co joins RE100
On Monday, NBN Co became the first Australian telecommunication company and government business enterprise to join RE100. NBN Co's commitment coincided with the launch of their new program, Towards-Zero Carbon Ambition, which will see them reduce their annual energy use by 25GWh and buy 100 percent renewable energy by December 2025.
So far, NBN has a renewable purchasing agreement that will cover 20 percent of its energy usage, and it plans to cover the rest through further power purchase agreements and contracts.
The company has installed solar panels in its facilities, turned off inactive line cards and installed LED lights in technical facilities. 
NBN Co chief executive Stephen Rue said, "We want to create a more sustainable company through our commitment to digital inclusion and capability; empowering individuals, businesses and communities to stimulate economic productivity and growth; operating a trusted secure and reliable network, reducing emissions and addressing climate risks; fostering workplace diversity and inclusion and by being transparent and accountable. 
"And now, as we all move towards a low-carbon Australia, I'm delighted to announce our membership of RE100 and the launch of NBN Co's new 'Towards-Zero' carbon ambition, along with the program that will get us there. 
"Beyond the direct impact of becoming an environmentally sustainable business, what's equally exciting is the power of the network to help enable digitisation and the huge benefits that it unlocks for the nation in terms of emissions reductions, as well as socio-economic benefits."