The rise of solar power in Australia has been phenomenal. In just five years, the country has more than doubled the amount of rooftop solar systems from 1.5 million to 3 million, representing almost 16 gigawatt of installed capacity. With such significant growth comes a significant responsibility – the challenge of managing solar waste. By 2050 it is projected that Australians will generate 1,532,000 tonnes of photovoltaic (PV) waste that, without an effective strategy, could end up in landfill.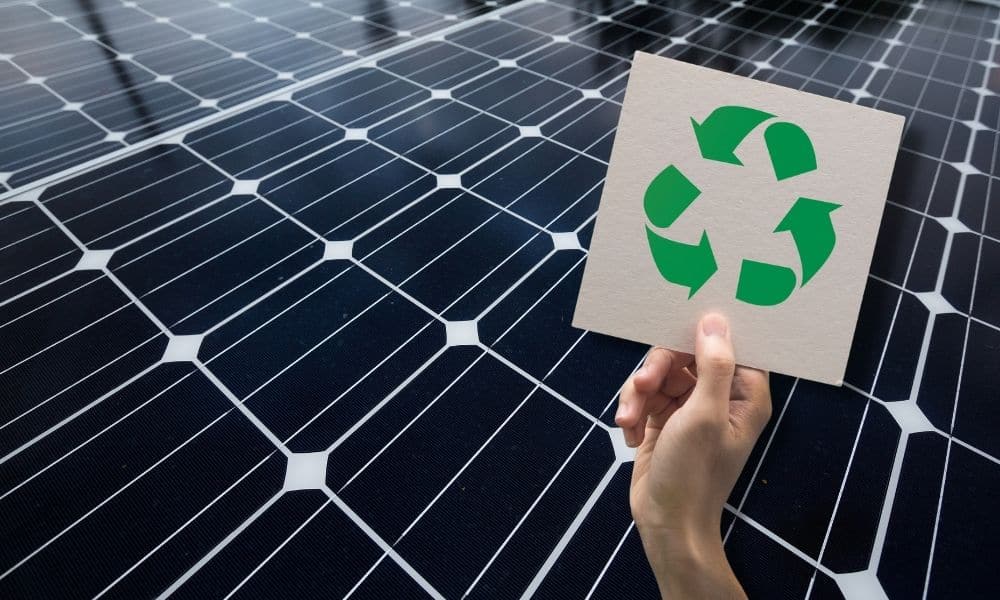 Australian companies Lotus Energy and Reclaim PV have made it their mission to tackle the waste dilemma in Australia. In this article, we will explore their innovative solutions for reclaiming and recycling solar panels.
Solar Panel Waste in Australia
In Australia and around the world, the dilemma of solar waste is a growing concern.
In 2018 Australians generated 2,700 tonnes of PV waste as the earliest panels reached their end of life. An estimated 100,000 tonnes of solar panels are expected to be retired in Australia by 2035. With an average life expectancy of 25 years, the amount of waste will have grown significantly over this time period—and it is only set to increase as more people switch their energy sources from traditional power grids and embrace renewable technologies like solar panels.
With our sunny climate, generous government incentives and a short return on investment, it's little wonder why Australia's love affair with solar panels has reached soaring heights – but many are still unfamiliar with how to properly dispose of panels when they reach their end of useful life.

Solar panels contain valuable materials such as metals, glass, ruthenium, indium, tellurium and lead – unfortunately, they also contain toxic materials that are difficult to recycle. Up until recently, the complexity of whole panel recycling meant that Australian solar panel recycling services were only able to recycle and reclaim 17% of a panel by weight. A solar panel's aluminium frame and junction box (also known as a terminal box) are the components that are most commonly or easily recycled.
The remaining 83% of a solar panel's materials (including glass, silicon and polymer back sheeting) had to be handled either as general waste (i.e. destined for landfill) or as e-waste (electronic waste).
Knowing that millions of solar panels are nearing their end of life in the new decade, a solution to recycle 100% of solar panels is an absolute necessity for the PV industry's responsible end of life practice now and into the future.
A Solar Waste Solution
In response to the mounting solar waste crisis, a number of Australian companies have emerged with solutions to reclaim or recycle solar PV panels. These companies include Reclaim PV, Lotus Energy, PV Industries, SolaCycle, CMA Ecocycle and Ecoactiv.
Of these companies, two have developed unique solutions that aim to reclaim and recycle 100% of materials – from the glass and silicon down to the metal frame.
Lotus Energy Recycling Plant
Last September, Lotus Energy opened one of Australia's first solar PV recycling facilities in Thomastown, Melbourne, claiming to recycle 100% of end-of-life solar PV modules and all associated materials recovered – inverters, cables, optimisers, mounting structures – using no chemicals.
Rather than end up in landfill, this waste will be recycled for alternate use, including second-use applications in solar panels or value-added application in the anode of the 3b generation of Lithium-ion batteries. It has also been claimed that silicon from solar panels could be synthesised into battery-grade silicon for Electric Vehicle (EV) applications.
For more information about Lotus' plant and to watch a video the recycling process in action, click here.
Reclaim PV Recycling
Officially commencing its Adelaide-based operations at the end of November this year, Reclaim PV Recycling is an Australian owned and operated solar panel recycling company that aims to ensure 100% recycling of materials and that no material is dumped in landfill through its innovative and cost-effective collection and recycling services.
Reclaim PV aims to simplify the collection process and is continually working on building their national network of pick up and drop off locations positioned throughout regional and metropolitan areas. These include waste stations, PV suppliers, work sites and other locations as needed.
This all-important network allows manufacturers, installers, retailers, site developers and other key stakeholders to access an easy to use collection and/or drop off network to significantly reduce the number of end-of-life solar panels going to landfill in all areas.
For any collection in Australia, the recycling fee is generally $10 ex GST per panel, although large and frequent quantities of panels may be collected at a discounted rate.
Once collected, Reclaim's utilises a robust recycling process called Pyrolysis – a well-known thermal deconstruction technique – to break down and pull apart PV panels into their component parts by passing them through a high-temperature furnace.
Upon completion of the thermal extraction process, the recovered components are sorted and placed into collection bins for delivery to materials companies, ensuring all recoverable materials are available for re-use.
Materials include aluminium, copper, glass, plastics, silver and silicon.

Creating a "Circular Economy" for Solar
A circular economy is one that keeps resources in use for as long as possible, extracting the maximum value from them while in use, and then recovering and regenerating products and materials at the end of their life.
In the context of solar PV modules, this would mean that all components of a solar panel are used, reused or recycled – nothing is wasted.
This holistic approach to solar PV recycling not only ensures that 100% of the material captured is recycled and reused, but also reduces environmental impact by keeping components out of landfill.
Maintaining a circular economy for solar panels requires the collaboration of all stakeholders – governments, manufacturers, installers/owners, recyclers and end users.
Earlier this year, Federal Minister for the Environment Sussan Ley set a deadline for Australia's solar industry to develop an industry-led nationwide scheme for dealing with solar panel waste.
"Solar panels have languished on the Government's priority list for six years now. It is time for the industry to step up and address the issue of waste either stockpiling or ending up in landfill, and today I have given them a deadline of mid-2022 to do that," said Minister Ley.
The good news is that the industry is already taking steps to address the issue. Reclaim PV Recycling and Lotus Energy are two examples of companies that are working with the industry and takling solar waste with a circular economy mindset.
Solar PV panels are a critical part Australia's renewable energy mix and will be vital to achieving our renewable energy targets on our way to a zero carbon economy.
It is therefore in our best interests to ensure that they are recycled and reused not only for the benefit of the environment, but also so we can continue using this important technology well into the future.
Energy Matters has helped over 30,000 Australians go solar by connecting them to trusted local solar installers. You can receive up to 3, free, obligation-free quotes from trusted solar installers in your area. It'll only take a few minutes and you'll be well on your way to seeing significant savings on your energy bills.