Trams are a staple in Melbourne. They provide a cheap and easy way to get around the city, but they also run on brown power that contributes to our climate change crisis. However, in a unique initiative, Melbourne's trams have gone green! The Victorian Government's Solar Trams Initiative uses solar power to offset 200,000 tonnes of carbon emissions from the tram network each year. This initiative will help Melburnians have a clean energy travel option as they return to public transport.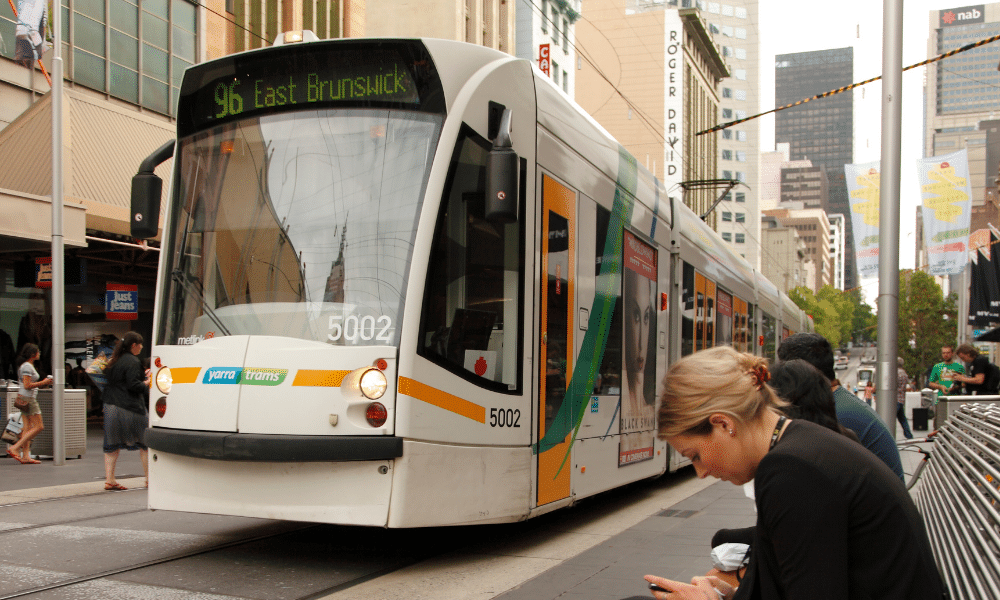 All Aboard for Solar Trams
Melbourne's tram network is the largest operational network in the world with 250km of double track. Every year, over 200+ million trips are completed, although the last two years saw a reduction in volume due to the COVID-19 pandemic.
While their presence in Melbourne is as iconic as the city's graffitied laneways, excellent coffee and sporting venues, until now trams haven't been as environmentally friendly as they could be. The Solar Trams Initiative is changing that.
Under the initiative, the Victorian Government purchases and surrenders about 82,000 MWh in large-scale generation certificates each year from Bannerton Solar Park near Robinvale and Numurkah Solar Farm near Shepparton. This is the equivalent of Melbourne's entire tram network's electricity consumption!
The timing is ideal, with COVID-19 restrictions easing across the state and the gradual return of the daily office commute guaranteeing that the trams will be full once again.
Victoria: Building A Clean Energy Network
In addition to the Solar Trams initiative, the Victorian Government has been rolling out a number of other initiatives that aim to drastically reduce carbon emissions across the state's public transport network.
Solar Powered Train Stations
One such initiative is the installation of solar PV at train stations. Since the program kicked off back in 2017, 16 metropolitan train stations have been fitted with solar panels, which will prevent 375 tonnes of carbon emissions entering our atmosphere each year.
The new solar panels will be used to power ticket machines, platform and station lighting and security systems.
Electric Buses
The government is also investing $20 million in a trial to investigate technologies to transition Victoria's bus fleet to zero emission vehicles.
Back in February of this year, Victoria's first locally built, fully electric bus began carrying passengers on one of Melbourne's busiest routes – Route 246 between Elsternwick and Clifton Hill. Following a trial period, the electric bus is now running on Route 251 between the city and Northland Shopping Centre, clocking up more than 32,900 kilometres and travelling nearly 1,000 kilometres on just two charges, demonstrating the efficiency and range of its 324 kW Lithium Phosphate batteries.
During its first 300 days on the road, the Victorian-built electric bus saved 61 tonnes of carbon dioxide emissions.
This is equivalent to over 30,000 kilos of coal burned, or over 23,000 kilometres driven by an average car. It could power 10.4 houses for a year, or charge over 7 million smart phones.
The transition to electric buses will not only help to reduce carbon emissions, but will also improve air quality and deliver a quieter and smoother ride for passengers.
Looking to go solar? We can help!
One of the most effective ways that you can reduce your carbon footprint is to make the switch to renewable energy. Installing rooftop solar panels not only saves you money on your energy bills, but also helps reduce the demand for dirty coal-fired power. A standard 6.6kw solar system will produce around 10,600 kwh a year which will save around 10.6 tonnes of CO2 emissions per year
Energy Matters has assisted over 30,000 Australians in their transition to clean energy. We can guide you toward solar and/or battery storage solution that fits your lifestyle and budget. Receive up to 3, obligation-free quotes from our trusted network of accredited Victorian solar installers. It's fast, free, and takes the hassle out of shopping around.