If you live in a high-rise apartment complex or work in one of the many commercial buildings crammed into Melbourne's CBD, you'll know that installing solar panels in Melbourne city is a bit more complex than out in the 'burbs. After all, with small rooftop areas and shading, where are all the panels supposed to go?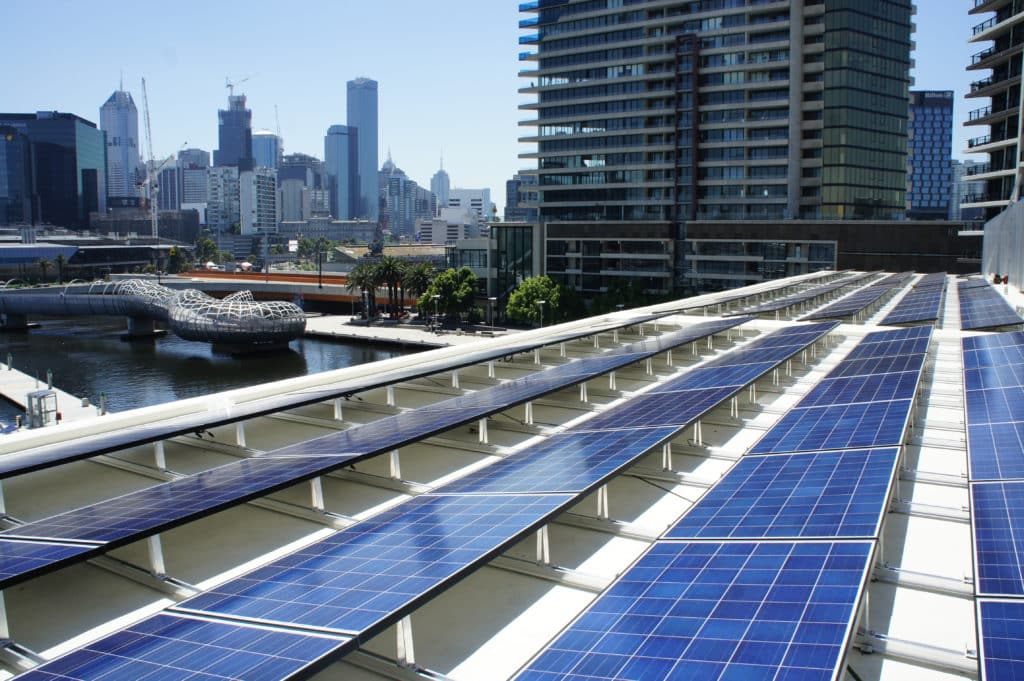 Despite associated challenges, new research by Monash University has revealed that the City of Melbourne could produce almost three-quarters or 2,354 gigawatt hours of its electricity from solar power.
City-scale modelling found that central Melbourne has the capacity to integrate significantly more solar panels into rooftops, walls, and windows. Comprehensive adoption of existing rooftop PV technology alone throughout the city could radically transform the city's carbon footprint and significantly reduce its reliance on grid electricity generated by burning fossil fuels.
Prof Jacek Jasieniak, a co-author of the study, said the capacity of solar panels currently installed in central Melbourne was only a fraction of what was possible.
"There's a massive opportunity to build photovoltaics into a city, and Melbourne CBD could be, as a collective, a distributed energy powerhouse," he said.
Solar: a unique challenge for high-density areas
Solar panel installations have historically been reserved for use in areas of low-to-moderate building density.
While urban environments can offer opportunity for solar, they also pose significant challenges. High-rise buildings have a much smaller ratio of available roof area to conditioned space; there are higher wind loads on the array. There are also shading issues due to the close proximity of other tall buildings.
Outside of these technical hurdles, high-rise buildings often have complicated ownership structures with multiple tenants.
Monash University's modelling has taken many of these considerations into account, including seasonal variations in the direction of the sun, the shadows cast by buildings, and building properties such as rooftop space and window-to-wall ratios.
Focussing on the City of Melbourne, the modelling encompasses a 37.4 sq km municipal area that includes the central business district, mid-rise developments in the inner-city suburbs of Carlton and South Yarra, and the industrial area of Port Melbourne.
Rooftop panels accounted for the vast majority – 88% – of the potential solar energy the area could generate, with wall-integrated and window-integrated solar delivering 8% and 4% respectively.
Jasieniak conceded that generating 2,354 gigawatt hours annually was "an ambitious target," and assumes that about 80% of rooftops are covered, representing several million solar panels.

Solar windows could be a "game-changer"
Semi-transparent solar cells that can be incorporated into window glass can transform windows into active power generators, potentially revolutionising building design.
Jasienek has led a team of researchers from Exciton Science and Monash University who have successfully produced these "solar windows" and are now working on technologies to increase their efficiency.
The City of Melbourne study is the first of its kind anywhere in the world to model the viability and impact of window-integrated photovoltaics, alongside other solar technologies, at a city scale.
Modelling revealed that window-integrated solar technology was shown to suffer less of a reduction in efficiency during winter months relative to rooftop solar, delivering more consistent year-round benefits and value.

Melbourne's potential return to local power a "full circle moment"
Over one hundred years ago, Melbourne began importing coal-fired power from the LaTrobe Valley to stop the practice of burning smog-inducing coal briquettes onsite to power our CBD buildings.
Returning to local power generation within the CBD using green technologies could see what Jasieniak described as a "full circle moment" that will help us meet Australia's Net Zero 2050 target.
Jasieniak and his team hope that by using the modelling they have developed, policy makers, energy providers, construction companies and building owners will be able to optimise the PV potential of both new and existing structures.
Future building design could take sunlight and shadowing into account to maximise the potential of solar power, Jasieniak said.
"In Melbourne, you could imagine that you could have slightly higher buildings towards the southern part of the city, so they can capture as much of that northerly sun as possible."
Looking to go solar? Energy Matters has assisted over 30,000 Australians in their transition to clean energy. We can guide you toward a solar and/or battery storage solution that fits your lifestyle and budget. Receive up to 3, obligation-free quotes from our trusted network of accredited solar installers. It's fast, free, and takes the hassle out of shopping around.