Investment in renewables in the developing world was up 19% in 2015; ahead of developed nations (down 8%) states a report from the UN Environment Programme (UNEP).
Global Trends in Renewable Energy Investment 2016 states investment globally last year (USD $266 billion) was also double that invested in coal and gas fired power stations ( estimated $130 billion).
The developing world's impressive tally was primarily spurred on by China; which boosted its investment by 17% to $102.9 billion, or 36% of the world total. In terms of percentage based increases, South Africa led the way with $4.5 billion, up 329%.
India, South Africa, Mexico and Chile all joined the list of the top 10 investing countries in 2015.

134GW of renewables excluding large hydro were commissioned globally last year, equivalent to an estimated 53.6% of all power generation capacity completed. This is the first time renewables have represented a majority.
The amount of wind and solar power generating capacity added last year came to 118GW, a big jump from the next highest annual figure, 2014's 94GW.
All this occurred in a year where prices of fossil fuel commodities – oil, coal and gas – nose-dived. Over the last 12 years, the total amount committed to renewable energy has reached $2.3 trillion.
"So far, the drivers of investment in renewables, including climate change policies and improving cost-competitiveness, have been more than sufficient to enable renewables to keep growing their share of world electricity generation at the expense of carbon-emitting sources," states the report.
The average global levelised cost of energy (LCOE) for crystalline-silicon PV has plummeted from $315 per MWh in Q3 2009 to $122 in late 2015, a drop of 61%; reflecting deflation in prices for solar panels, balance-of-plant costs and installation expenses.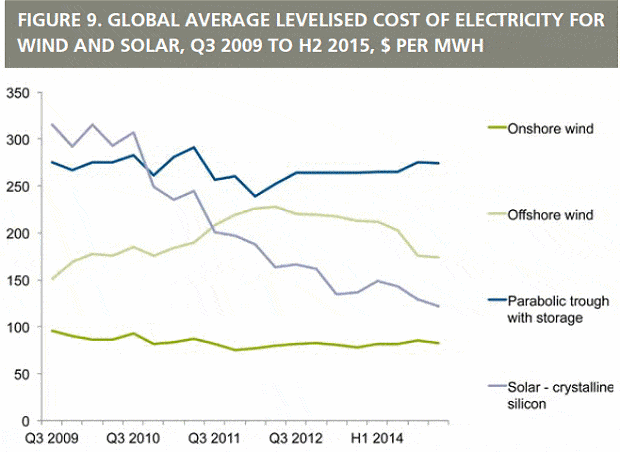 With regard to Australia specifically, approximately USD $1.5 billion was spent in 2015 on small-scale renewables, down 14%. The report notes Australia as having one of the highest penetrations of residential rooftop solar power systems in the world, "meaning one in six voters is now a stakeholder in the industry."
The mention of "voters" is important; particularly in an election year. Recent survey findings indicate support for solar power and battery storage could well be a vote-shifter in the next Australian federal election.
The full Global Trends in Renewable Energy Investment 2016 can be downloaded here (PDF).