For many Aussie homeowners, eventually there comes a time when you ask yourself the question — should we renovate, or just knock down and rebuild? Say hello to Renovate or Rebuild, a new show airing on 9Life at 9pm Mondays.
Hosted by design aficionado James Treble, the eight-week series sees fan favourites from The Block battling it out to convince a family they have the best solution to produce a more comfortable, spacious, energy-efficient and healthy home. In this week's episode, we head to Burleigh Heads, Queensland.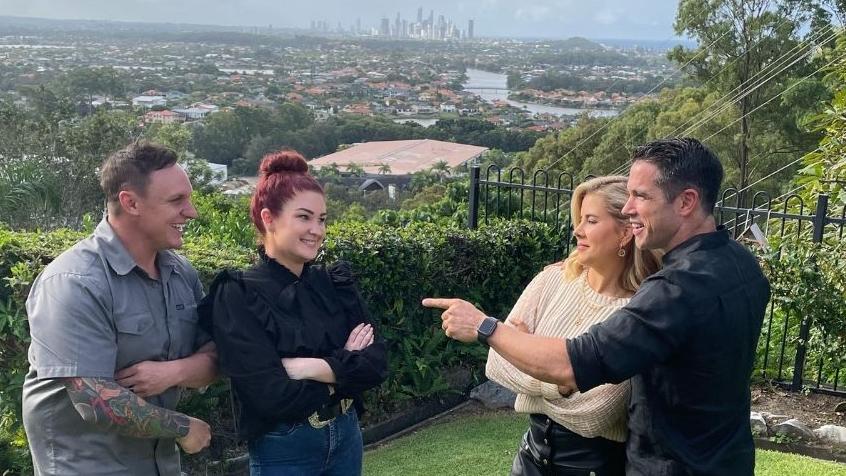 A dated home in a dream location
Dallas and Nick, a young couple from Queensland, are faced with the question of whether they should renovate their home or knock it down and rebuild.
They have been living in their family home in stunning Burleigh Heads for the past ten years. They are raising their three young kids and dog there, and it's a location they absolutely love. With a one minute drive to Nick's work, five minutes to the beach and breath-taking, uninterrupted ocean, bush and city views, the couple feel lucky to call Burleigh Heads home. There's only one problem… the house itself leaves much to be desired!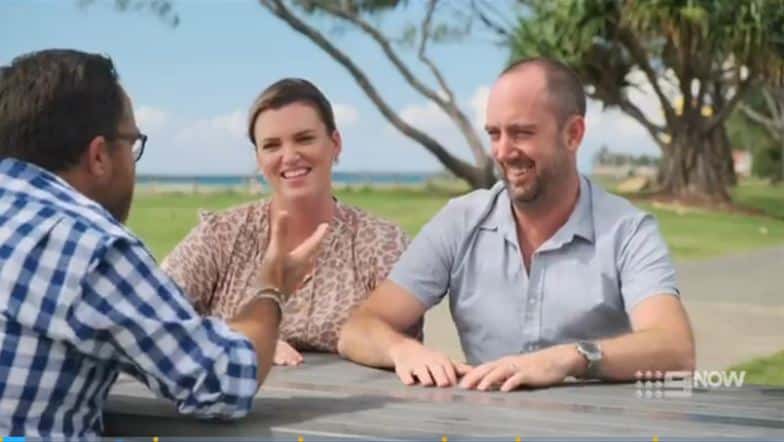 Built in the 70s, the 3 bedroom home is a testament to the architecture of the time—lots of exposed brickwork, stucco concrete, arches, a sunken lounge room and minimal consideration of natural light, insulation or airflow.
Not only is the house aesthetically dated but it also loses out when it comes to functionality. With three bedrooms and three kids, their two boys need to share a room, the kitchen is small, and their pool and entertaining area are on completely opposite ends of the house. Worst of all, the house's incredible views are completely obstructed thanks to its poor design and layout.
The house is also extremely energy inefficient. The lack of insulation and airflow means that the rooms are often hot, forcing Dallas and Nick to run air conditioning all night. The lack of natural light means that they compensate with artificial lighting, most of which is inefficient. They have wanted to install rooftop solar panels for some time but the poor condition of the roof tiles has made that difficult.
The couple were initially leaning towards rebuilding, keen to add a second storey for extra living space and to take advantage of the views. They want open plan living with a bigger kitchen, more bedrooms and have decided on a modern design that will really maximise natural lighting and the views. They want to look at ways to keep their home cool in summer and are solar curious.
Their budget for a rebuild sits between to $800k – $1M mark, while projecting less for a renovation.
Team Renovate: Michael and Carlene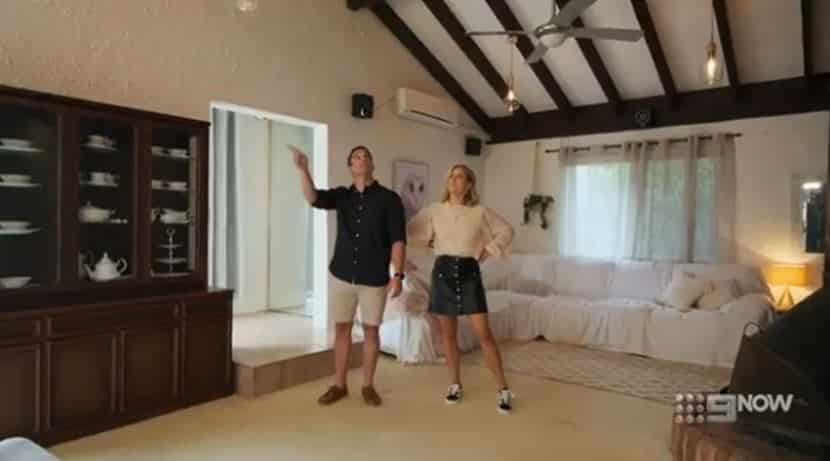 Michael and Carlene's first impression was that the house is very "bricky". They acknowledge that the house needs some serious work, with poor natural lighting, possible structural damage and airflow issues top of their list of concerns. They are also bewildered at how the best view from the house is from the laundry, rather than the master room that is tucked into the back of the house.
They highlight that the house does have some redeeming features, namely the high ceiling, arches and good internal brick work.
They know they have an uphill battle to convince Dallas and Nick that renovating is a better option, but they have a few ideas up their sleeves that might just win them over.
Team Rebuild: Jimmy and Tam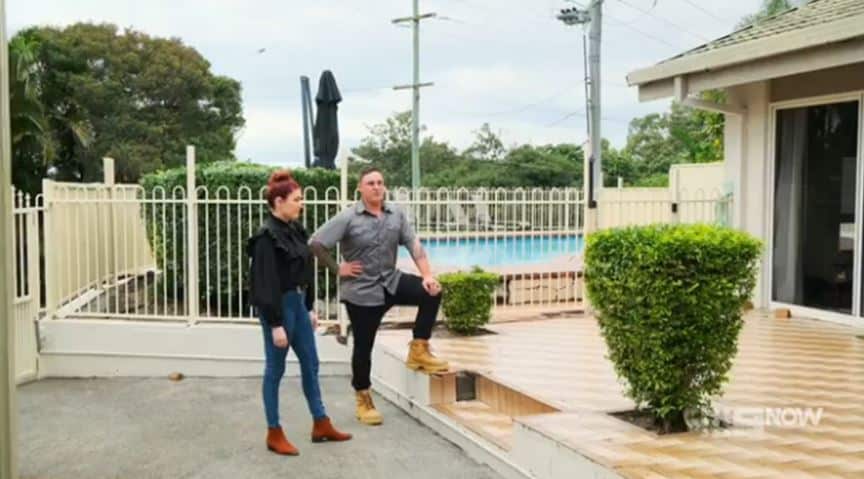 First impressions for Jimmy and Tam weren't good at all. Jimmy called the facade "monstrous" with no street appeal. They noted the rotten timber, rusted gutters, crumbling pool walls and water damage throughout the home. In their opinion it was a no brainer –the house needed to be torn down and rebuilt from scratch!
As they walked through the home they commented on how hot it felt and didn't like how there was no connection between the inside and outside for entertaining.
Like Michael and Carlene, they noticed that the laundry boasted magnificent views and said that the house has the best views on Gold Coast but the layout simply doesn't take advantage of it.
Final Designs
Both teams worked closely with Paul Butterworth, an award winning Brisbane architect specialising in sustainable, memorable architecture, to design a home that ticks Dallas' and Nick's boxes while staying within their budget.
They also visited two homes in the local area for inspiration; a mid-century modern home that proved, with smart design, you don't need two levels to enjoy views; and a 5-year-old home that was rebuilt to improve design and layout but still pay homage to its legacy by salvaging and repurposing materials from the original house.
Working with Energy Matter's CEO Roshan Ramnarain, both teams were able to select a new rooftop solar PV system featuring 415 watt Longi solar panels that will help Dallas and Nick reduce their energy bills to as close to $0 as possible. Supplied and installed by Industrial Electrics, the high output and efficiency of the Longi panels means that the system will take up less surface area on the roof.
See our exclusive Queensland TV Specials for Longi solar here!
Team Renovate
Paul felt that the character of the house is strong but the design is dysfunctional. He said it is a challenging house to renovate, but could shine with the opportunity to be liberated.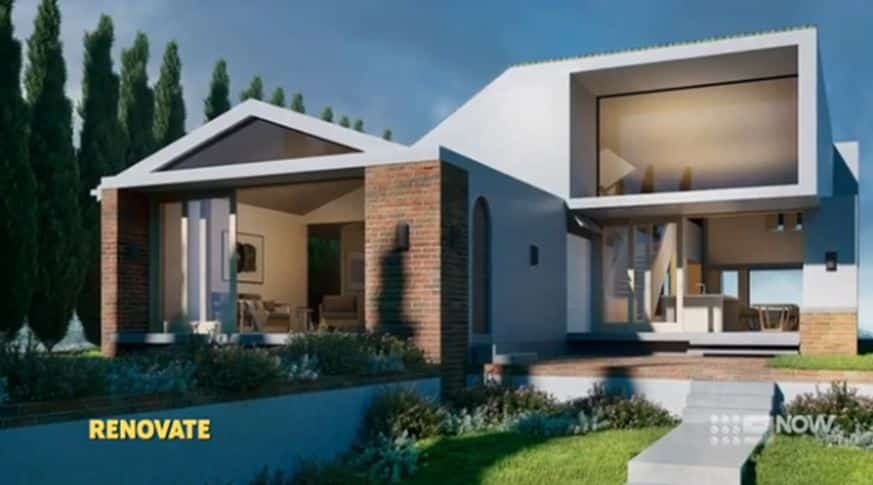 Team Renovate design highlights:
Modern, mid-century design
Celebrates existing building by reusing demolished materials, such as the bricks and roof tiles
Demolished old carport and built a new carport and garage
New facade creates a welcoming entrance that brought tears to Dallas' eyes
Removed Northern side of existing home due to structural concerns
Opened up side of home to create an open space that blurs the line between indoor and out
Added master bedroom, separate to other bedrooms
New open plan kitchen and living zones with high ceilings that offer optimised airflow, natural lighting and uninterrupted view.
6.9 star energy rating and new Longi rooftop solar system
Total cost: $873,000
Team Rebuild
Paul admitted that Team Rebuild has the advantage because a new build could really capitalise on the 'money shot' views.
He said having a clean slate makes the job easier, but it can be a balancing act to achieve the owner's goals within budget. The aim is to make the home as energy efficient as possible, as the reduction in power bills can help offset the money that goes into the build. He emphasised that all spaces need to earn their keep and be purposeful.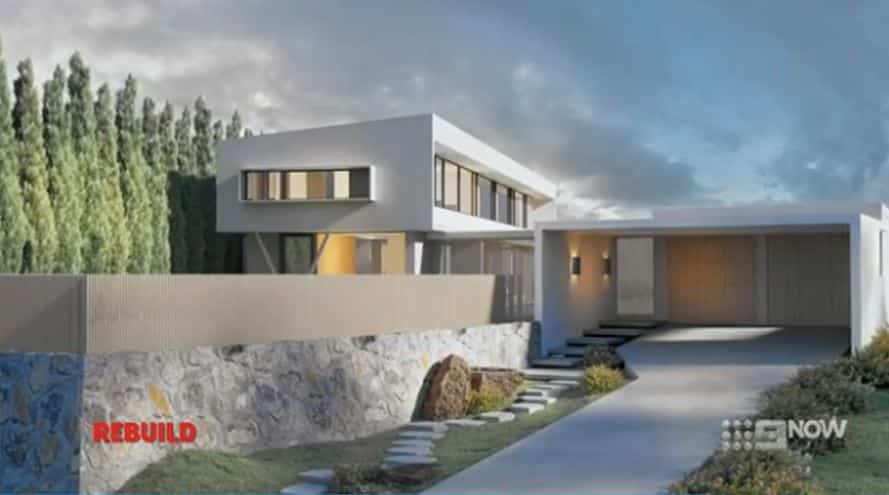 Team Rebuild design highlights:
Facade has the 'wow factor' with a new carport and stunning use of local stone
Striking modern, clean lines
A long narrow floor plan with a northerly aspect capturing amazing views and natural light in every room
Large open plan living area downstairs with centrally located kitchen, providing amazing views and cross breezes
Master room and ensuite in prime position with views of the coast, bush and city that are framed like a painting
Polished concrete flooring, blonde timber and natural tones creates modern but welcoming design
Large entertaining area with infinity pool
High energy rating of 7 stars, with a slightly smaller Longi solar system than the Renovate Team
Total cost: $1.22M
Verdict
The two different solutions were judged by an expert panel on style, sustainability, and cost. The judges are real estate agent, Alex Jordan, building and property expert, Natalee Bowen and interior designer, James Treble.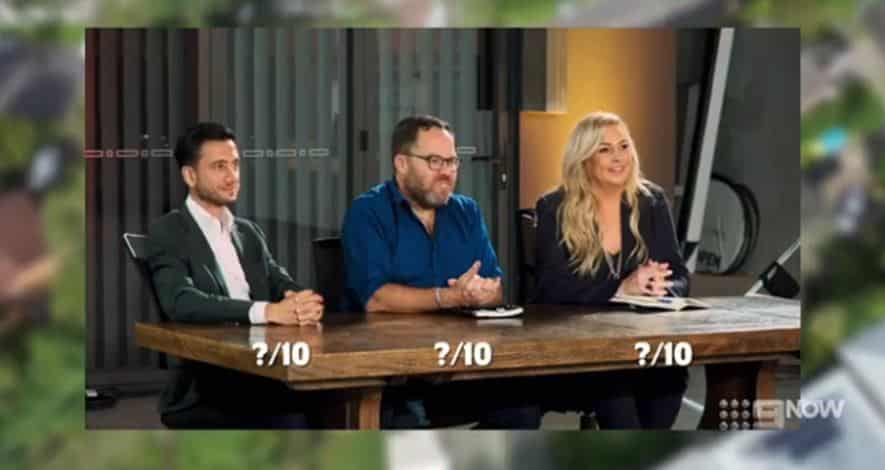 Ultimately the decision will come down to Dallas and Nick — will they renovate or rebuild?
Team Renovate
Natalee: Keeping bedrooms downstairs was clever. Loved the beautiful ceiling and natural lighting. Thought the soft arches and bricks worked beautifully. Score: 8.5/10
Alex: was happy with the design integration and aesthetic. He was impressed by the 5 metre ceiling height. His only criticism was that having the master bedroom separate is not practical for young families. Score: 8/10
James: Felt the space was opened up by elevating the ceiling and adding light. He said it really changed the whole home. He liked the sunken lounge and double kitchen islands, saying that they add character. Score: 9/10
Total Score: 25.5
Team Rebuild
Natalee: Was impressed with the initial "wow factor" you get from the facade. Loved having all the bedrooms upstairs to take advantage of the views. Felt the build felt quite small. Score: 7.5/10
Alex: Loved the integration, the feature walls and the connection to the original home through the use of existing materials. Felt the downstairs ceiling height was undercooked for the market and that the 2.4m ceilings and would compromise saleability. Score: 7/10
James: Found it interesting how they retained existing garage and front retaining wall, but used natural materials to transfrom the facade. Loved how the team reimagined the house by reorienting rooms, really maximising the views. Score: 8/10
Total Score: 22.5/30
Final decision: Renovate or Rebuild?
Much to their surprise, Dallas and Nick went with Team Renovate's design. Dallas, in particular, felt a real emotional connection when she saw the rendered design of the renovated facade. They said they went into the show thinking they would do a rebuild but Michael and Carlene's vision for their home blew them away.
Not only will Dallas and Nick enjoy uninterrupted views in their stunning renovated home, but with rooftop solar they will be significantly reducing their carbon footprint while saving thousands on their energy bills.
Want to join Dallas, Nick, and millions of Australians in making the switch to solar? Visit our dedicated Renovate or Rebuild TV Specials page for exclusive solar offers from Longi, a free energy comparsion tool, free solar quotes and much more.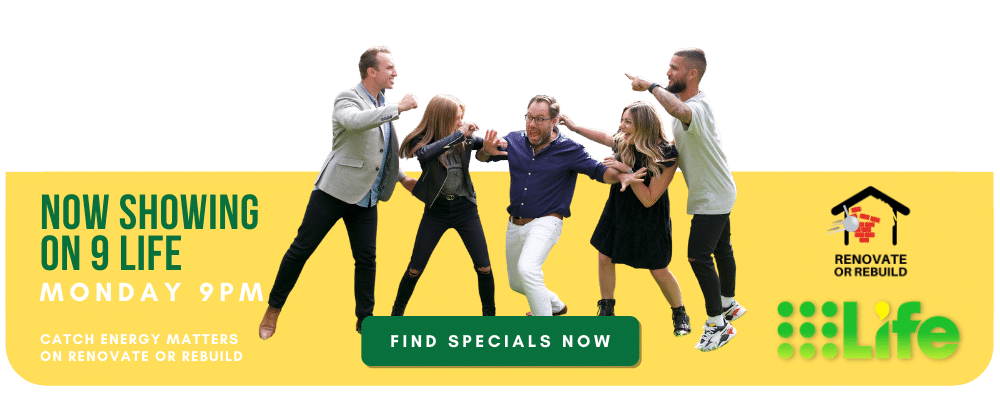 Over to you! Which team's design did you prefer?