Renovate or Rebuild, 9Life's newest lifestyle program, premiered on Monday night and it was an absolute blast! Michael and Carlene from Team Renovate and Jimmy and Tam from Team Rebuild went head to head to convince young Burleigh Heads couple, Dallas and Nick, they have the best solution to produce a more comfortable, spacious, energy-efficient and healthy home. After many years of high energy bills due to inefficient lighting and cooling, Dallas and Nick were looking to invest in solar panels to reduce their carbon footprint and energy bills.
Team Rebuild: Maximising Roof Space For Performance
In this article we will take you behind the scenes to see how Energy Matters, Industrial Electrics and Longi helped our teams choose the perfect solar solutions for their final designs.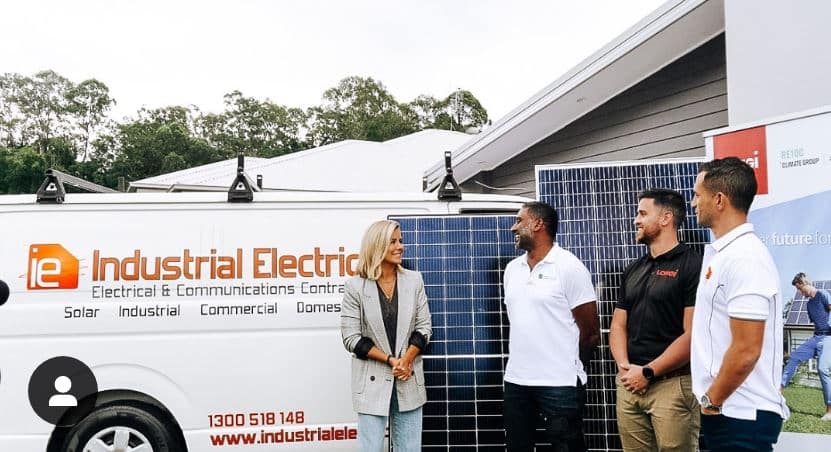 Roshan Ramnarain from Energy Matters chatted to Team Rebuild, Jimmy and Tam, about how much roof space they'd need to allow for the solar panels to achieve their best performance.
"We have the unique position now that we can design our roofline around the solar system that can erase their power bill altogether", Jimmy said.
After listening to their requirements, Roshan provided some guidance. "The major thing to consider here really is the orientation of the roof – so, as we established already, we've got beautiful views and the current roofline is Northern aspect which is fantastic for solar power".
Jimmy and Tam said they're intending to keep a similar roofline for the rebuilt house, and just add an extra storey. Jimmy said that the system may need to be split as the architects have added a void in the middle of the roof.
Roshan, using one of Dallas and Nick's recent energy bill's for consumption data, used Energy Matter's fast and free solar power and battery storage calculator to assess what size system they needed. The calculator recommended a 10kW system.

Roshan advised going with 415 watt Longi solar panels that will help Dallas and Nick reduce their energy bills to as close to $0 as possible. Supplied and installed by Industrial Electrics, the high output and efficiency of the Longi panels means that the system will take up less surface area on the roof.
With the high efficiency Longi solar panels, a 10kW system would only require 24 panels as opposed the standard 27 to 33 panels.
Roshan used Energy Matters' simple solar system design tool to visualise system placement on the roof.
Team Renovate: Installing Solar Panels on an Existing Property
Roshan took Team Renovate's Carlene to visit a property that had Longi solar panels installed by our partner Industrial Electrics. Here, Carlene learned all about the best orientation for solar panels, how to correctly size a solar system, how to get the most out of the system, how to select a brand and more.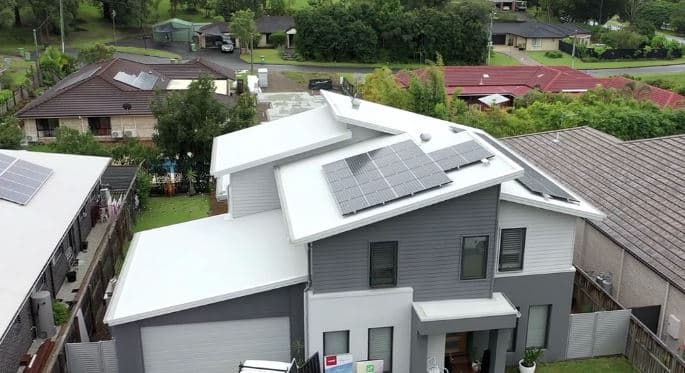 Best Orientation for Your Solar System
"When you're looking to design a solar power system really, in terms of aspect, north would always be the best", Roshan explained. "That said, North East or North West are still comparable".
Roshan continued; "When deciding the best orientation, you first look at your roof aspect and understand which way you want your system to face. Then you have to look at the actual tilt of the panel – ideally you're looking between 23 to 28 degrees".
Dallas and Nick's current roof aspect is Northerly – perfect for solar energy!

What Size Solar System Do You Need?
Next Carlene spoke to David Cobb from Industrial Electrics, a leading electrical, communications and renewable energy specialist servicing the Gold Coast and Northern New South Wales. The topic of discussion was around solar system sizing.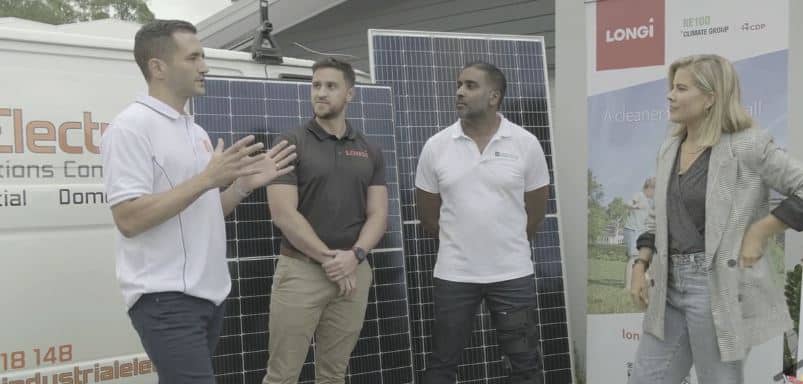 "For each client looking to go solar, we always look at their power usage prior to solar", said David. "We look at their power bills to better understand how they use their power and that's how we determine what size system to install to make sure they get the best return on investment and maximise their savings".
"Sometimes that might be covering the roof completely with panels and sometimes not so much – it just depends on the customer's requirements."
When Should You Run Your Appliances To Get The Most Out Of Your Solar System?
Carlene admitted that she has a really bad habit of running her washing machine at night and asked David for some advice on how solar customers can make the most out of their solar investment.
"We don't want customers to change their lifestyles too much but, where possible, appliances such as washing machines and dishwashers should be used during the day time", said David.
"I advise customers to set their air con on a timer, because sometimes it's better to put the air con on during the day when you're not home to arrive home to a cool house and turn it off, rather than walking into a really hot home and cranking the air con when the sun's not out."
What Do I Need to Consider When Choosing a Solar Brand?
Carlene then spoke to Andres Novoa Serrano, from Longi and asked him what she should be looking for when choosing a brand.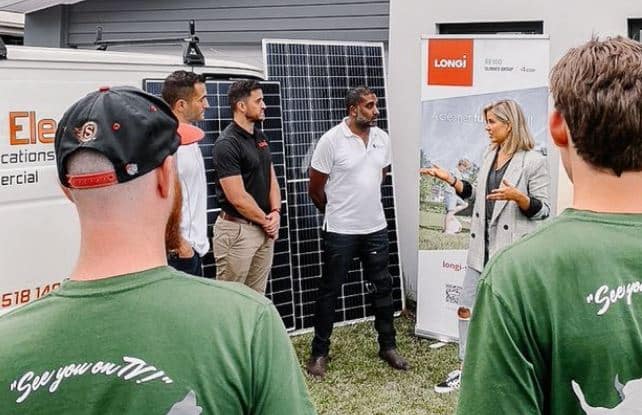 Andres shared the following advice;
"Choose reputable brands – not just for the panels but the installers as well", said Andres. "Trusted installers, like Industrial Electrics, usually choose the best brands on the market and will recommend them to you".
"Since your solar panels will last you upwards of 25 years, you want to choose brands that have been used in Australia for a long time and trust that the installers and panel brand will be there for the long-term, and not just leave you hanging should you require support", he said.
Longi Solar Panels
Roshan then shared the key benefits of Longi solar panels.
Key benefits
High Efficiency: 415 watt panels
Low LID Mono PERC (Passivated Emitter and Rear Contact" or "rear cell"): This means the panels have an additional layer on the back of the traditional solar cells that allows more sunlight to be captured and turned into electricity
Half Cut (or 'Split Cell') Technology: Cutting the standard cell in half and bus-barring it, increases efficiency, lowers voltage, and lowers operating temperature.
Longi and Industrial Electrics are offering exclusive solar TV specials for QLD viewers – click here to see these incredible offers!

And that's a wrap! We hope you learned some valuable tips for when it comes time for you to install your solar system.
Renovate or Rebuild airs on Monday nights at 8:30pm AEST on 9Life and is also available on demand on 9Now following the broadcast.
Enjoy some candid happy snaps from the episode in our gallery below!