A bike path that glows in the dark after being "charged" by the sun during the day has been unveiled in Poland.
A Strabag project constructed by subsidiary TPA Sp. z o.o, the 100 meter x 2 meter test section of the bike path is in Olsztyn, a city on the Łyna River in northeastern Poland.
The material, which contains blue luminophores, soaks up the sun's rays during the day and can emit light for more than 10 hours.
"We hope that the glowing bicycle path will help prevent bicycle and pedestrian accidents at night," said TPA President and CEO Igor Ruttmar.
While the installation emits a blue light, the material can also be adapted to emit other colours.
"The glow is a very nice complement to the area's beautiful nature, lakes, small hills and countryside," said Mr. Ruttmar.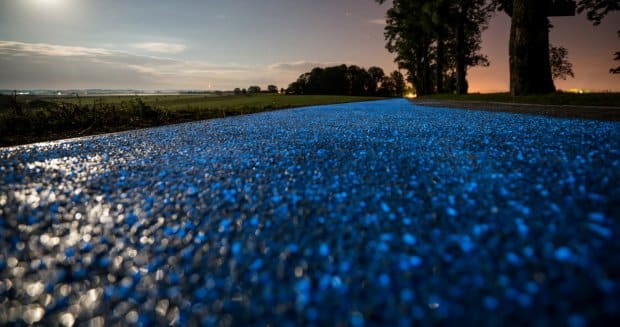 The installation was inspired by a similar project in the Netherlands, which also uses LEDs requiring power supply from solar panels and batteries.
TPA will monitor how the material performs over the winter months, with view to extending the path and perhaps carrying out similar projects elsewhere. TPA also sees potential for the technology to be applied to roads.
Strabag SE is a European construction company based in Villach, Austria.
Another light emitting product "charged" by the sun that can be used for bike path paving and various other applications was unveiled earlier this year and is said to have a lifespan of a hundred years.
Bike paths are also being investigated for their potential for energy generation through the use of embedded solar panels. A 70 metre SolaRoad installation in the Netherlands exports electricity to the mains grid and generates enough power to supply a couple of average households. During its first year of operation, the path generated 9.8 MWh of solar electricity.
During the first 12 months, the test SolaRoad installation endured 300,000 cyclists and mopeds without any problems from the traffic as such; however the translucent coating shrunk during winter and an improved coating was applied.
Image source: Strabag